SoundCloud was launched in 2007 as a platform to help independent artists and musicians who have not yet been able to showcase their talents to the world. It provides a safe and free environment for artists to promote their music and hopefully attract some financial support and patronage to establish their careers as singers and musicians. More than 30 million artists worldwide have published their tracks on SoundCloud.
SoundCloud is a platform for both artists and listeners:
If you are an artist, you can upload your tracks for free on SoundCloud and let the world learn more about your talent. You can put up your tracks for the people to listen to them for free. You can also make money from your tracks on SoundCloud. To be able to make money from your tracks on SoundCloud, you need to have certain qualifications to be considered a SoundCloud Premier Member:
You must have sole conservatorship over your music, and no other records label or individual should have any legal rights over your music. The 100% rights to your music's release, publication, and mixing should belong to you.
You must have no copyright battles with any other parties.
You must subscribe to SoundCloud Pro or SoundCloud Pro Unlimited. It costs from 8$ to 16$ each month to sign up for membership at SoundCloud Premier. SoundCloud Premier has a 45% net revenue of all the music you upload and monetize.
You must have streamed your music at least 500 times during the past year.
Only the citizens of the countries that SoundCloud Pro approves can monetize their music tracks on SoundCloud, including the citizens of the U.S., UK, Canada, Australia, France, Germany, Ireland, The Netherlands, New Zealand, Spain, Switzerland, Portugal, Belgium, Italy, Austria, Sweden, Norway, Denmark, Finland, etc.
List of countries that can monetize their SoundCloud
The citizens of the following countries cannot make money using SoundCloud: Antarctica, Afghanistan, Cuba, Bouvet Island, British Indian Ocean Territory, Central African Republic, Christmas Island Equatorial Guinea, Haiti, Heard Island, and McDonald Islands, Islamic Republic of Iran, Iraq, Democratic People's Republic of Korea, Lebanon, Liberia, Libyan Arab Jamahiriya, Myanmar, Pakistan, Sudan, South Sudan, and the Syrian Arab Republic.
Here's how you can start making money from your tracks on SoundCloud:
Go to your track's page.
Select the track (or tracks) you want to charge people for listening to.
Click the "Edit Tracks" tab and choose the "Monetization" option.
Click "Enable Monetization" and save your changes.
Before making money from your tracks, you need to have an I.S.R.C. (International Standard Recording Code) required for the process of enabling a track for monetization. If you do not have I.S.R.C.s for your music tracks, you must request the codes to be created when you upload or edit the tracks. Each track has its unique I.S.R.C. The best feature about SoundCloud is that you can make money from the same track that you have uploaded for monetization on other platforms on SoundCloud; there is no limit on how many platforms you can upload and monetize your track.
There is another way you can make money from your tracks on SoundCloud through the Fan-Powered Royalty Model. This model indicates that the more people listen to your music, the more you are getting paid. Therefore, the number of your followers and listeners on SoundCloud plays a significant role in how much money you can make through the platform.
You can use SoundCloud as a listener. You can collect and save your favorite music and listen to it anytime you want.
How to Get More SoundCloud Followers
The easiest way to boost your SoundCloud followers is to go to the Socialgro website. On this website, you can buy packages to boost your social media presence on multiple platforms, including SoundCloud. The most important feature of this website is that you can buy followers using cryptocurrency. You can buy your SoundCloud followers at this website using Bitcoin and other types of cryptocurrency.
How to Get Free SoundCloud Followers
Go to the Sound Cloud Followers website, log in with your SoundCloud account and start growing your SoundCloud audience in seconds. You can promote your music on this website by asking your followers to take any action regarding your music (e.g., share, like, and repost) in exchange for a chance to download your music for free. This way, you can promote your music without spending a dime. Your followers also enjoy a sense of achievement and pleasure as they are rewarded with permission from the artist themselves to download their music. There are strict copyright rules for downloading newly released music tracks by artists, but SoundCloud Followers has surpassed those obstacles and allows users to download the music for free.
Is it Legal to Buy SoundCloud Followers?
It is not illegal to buy SoundCloud followers, and you will not face any specific retribution if you do so. However, it would help if you considered that you were not buying real followers. You are merely buying "social proof" that your content is being seen. And this proof is mainly for those who visit your profile on SoundCloud, and this does not boost your actual performance on SoundCloud and does not increase the amount of money you can make. Buying fake followers on a platform like SoundCloud merely helps promote your music to the listeners. To keep your viewers, you need to work on your music and interact with your audience more productively. For instance, you can put in place a "pay it forward" system in which you would allow your followers to have free access to your music as a token of appreciation for their love and support.
You can also send your music to other renowned artists on the SoundCloud platform and ask them to give comments on your music. These forms of interactions help you grow your followers more organically and productively.
How to Buy SoundCloud Followers Using Cryptocurrency?
Go to Cyber Market to buy SoundCloud Followers using cryptocurrency. On Cyber Market, you can buy SoundCloud plays, likes, comments, etc., using Bitcoin and other types of cryptocurrency.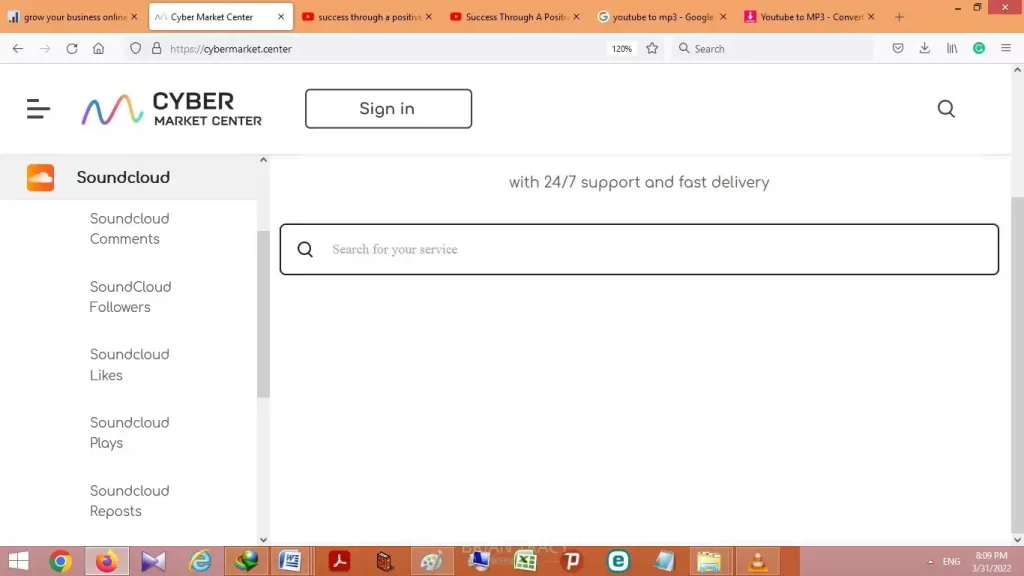 Want to Buy Cheap SoundCloud Followers? Check Out Socialgro!
If you want to buy cheap SoundCloud followers, you have one destination and one destination only, which is Socialgro. With only 1.9$, you can start buying SoundCloud followers and developing your SoundCloud channel.
How to Buy Cheap SoundCloud Followers
On The Social Media Growth website, you can buy from 50 SoundCloud followers to more than 15000 followers. For 4.97$, you can buy 50 followers. This website promises to provide you with followers that would ensure the organic growth of your SoundCloud profile and music. The cheapest rate on the market for SoundCloud followers is 2.47$ for 100 followers. On Social Media Growth, you can also buy SoundCloud Plays, Likes, Comments, and Reposts. You buy likes, reposts, or plays at the cheapest rate of 0.97$ for 1000 likes, comments, reposts, or plays.
How Much Money Do Artists Make on SoundCloud?
In general, SoundCloud users are paid 3$ dollars for every 1000 times they make money from their tracks on the platform. However, SoundCloud is not meant to be the musicians' sole source of income. You may need to promote and monetize your music tracks on other platforms as well to be able to earn a living.
Who were the Top 10 Followed Artists on SoundCloud in 2021?
Future: 9.92 million followers
Big Sean: 9.50 million followers
Thanos Petrelis: 8.51 million followers
Young Money: 8.48 million followers
Wale: 8.32 million followers
Pusha T: 8.20 million followers
Big K.R.I.T.: 8.07 million followers
B.o.B: 8.05 million followers
Lana Del Rey: 8.01 million followers
Justin Timberlake: 7.83 million followers
Is there a Limit to the Number of Followers you can have on SoundCloud?
There are no limits to the number of followers you can have on SoundCloud; however, there is a limit to the number of people you can follow on SoundCloud, and that is 2000.
How Do I get the Blue Tick on My SoundCloud Account?
You can request a blue checkmark on your SoundCloud profile by going to your setting and clicking on the "Request Verification" button. Then you must fill out your stage name and wait for the verification process. You can also add the links to your other social media platforms to your SoundCloud account.
Who Pays Streamers More? Spotify or SoundCloud?
The monthly fee for SoundCloud Premium at 4.99$ is much lower than the monthly fee for Spotify Premium. However, the Spotify plan helps the streamers make more money using their music.