In the Binance Review, we will discuss the most popular cryptocurrency exchange website as of September 2021. Here we are in the '20s, and blockchain and cryptocurrency technologies are the next evolutionary step towards the future. From 2018 to 2021, the total market cap has boomed from about $80 billion to over $2 trillion in just three years. Some people debate whether cryptocurrencies such as Bitcoin (BTC) would replace the US dollar by 2050. Therefore, people perform billions of transactions every day, which calls for crypto exchange web applications like Binance.
About the Binance Review
In the Binance Review, we have discussed the significant aspects of the cryptocurrency exchange tool. Our goal at Cyberg is to provide comprehensive reviews so you can choose the best solution for your currency trades. Therefore, we introduce Binance in the first place. Second, we talk about the features included in the cryptocurrency exchange application. Then, we compare it to other competitors in the eCommerce ecosystem. Finally, we sum up the positive and negative aspects of the web application and give it a score out of ten.
A brief introduction of Binance
Binance is a platform for a cryptocurrency exchange that was founded in 2017. You can buy and sell your crypto money using the exchange web application in a matter of seconds. It also provides various analytics and trading options, such as setting limits for automated transactions. Binance has also developed BNB, which is Binance's digital coin. The company started in China, but today it has offices in over 50 different countries across the globe. In the Binance Review, we discuss managing or trading your digital assets online using the web application.
Binance top features
In this part of the Binance Review, we assess the properties that help traders leverage their Binance supports, the crypto coins that you can exchange using Binance, the analytic tools that the web application offers, and transaction and withdrawal fees in Binance.
The acceptable currencies in Binance
Binance is available in over 180 countries as of 2021. Therefore it supports many other fiat money, which makes Binance a practical cryptocurrency platform. The most prominent currencies supported on Binance are listed below:
USD
EUR
CNY
AUD
INR
RUB
BRL
GBP
HKD
PEN
PHP
TRY
UAH
UGX
Suppose Binance does not support your country's currency. In that case, you can use third-party exchange platforms to exchange the fiat into USD or other acceptable currencies.
The Cryptocurrencies you can exchange using Binance Review
Binance is one of the top traders of the most renowned currencies and newcomers and newly launched currencies. In 2020 it was the platform that ranked number one regarding the trade of most individual cryptocurrencies. Here is a number of the prominent coins you can exchange in Binance: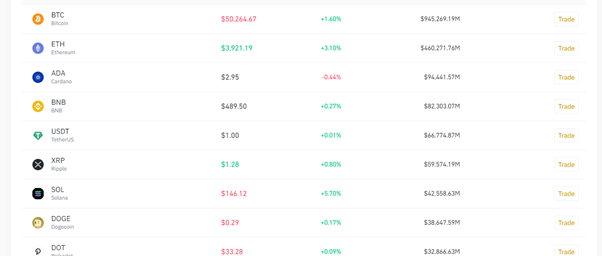 BNB:
This currency is the coin that Binance has introduced and is used for transaction fees and other costs issued when using the application. Thus, I would recommend having some amount of BNB in your wallet to perform actions smoothly.
ETH
ADA
USDT
The Tether stable coin has a constant value of one dollar, and it is an excellent way to turn your cash into crypto money or liquefy your coins.
XRP
SOL
DOGE
DOT
Since there are over 500 coins that Binance supports, we stop the list here. However, suppose you want to become a successful trader. In that case, you have to read on different coins and use technical analysis to buy and sell at the right moment.
What are the analytic tools in Binance?
Trading requires accurate real-time information as well as intelligent analytics so that you can manage your spending and investments. In this section of the Binance Review, we go through the top analytic gadgets and charts available on Binance.
The Classic Trade Overview
To the eyes of a beginner, this panel might seem chaotic and confusing since it has much detail, and the numbers are constantly fluctuating as it is an inert characteristic of the crypto market. However, skilled traders with prior stock exchange experience will find familiarities between the crypto exchange and the former.
At the top of the classic overview, you can see the general behavior of the crypto market in terms of the total value, 24hr change, 24hr high and low, and 24h BTC and USDT values. This helps with identifying bull and bear trends at a glance.
The panel to the left shows the latest BTC prices and the volume of trades made. In the middle, you can see a diagram of cryptocurrencies price fluctuations. On the top right, you can see the exchange rate of a pair of coins, so that for example, you can trade your DOGE coins for ETH coins. Below the pair comparison chart, you can view the latest cryptocurrency exchanges performed on the Binance platform.
The classic overview has its fair share of advantages and disadvantages. The environment might appear confusing for amateur traders. However, professionals would like to trace recent changes in detail; they are more likely to use this report.
Convert Coins
If you find the classic view overwhelming and confusing, you can use this tool to trade your coins.
Unlike the classic view in which you can trace the trends of a specific coin against other crypto coins, you only have to choose two currencies here: First, the one that you want to see, and second, the coin that you're buying. This method is easy to use and fast, provided that you already know what trade you want to make.
The advanced trading panel, Binance Review
This feature suits day-traders the best. The crypto market is open 24/7. And prices are oscillating over time. Using Binance tools, you can set automatic conditions upon which your coins will be automatically transferred if those conditions are satisfied. For example, you might set the upper limit of BTC to $53k when the price is $50.63K. In that case, you are assuming that the price will drop at $53k, so the exchange app will sell the number of coins that you've told it to market when BTC hits the price.
On the other hand, you can buy other coins when they hit a low. In addition, you can sell the coins if they enter an alarming downfall. This way, you contain the damage and prevent your investment from liquefaction.
Binance Review: NFT
This is one of Binance's new features that allow users to buy and sell non-fungible tokens. These tokens represent unique digital assets that can be purchased or sold with cryptocurrencies. The items you can acquire in this tool are events, marketplace, and mystery box playground.
Finance by Binance
You can get investment suggestions, mine crypto coins, use the Binance Visa credit card, take loans, provide liquidity, and pay fees using BNB.
When trading, you can leverage other liquefied coins to double or triple your rewards and risks. As alluring as it is, you should avoid multiplying the risks when new to the market unless you want to lose your shirt overnight.
Future trades, Binance Review
There are four ways to trade futures in Binance. COIN-M futures is where you can set perpetual or quarterly contracts. USD-M Futures are futures trades based on USD stable coins. Binance only supports the USDT and BUSD coins for this tool. Binance Leveraged Tokens enables leveraging your investments with lower risks. Finally, Binance Option is where you can adjust your options to manage your risks and token assets.
Binance Review: Launchpad
Due to the immense profit gained by purchasing new coins, new cryptocurrencies sell like hot cake. Therefore, many people are interested in spending some money on those hot coins. Binance has improvised a lottery-based buying system that gives everyone a fair chance of buying these coins. You can opt for a new coming token by paying in BNB, and if you win the lottery, you'll get the number of tokens stated in Launchpad.
If you want to create and launch your cryptocurrency, the Binance Launchpad is a viable option for your coin.
Binance Academy
Are you new to the crypto sphere? Don't sweat it. There are tons of tutorials on what blockchain is and how to trade on Binance. Binance Academy is the educational center where you can learn the fundamentals and advanced tricks in cryptocurrency exchanges.
Trust wallet, Binance Review
Trust wallet is the official cryptocurrency wallet where you keep your coins and their records. It is one of the most secure wallets, and Binance has had a clean record of keeping clients' investments. You can use the wallet on different devices, including your PC or smartphone.
Is Binance easy to use?
Due to the dynamic nature of the cryptocurrency market and high uncertainty, it isn't easy to provide a basic UI that includes the necessary information. Therefore, the trade-off between features and simplicity is inevitable. However, Binance has created multiple features that allow different users to find their preferable user interface. Moreover, the user experience is adjustable to some extent.
Binance costs and transaction fees
One of the significant aspects of a trade application is the transaction fees and other costs. In this part of the Binance Review, we go through the transaction fees and other noticeable facts about using Binance. The first thing you have to consider is making at least $10 transactions in Binance. With that said, let's scour the transaction fees to other fiat money.
Binance charges 0.1% for spot trading, 0.5% for instant trades, and 4.5% to transfer to your debit card. Some transactions, typically those to less common fiats, cost 5%, which is a high amount. The transaction fee also depends on the coins you're buying and selling.
What are the best Binance alternatives? Binance Review Comparison
Nowadays, there are hundreds of exchange applications that you can use when buying or selling currencies. However, some are more reliable since they have a significant exchange volume and solid security. In this Binance Review, we introduce six applications that are common among traders.
Coinbase is a secure platform for buying and selling currencies like Bitcoin, Etherium, and other currencies. Binance is the number one in terms of trade volume by far. However, Coinbase offers a wide range of educational material and highly secure trading options. It is also worth noting that Binance has a lower transaction fee compared to Coinbase in general.
This program is yet another web application that allows perpetual contracts and coin exchange. FTX tries avoiding national regulations just like Binance. Therefore, they both have a .us domain and office to comply with US regulations. Unlike Binance, FTX doesn't take transaction fees. Instead, it charges 0.03% daily for management services and also 0.1% on leveraged tokens.
This bank and exchange agency also provides support for different virtual currencies. The transaction fees are close to those of Binance; however, users find Binance easier to use. Binance also has the upper hand in terms of features.
KuCoin is a virtual currency exchange application. KYC is the coin you can use in this exchange platform if you want virtually no transaction fees. It offers less variety of altcoins than Binance; however, it is reliable, provides strong user support, and has an acceptable interface.
Huobi Global is a Chinese company that allows cryptocurrency exchange. The app is a serious rival for Binance in terms of transaction fees and supported altcoins. Unlike Binance, it doesn't support credit cards; however, it has a lower withdrawal fee. On the flip side, it has a lower user rating.
Bitfinex is based in Hong Kong and offers cryptocurrency exchange to over a hundred nations. It only supports about 140 coins, where Binance offers trades in 250 different currencies. Binance also supports more features in terms of analytics and support.
How is Binance stands generally against other rivals?
Binance might seem challenging to use, but those annoying diagrams would become valuable once you get used to reading complex infographics. There are different tools and a plethora of educational material available to teach you how to use the app. Therefore, it is the number one exchange application. The crude volume of exchanges performed in Binance substantiates our claim.
Binance Review Recap
In the last part of the Binance Review, we discuss the merits and demerits of using Binance and give our final verdict on the VC exchange application.
What are the advantages of Binance?
Great variety of tools
Supports most coins and fiat money
Has relatively low transaction fees
Is secure and reliable
It holds the highest volume of coin exchange in most cases
Binance Credit card in over 20 countries
What are the disadvantages of Binance?
It might be a little confusing for amateurs
Final verdict of the Binance Review
Hands down, Binance is an excellent option for those who like to invest their savings in cryptocurrencies. Binance supports most cryptocurrencies and is a great platform to launch new coins and buy them. It is a reliable exchange company and hosts most exchanges regarding every coin on the market, with a few exceptions. Despite all the benefits, Binance might not be the application you choose due to your country's regulations or the currencies you are interested in. Therefore, I strongly recommend that you read our cryptocurrency exchange applications reviews and learn about different currencies on Cyberg.