The cryptocurrency market is evolving from a promising market to a proven futuristic economy. Therefore, today the net market cap is above $2 trillion. Further, there are over 6000 different digital tokens and over 300 cryptocurrency exchange web applications. Indeed, those numbers are only growing. Thus, Cyberg presents myriad reviews and articles on digital assets, such as Bitcoin, and cryptocurrency exchanges, like Binance. The Bitfinex Review comprehensively evaluates one of the most popular trade applications in 2021.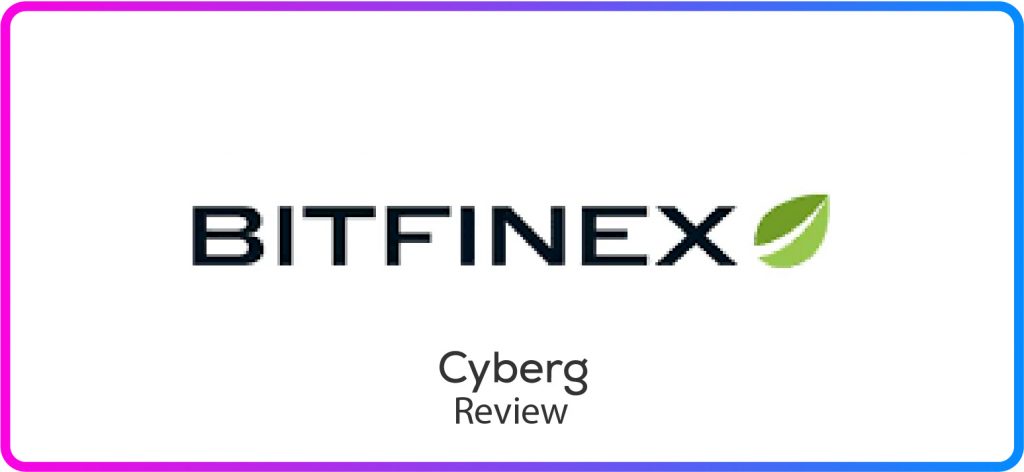 About the Bitfinex Review
The purpose of the Bitfinex Review is to provide a detailed assessment of the Bitfinex application. As a result, you can decide whether the web application is worth trying. The content of the Bitfinex Review includes an introduction to the company, the fiats, and coins that you can trade on Bitfinex. In addition, we highlight the essential tools and features that users expect from an exchange platform. Therefore, we discuss the following in the features section: security, analytic tools, tutorials, and user experience.
Further, we have dedicated an entire section to the costs and transaction fees. Next, we compare Bitfinex to other potent competitors. Finally, we have given Bitfinex a verdict based on the pros and cons of using the app.
What is Bitfinex?
Bitfinex is one of the most popular cryptocurrency exchange applications with about $3 billion worth of daily turnover. The company was founded in 2012 as a peer-to-peer platform for exchanging Bitcoins. The Company was based in Hong Kong, and today, it is registered in the Virgin Islands. In 2015 Bitfinex was attacked by hackers and lost 1500 Bitcoins during the hackers' attacks. Bitfinex does not follow the US crypto regulation; therefore, US users are strictly prohibited from using the exchange application. However, many would enjoy the more liberal settings of decentralized platforms; these people most likely enjoy using an application such as Bitfinex. Next, we introduce the supported local fiats and cryptocurrencies on Bitfinex.
What national currencies are supported in Bitfinex?
One of the indicators of a prominent global exchange application is the diversity of cash that it accepts. Although most countries can exchange their local currencies to common fiats such as USD and EURs, having the option to pay and receive in your national fiat has some benefits. In the first place, it makes trading more convenient. In addition, it saves some money because of avoiding further transaction fees. Thus, we have listed the accepted fiats in the Bitfinex Review below.
In order to deposit or withdraw fiats using Bitfinex, you need full verification. After that, you can trade your cash for crypto in USD, GBP, JPY, and CNH.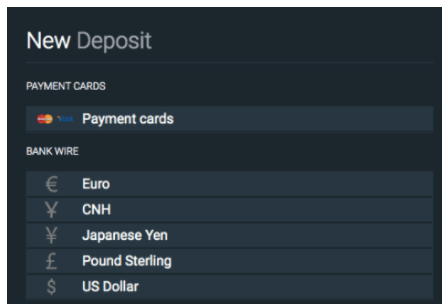 Bank Wire transactions are also supported for more than $10,000 trades. The minimum amount differs for each currency; therefore, if you want to know the minimum amount you can deposit or withdraw in Bitfinex, click this link.
Bitfinex Review: available tokens on Bitfinex
The availability of various cryptocurrencies is perhaps one of the essential features of a possible exchange since traders would prefer a wide range of digital assets available in order to make lucrative interests. Therefore, the more coins and tokens an exchange software supports, the more users it attracts. There are over 6,000 ledgers available for trade in the realm of blockchain currencies. In this part of the Bitfinex Review, we mention the crypto assets you can exchange using the application.
Common tokens in Bitfinex
Your exchange solution must support the most commonly traded coins. We consider those 100 top coins in the net market cap the most common tokens. Now, we discuss how Bitfinex performs the tokens that are widely accepted.
Bitfinex is perhaps one of the top trade applications in terms of supported tokens. It offers over 180 different cryptocurrencies, including the highest tokens in terms of value and trade volume.
Other tokens
Besides the conventional crypto assets mentioned above, you can trade derivatives, funding, and securities on Bitfinex. Suppose you are new to the cryptocurrency exchange world. In that case, I strongly suggest avoiding high-risk investments such as derivatives, margin trading, and taking loans since many have lost their savings overnight in those volatile markets.
What are the top features of Bitfinex Review?
A reliable cryptocurrency exchange platform must have different tools and features to satisfy trading requirements in such a competitive ecosystem. Therefore, we discuss the most critical quirks and features of the exchange platform in the Bitfinex Review.
In the first place, we assess whether Bitfinex is a secure application. Secondly, we walk through the home page and market views to determine if the environment is user-friendly. Next, we list the most exciting options that Bitfinex proffers. In addition, we discuss the tutorials inside and outside the web application domain. However, the transaction fees and other costs are mentioned under the following main topic, Bitfinex Review, costs and transaction fees, since it is equally essential to all other features in the eyes of expert traders.
Safety and security of Bitfinex
Users would rather be safe than sorry; therefore, no matter what an exchange platform offers, they should avoid it unless they know that the application can be trusted with their investments. Thus, in this part of the Bitfinex Review, we discuss the safety and security of performing traders on the platform.
Bitfinex has had a history of being hacked and losing 15,000 BTCs in 2015. It also doesn't abide by US crypto regulations. So, you're strictly prohibited from using it as a US citizen. In case anything happens to your assets, you won't be able to claim anything through the US Department of Justice.
On the other hand, Bitfinex has improved the security of its website and trades. In 2021, they offer two-factor authentication, locking the withdrawal addresses, IP address whitelisting, and Static and Dynamic IP protocols to assure that your virtual assets are safe. Consequently, today, more than 1.5 million users trade using Bitfinex, making it one of the top 10 virtual money exchange applications in 2021. There have been no significant security breaches in the last three years. All in all, Bitfinex has proven to be a secure vessel despite having a history with hackers.
Bitfinex Review: user testing
In this part of the Bitefinex Review, we navigate through the website, different tools, panels, menus, and UI to find out of it is easy to use.
Home page and interface
Bitfinex has a futuristic outlook with minimal design features and more attention to professional infographics. However, it provides a plethora of guides for newcomers and amateur traders.
Upon landing on the home page, you can either sign up or view a demo of the trades interface.
As shown in the picture above, there are explanations of different features further down the home page so that users can find out the available trading options in Bitfinex.
Creating an account
Opening an account in Bitfinex is easy. All you need is an email address.
Although you don't need to verify your identity when opening an account or trading, it is worth mentioning that bank wire withdrawals and deposits require ID authentication.
The web application is user-friendly and easy to navigate. Plus, there are helpful guides for users who are not familiar with crypto exchange platforms. Next, we discuss the charts and overviews in the Bitfinex Review.
Market overviews and analytical tools
Some people prefer to get insights in tables, while others would rather have more sophisticated tools suitable for technical analysis. In this part of the Bitfinex Review, we assess how strong and diverse the analytical tools are in the cryptocurrency exchange.
Candlestick charts
The first type of infographic we discuss is charts. These candlestick charts indicate the high and low prices of each period. Moreover, you can view the volume of trades in each period. Another interesting piece of information viewed in the candlestick charts is the liquidation time and amount, which are displayed as white dots in the chart.
Tickers
If you want a quick comparison of various assets, tickers view lists the price and changes of selected tokens.
Other infographics
The rest of the infographics are most beneficial to day traders as opposed to holders. These
Charts and tables include depth charts, liquidations, recent trades, and order books. Professional traders use the information mentioned above to find the right moment to trade their virtual currencies.
Summary of charts and overviews
Bitfinex environment provides detailed information on the latest market trades and trades for the experts. On the other hand, it might seem overwhelming for beginners to process all the information. Indeed, it takes some time to get past the learning curve in Bitfinex, but when you're more educated, you'll find all the information valuable.
Tutorials and Guides, Bitfinex Review
The cryptocurrency market has been rapidly growing in the last decade, and forecasts predict that the numbers are only going upwards for the following years. Therefore, a massive crowd is enthused to discover the new revolution and jump on the bandwagon. Therefore, a successful digital asset trade platform must cater to novice investors as well as experts. In this part of the Bitfinex Review, we look into both in-house educational resources and external tutorials on Bitfinex.
In-house guides
Bitfinex has provided a vast amount of instructions and guides for both the experts and the beginners. Bitfinex Help Center hosts hundreds of articles on different tokens and trading concepts. In addition, live chat provides 24/7 support if you can't find your way through the complex indices and charts. Furthermore, the Bitfinex Blog contains critical announcements, user reviews, and experiences, and much more.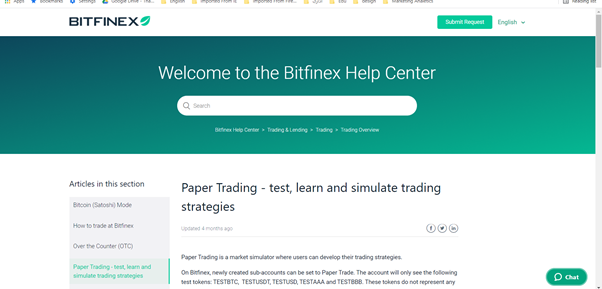 External tutorials
Although most of your questions can be answered with the in-house guides mentioned above, knowing that you can find information about your exchange application is advantageous in different aspects. First, users might find it more compelling to learn from neutral third-party sources. Second, many find tutorial videos and YouTube streams more convenient, especially if famous influencers create the streams. Last but not least, the more information is available, the more common and prominent the application is. Therefore, in this part of the Bitfinex Review, we list where you can learn more about Bitfinex.
YouTube is the number-one video streaming application that many refer to as a free online university. Therefore, let's start by scouring what we can learn about Bitfinex on YouTube. First of all, there is an official Bitfinex YouTube channel that hosts many guides and instructions.
Moreover, there are plenty of influencers on YouTube who have rated and reviewed different digital currencies and exchange applications such as Bitfinex.
On the flip side, there are no complete courses on how to trade on Bitfinex as of September 2021 on educational websites such as Udemy and Coursera.
Can I learn how to trade on Bitfinex easily?
The answer to the question is positive. You can learn a lot of valuable concepts and perks both inside and outside the Bitfinex domain.
Other noteworthy Bitfinex features
The Bitfinex Review could go on about all the quirks and features of crypto exchange applications; however, it would be tiresome for our editors and our audience. Therefore, we only shortlist the features that we find interesting in this part of the Bitfinex Review.
Margin trading
Derivatives
OTC
Finance including lending and securities
API and WebSockets
Bitfinex mobile app for Android and iOS
Honey Framework or Bitfinex trading bot
Bitfinex Review: costs and transaction fees
Day traders might perform dozens of trades in a single day. Therefore, the transaction fees accumulate to a significant amount for these people. Moreover, there is fierce competition between dozens of cryptocurrency exchange websites to attract clients. Therefore, transaction fees are essential for both sides of the deal. Therefore, let's continue the Bitfinex Review by evaluating those fees.
By default, the maker fees are 0.1%, and taker fees are set at 0.2% in Bitfinex. The positive aspect of transaction fees in Bitfinex is that trading your virtual assets to fiats won't cost additional fees. However, the prices are not typically low, although they are fair compared to other cryptocurrency exchange platforms.
It is also worth mentioning that you can lower your transaction fees by performing a large volume of trades over a month. Alternatively, holding UNIS, SED, and Leo tokens are rewarded with transaction fee discounts in Bitfinex.
For instance, trading over 500,000$ a month will give you 20% off on maker fees. However, no discounts are available for taker fees unless you trade over $7.5 million per month!
Let me give another example of how much discount you can get by holding LEO, SED, and UNIS assets in Bitfinex: If you possess over $5000 USDT of LEO equivalent, you get 25% off crypto-to-crypto and crypto-to-Stablecoin transactions. However, the Crypto-to-fiat rate only decreases 10%.
In conclusion, the transaction fees are fair in Bitfinex; however, you need a significant volume of trades of tokens to get a discount on your transaction fees. Nevertheless, we have to compare the fees and other features of Bitfinex to those of its rivals in the next part of the Bitfinex Review.
What are the other 2021 best crypto exchange apps? Bitfinex Alternatives
Today, over 300 different web applications offer the exchange of cryptocurrencies. Furthermore, users can directly trade coins from their wallets, thanks to the decentralized Blockchain technology that is the foundation of cryptocurrencies. The Bitfinex Review mentions six of the most popular exchange applications based on their exchange volume in 2021. Nonetheless, their popularity was another factor that we took into consideration.
Binance is the most renowned exchange application throughout all available cryptocurrency exchange platforms. It supports most coins and holds the highest trade volume regarding each currency. Binance offers many professional tools; nevertheless, the transaction fees are almost the same compared to Bitfinex. However, I recommend you read our review on the most popular cryptocurrency application.
Coinbase is a secure platform for buying and selling currencies like Bitcoin, Etherium, and other currencies. Binance is the number one in terms of trade volume by far. However, Coinbase offers a wide range of educational material and highly secure trading options. In addition, it is approved by US regulations, as opposed to Bitfinex. It is also worth noting that Bitfinex has a lower transaction fee compared to Coinbase in general. Read the Coinbase Review for more information on the application.
Kraken is one of the most popular cryptocurrency exchange applications available on PC and smartphones. While US regulations approve Kraken, which leads to higher transaction fees than other trade platforms, Kraken is still cheaper to use than Bitfinex, which is not even approved by the US crypto law. Read our Kraken Review to find out more about Kraken and its quirks and features.
This bank and exchange agency also provides support for different virtual currencies. The transaction fees are much cheaper in FTX; In addition, users find FTX easier to use and more user-friendly. Further, both Huobi and FTX have their exclusive token, saving you some transaction costs if you hold some in your crypto portfolio. Read our FTX review to find out more about the program.
KuCoin is an international cryptocurrency exchange that offers the KCS token, while Bitfinex was behind the Tether Stablecoin. The app is a serious rival to Bitfinex in terms of transaction fees and supported altcoins. Bitfinex supports more coin markets; however, the average transaction fees are significantly higher than KuCoin. Neither of the apps needs user identification for signing up.
Huobi Global is based in Seychelles and offers cryptocurrency exchange to over a hundred different nations. Thus, they are almost the same in terms of international coverage. Bitfinex has higher transaction fees but lower withdrawal fees. In return, it supports a wide variety of coins. Huobi Global, on the other hand, is more user-friendly.
Bitfinex Review Conclusion
At the end of the Bitfinex Review, we have mentioned the most significant positive and negative aspects of the exchange application. Let's highlight the pros and cons before giving Bitfinex a final verdict and rating.
The positive points according to the Bitfinex Review
A wide range of tokens are available
Margin trading, futures, and bots are available
Appropriate tutorials and guides
The negative points according to the Bitfinex Review
Relatively high transaction fees
Not approved by the US crypto law
Being hacked in 2015
Bitfinex Review: final verdict
Bitfinex is one of the top cryptocurrency exchange platforms that supports over 150 different tokens and digital assets. The web application caters to both novice and seasoned traders with various quirks and features. The trades on Bitfinex are protected with 2FA and other protocols. However, the company is not legal in the US, and the transaction fees are higher than other similar crypto exchange web applications. Please share your thoughts on Bitefinex and other exchange applications that you've tried. Also, comment on your personal experience with Bitfinex so that others can benefit from your insight.