There's a reason why Bluehost is the most popular web hosting service on the market. With professional services; Such as secure hosting options and domain registration; There's no surprise as to why It is powering more than two million websites worldwide. But that's not all. Bluehost isn't just the most popular one but also the best web hosting service, in my opinion – especially if you want to build a website with WordPress. Stay with us in this Bluehost review if you want to know why.
Not only does Bluehost offer full integration for WordPress and some of the most advanced features for it, but it also offers security, design freedom, and an easy setup for all users on top of any CMS; And it does all that at an affordable price.
One notable thing during our Bluehost review was that this platform is a more inclusive service for beginners and veterans alike since it offers a very easy and quick solution to your website building problems.
Comparison
There's a very good reason why Bluehost is so popular compared to the best hosting services on the market. It offers full scalability, excellent 24/7 customer support, and an affordable price; that's why Bluehost is a well-rounded and inclusive option for most users.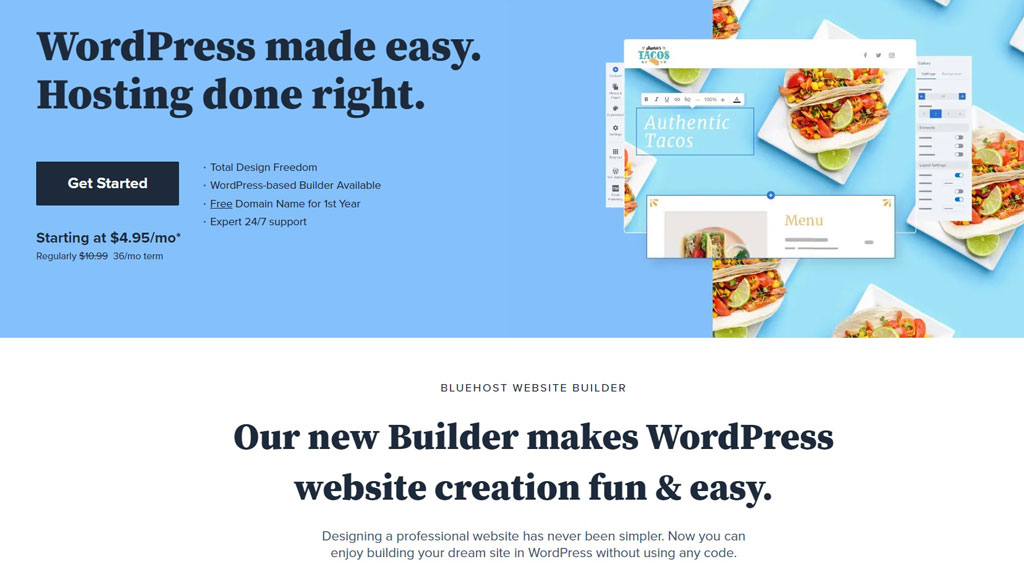 But the main reason I chose it as my top pick in this Bluehost review is its flexibility and WordPress integrations. It is also the reason why Bluehost is so reputable and popular today. Combine that with Bluehost's outstanding security options, affordable shared plans for beginners, and seamless plan upgrades for growth, and you will get the picture.
We reviewed dozens of web hosting services on the market, and we narrowed our choices to only seven. We reviewed every single one of them to see which one is the best for customers. We considered their features and tried to find the best one for you.
You can see Cyberg's top picks and read an in-depth review of each of these web hosting services. If you want to know why we chose them and why we think they are the right ones, click here.
Bluehost Review: Ups and Downs
Nothing is perfect, so even the most inclusive web hosting service has its own flaws. Let's take a look at these ups and downs.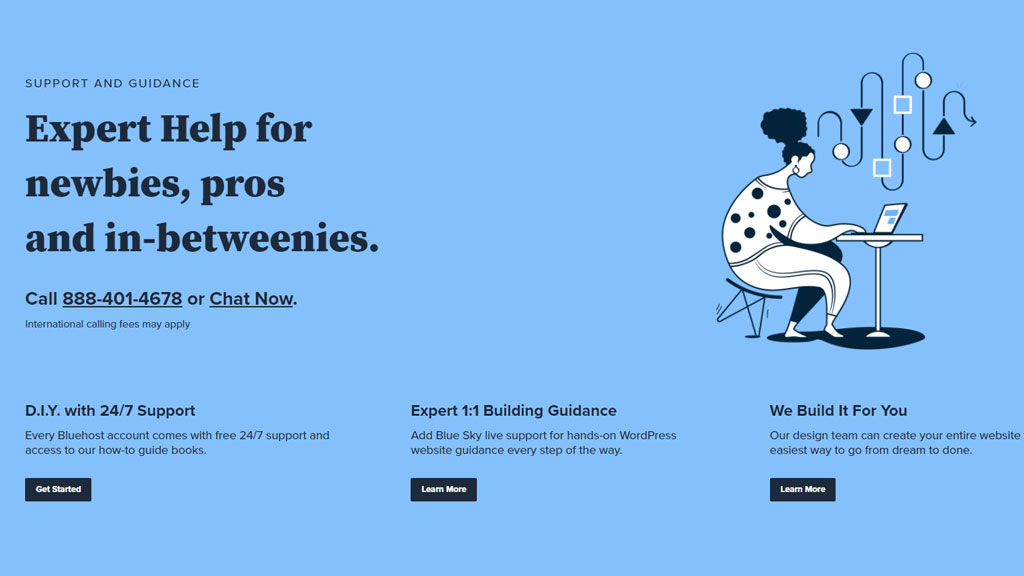 Positives
Great Security: Bluehost has one of the best security measures on the market today. All of these security features are efficient, and they help you cut back hours of work on your website. We all know that security will give us peace of mind. Knowing our data is safe is something absolutely necessary if you are a beginner.
And if you think that they will charge you an extra for this kind of security, think again. All Bluehost plans came with resource protection during our Bluehost review. And if you feel you need some extra protection, you can add CodeGuard Backup Basic for an additional 2.99$ per month. CodeGuard will help you with your daily backups and monitoring while notifying you of any changes.
The basic version of this security feature comes with 1GB of storage space, daily backup and monitoring, and three restorations per month; In case you want to roll back any changes you've made to your website. But if you are going to buy the more expensive plans – like Choice Plus and Pro – you will get a free automatic backup feature for one year and 24/7 network monitoring.
Customer Support: Great and fast customer support is a must for any web hosting service, but finding one with good customer service is not easy. Yet another excellent feature of this platform; That caught our attention during our Bluehost review, is its fast and extensive Customer Service.
If you do an online search, you will see that there are many great reviews about Bluehost's Customer Service. Most users had said the Customer Support was very helpful when immediate support was needed. Based on my experience, you can expect an answer from Bluehost's live chat system within the first five minutes.
The support is available 24/7, so no worries there about times zones either. But Live Chat is not the only way to contact Customer Support since Bluehost also offers phone and email support; the only downside is the waiting times vary. However, if you are one of the do-it-yourself kinds of people, you can always check Bluehost's extensive knowledge base for multiple FAQs, videos, in-depth articles, and support resources on everything related to web hosting.
Ease of Use: Another reason why Bluehost is the most popular web hosting platform on the market is its ease of use. Web hosting can be confusing for many people, especially beginners. So, having a web hosting service that is easy to use and understand can help you a lot.
During the time of conducting our Bluehost review, it had an easy onboarding process that only takes a few minutes to complete. And from there, you can get your website up and running. The interface is intuitive. It will ask you to fill out a form that includes your website goals, the things you want to add to your website, and what you want your tagline and the name of your website to be.
After answering these questions, you get to choose a theme for your website from the Bluehost Marketplace. From here, Bluehost will start to install WordPress for you, and all you have to worry about is customization. Bluehost will take care of the backend and all of its technical problems.
Bluehost Servers: if you don't want to pay the extra price for Pro plan servers, I think the regular Bluehost servers are great and work just fine. But if you plan on buying the Pro plan – which is 14.95$ per month – you can get access to Dual Quad Processor Performance Servers that are an excellent option for larger websites, like large eCommerce websites.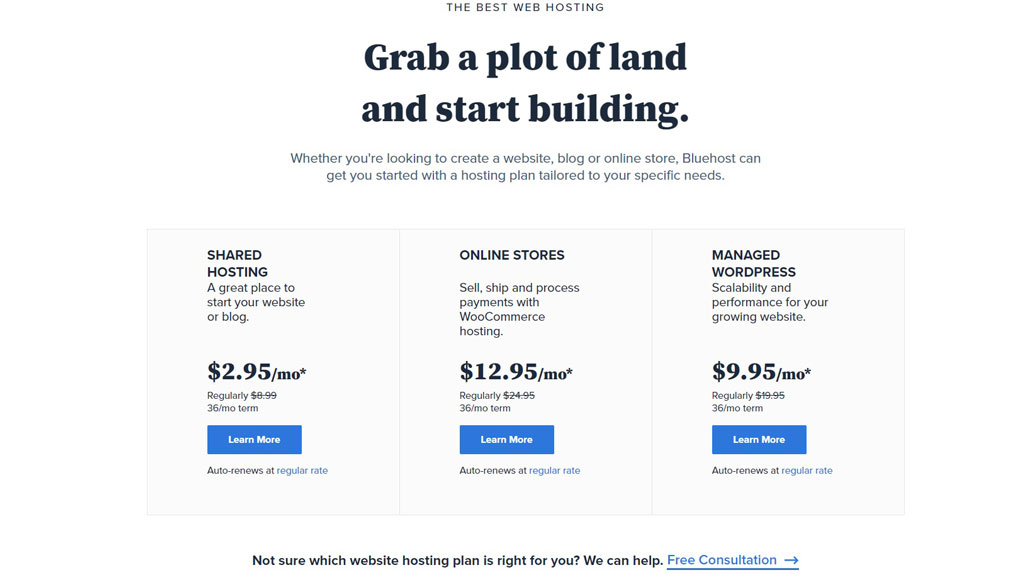 I think it is an excellent option because Bluehost makes sure there are fewer users per server – the individual file count is 300,000 – so there will be no slowdowns for anyone involved.
Negatives
No Free Site Migration: as I said, nothing is perfect, and that is true for Bluehost as well. During our Bluehost review, it did not offer free site migration. This can be an issue for users that are considering transferring from a different web hosting service.
If you want to migrate your website to Bluehost, expect to pay 149.99$. Bluehost will migrate up to five websites and 20 email accounts and offers 24/7 support along with a very clean and uninterrupted transition, but the mentioned price is not low at all – especially when compared to many other web hosting services that will migrate your website for free.
Another point worth mentioning in this Bluehost review is that this migration service does not cover reseller, VPS, or dedicated server accounts; Nor does it include domain registrations.
No Uptime Guaranteed: another thing that we consider a downside point in our Bluehost review is that, unlike most web hosting services, it does not offer any uptime guarantee on any of its plans. This is more than a negative point; It downright concerns. Downtimes can be detrimental for most website owners, as you can lose potential customers if your website is down; And let's not mention the SEO penalties that might have for you.
an uptime guarantee gives you some extra insurance and peace of mind and shows just how much your web service provider cares about your website and tries to keep it up and running in the most efficient way possible. It also shows how serious they are about the customer service experience; In other words, how much do they "put their customer needs first."
However, data shows that Bluehost has a 99.99% uptime efficiency. So if this unguaranteed uptime is concerning to you, which you have every right to be concerned about, fear not because most users applauded Bluehost for its uptime-regardless of guarantee.
Pricing and Options
Now, let's take a look at all of the pricing plans offered by Bluehost and break them down to different levels. There are quite a few plans here that cover all of individual website goals and needs.
Bluehost Pricing
One of the great things about Bluehost is that it offers a wide variety of options at an affordable price. There are three main business niches, and each has different pricing plans according to its own niche. These niches are Shared Hosting, Online Store, and Managed WordPress.
Shared Hosting Plans and prices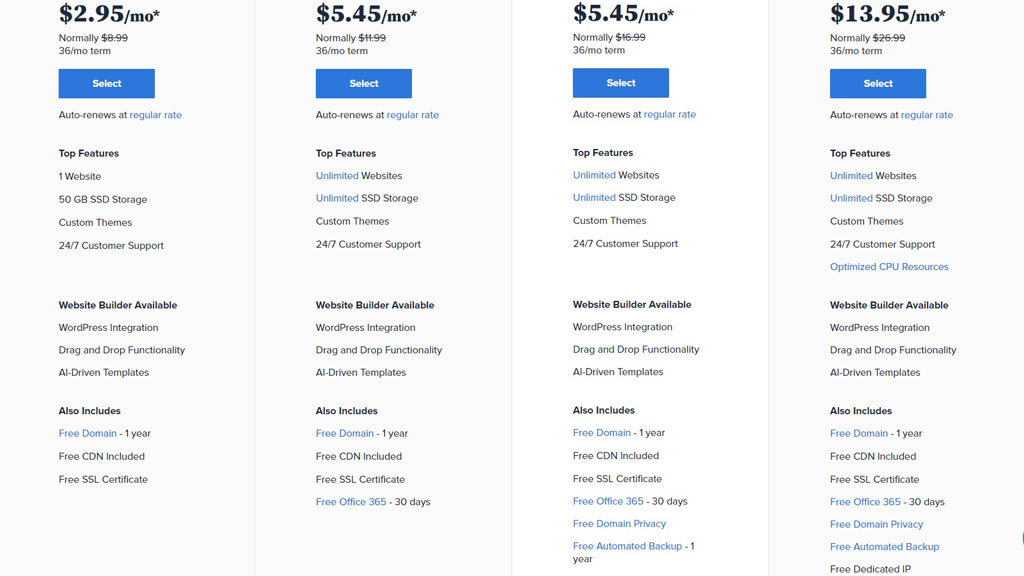 Shared hosting plans are the most flexible and popular with the Bluehost user community. Now, keep in mind that Bluehost pricing is much cheaper on their 36-month plans instead of the usual 12-month plans, so we are going to compare these plans. There are four pricing options for this niche:
Basic: The basic plan is 4.95$ a month on a 12-month plan, but if you choose the 35-month option, you will have to pay 2.95$ a month. On this plan, you can have one website with 50GB of SSD storage, a free domain for a year, free CDN, and free SSL certification.
Plus: The Plus plan is 7.45$ a month on a 12-month plan, and same here, if you want the cheaper version, you can buy the 36-month plan, which is 5.45$ per month. You can have an unlimited number of websites with this one with unlimited SSD Storage, plus it gives you 30 days of free Office 365.
Choice Plus: the price for this plan is exactly the same as the price for the Plus plan, but here you will get some extra privacy and security features. These features include Free Domain Privacy and Free Automated Backup for one year.
Pro: this one starts at 18.95$ a month for the 12-month plan, but you can reduce it to 13.95$ if you opt for the 36-month plan. You get some Optimized CPU Resources, free unlimited automated backup, and free dedicated IP on top of what you get for the Choice Plus plan.
So, you can get these plans for a lot cheaper if you buy the 36-month plans. Yes, there's a 24-month plan as well, but it's only a tad cheaper than the 12-month option.
As you can see, all prices include a free domain for one year, free CDN, free SSL certification, custom themes, and 24/7 support. As you progress up the price range, you get an unlimited number of websites, unlimited SSD storage, and free office 365 for 30 days.
Online Store Plan
This niche is a lot less complicated in terms of plans compared to the Shared Hosting Plans. These plans are best for eCommerce stores. You can build, promote and sell through your store that Bluehost has filled with WooCommerce tools for you.
You can find two plans here, one with a 12-month term and the other with a 36-month term; here's their breakdown:
Standard: 15.95$ per month on the 12-month term and 12.95$ per month on a 36-month term. Top features of this plan include online store (website + Blog), Email Marketing, Unlimited number of Products, Installed WooCommerce, free installation of Jetpack, a Store-front Theme, Customer Product Reviews, Website Traffic Analytics, 24/7 Customer Support, Payment Processing with a one-click install, Manual Order Creation, Discount Codes, a copy of CodeGuard Backup Basic which is free for its 1st year, and Office 365 (free for 30 days).
Premium: You can either buy this plan for 32.95$ per month on a 12-month term or 24.95$ per month on a 36-month term. If you opt for this plan, you will get Online Booking & Appointment Scheduling, Subscription, Product Customization, Local & Country Tax Management on top of all the Standard plan features.
Managed WordPress Plan
Bluehost's managed WordPress Plans are focused on users who are building their website through WordPress. These plans give you options for scalability, security, speed, and support for your professional WordPress website.
There are three pricing options, and all of them are on 36-month terms:
Build: $9.95/Month
Grow: $14.95/Month
Scale: $27.95/Month
All of these plans include top features like one WordPress website, 200+ global edge servers, free SSL, built-in high availability, staging environment, and up to 50,000 visitors per month.
There are also daily scheduled backups, malware detection and removal, and domain privacy and protection as well.
Other Bluehost Products
If you thought Bluehost had no other offerings other than its web hosting services, think again. In fact, during the time we were conducting our Bluehost review, it had quite a few products related to web hosting that might be useful to users. Here we are going to take a look at these services.
WordPress Hosting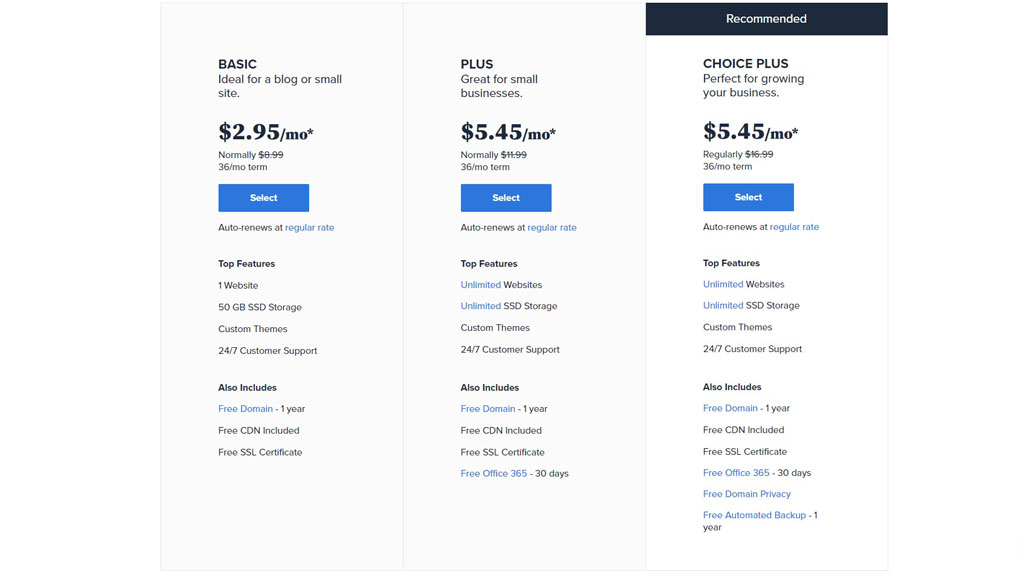 WordPress is the most used platform around the globe, and Bluehost has a very good relation with it. So, what better way to run your WordPress website on Bluehost web services other than its official WordPress hosting. This hosting package is specifically tailored to suit the needs of a WordPress website and boost its capabilities, with resources and tools that seemingly integrate with WordPress.
This compatibility makes this package the perfect choice for blogs, websites, or online stores that use WordPress as their foundation. For this package, Bluehost offers features like automated WordPress installation, automatic WordPress Update, and Google My Business verification.
Also, you get to choose a theme from a range of unique themes and templates from the Bluehost Marketplace; these themes are also specifically tailored for WordPress. Not only that, but you also get full design freedom with customization features and some easy-to-install plugins.
Some of the other features of Bluehost's WordPress hosting are:
Microsoft Office 365
Free Domain for a year
Secure Login setup
24/7 WordPress Hosting Support
Pricing plans for this package are different than the ones for Managed WordPress Plans. There are three plans for the 36-month term:
Basic: $2.95/month – this plan covers one website with 50GB of SSD Storage.
Plus: $5.45/month – you get an unlimited number of websites and unlimited SSD Storage and 30 days of Free Office 365.
Choice Plus: $5.45/month – this plan comes with Free Domain Privacy and Free Automated Backup (for one year) on top of all the Plus plan Features.
Shared Hosting
As mentioned before in our Bluehost review, Shared Hosting is the most popular package among Bluehost users. Why? Because it's the easiest and most affordable way to get your website up and running.
It's affordable because Shared Hosting allows multiple users to run their website on one server; This makes it best for websites such as blogs, hobbies, or small businesses.
But the best feature about the Shared Hosting package is that Bluehost monitors and manages the server, so you – as a user – won't have to worry about server management or patches for its platform.
Here are some other Shared Hosting package features:
Domain Manager
Resource Protection
SSL certificates
Google Ads
As I said, it's affordable and simple, but it does not guarantee RAM or CPU. It's for that simple reason that I think it's best for small businesses since the amount of RAM or CPU has little impact on them compared to the larger ones that might need the extra space.
Dedicated Hosting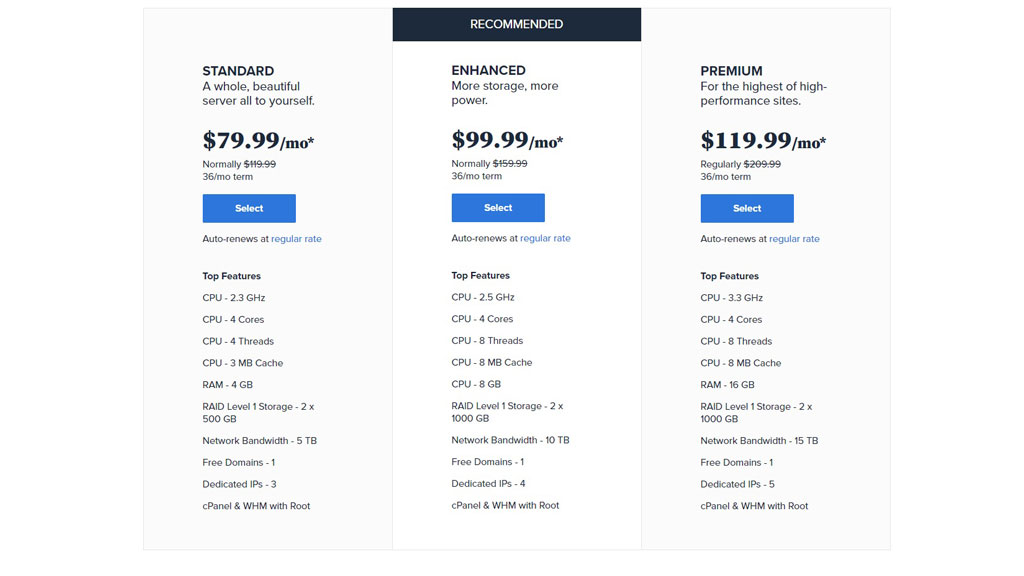 Bluehost's Dedicated Hosting is the best package for larger businesses that might need an increase in storage, power, and control. It's one of the high-end packages of this hosting web service, and it's focused on performance and security.
A dedicated hosting server is not shared with anybody; That is why these packages offer the highest level of protection, security, and control – but they are not cheap. Because each server is separated from others, each user gets full access to their server without being affected or affecting other user's experiences.
Bluehost guarantees that every Dedicated Hosting package user will have a stable and predictable website performance, with full control and privacy.
If your website has a high amount of traffic, and you need the full spectrum of RAM and CPU to run your website efficiently, then Dedicated Hosting is for you.
Some of the other Dedicated Hosting features include:
Extreme Speed
Fast Provisioning
RAID Storage
ROOT Access
Dedicated Support
Storage Upgrade
Free Domain for a year
This package offers the most top-of-the-line capabilities and features Bluehost has to offer, yet it is not cheap. There are three pricing plans for this package, which are as follows:
Standard: $79.99 per month with 500GB of storage and 4GB of RAM.
Enhanced: $99.99 per month with 1TB of storage and 8GB of RAM.
Premium: $119.99 per month with 1TB of storage and 16GB of RAM.
*All of these plans come with a 30-day money-back guarantee.
All in all, Bluehost is the Most Popular Web Hosting Service for good reasons.
It offers extensive product offerings like WordPress Hosting, Shared Hosting, and Dedicated Hosting, each with multiple pricing plans to suit your needs. It does not give any uptime guarantees but based on other Bluehost reviews, user experience, and our own experience, it has little impact on your website performance; since Bluehost Servers are up 99.99% of the time.
So, the good outweighs the bad, and that makes Bluehost a Web Hosting Service worth looking into. And let's not forget Bluehost's WordPress-oriented products, that based on WordPress popularity, can be a determining factor for users.