Overview
DreamHost offers a pretty good range of services, anything from VPS Hosting and dedicated hosting to flexible cloud hosting and affordable shared hosting packages. In this DreamHost review, we are going to take a closer look at these services and their features to see if it is the right one for you.
DreamHost was founded in 1997, which means it is a 22 years old brand. although it has grown from zero to 400,000 customers in those 22 years, it's not exactly the industry giant. DreamHost has customers from over 100 different countries around the globe and powers over 1.5 million websites – of which 750,000 are WordPress installations.
But that's not why we are here. As I said, in this DreamHost review we want to find out if this is the one. DreamHost is an affordable web hosting provider, but it keeps its features on the lean side to do that. Now, I'm not saying it's a bad thing it can be great if you are on a tight budget. But the main question is how does it perform compared to others? Does DreamHost offer a high enough quality service for it to be a viable choice in today's web hosting industry?
Stay with us on Cyberg to find out.
Features
It will get you going
As mentioned, DreamHost is not big on features. It does not offer an endless list of features, but what it does provide is a tool suite enough to get you started, and it makes up for its lack of features by being somewhat reliable and easy to use.
Of course, you can add more features on the more advanced plans, such as VPS hosting and cloud hosting packages that come with added features. Even the cheaper packages such as shared hosting come with SSD storage, email hosting, and a free domain name. but if you want to use the website builder, that's when you are going to have to pay a monthly fee.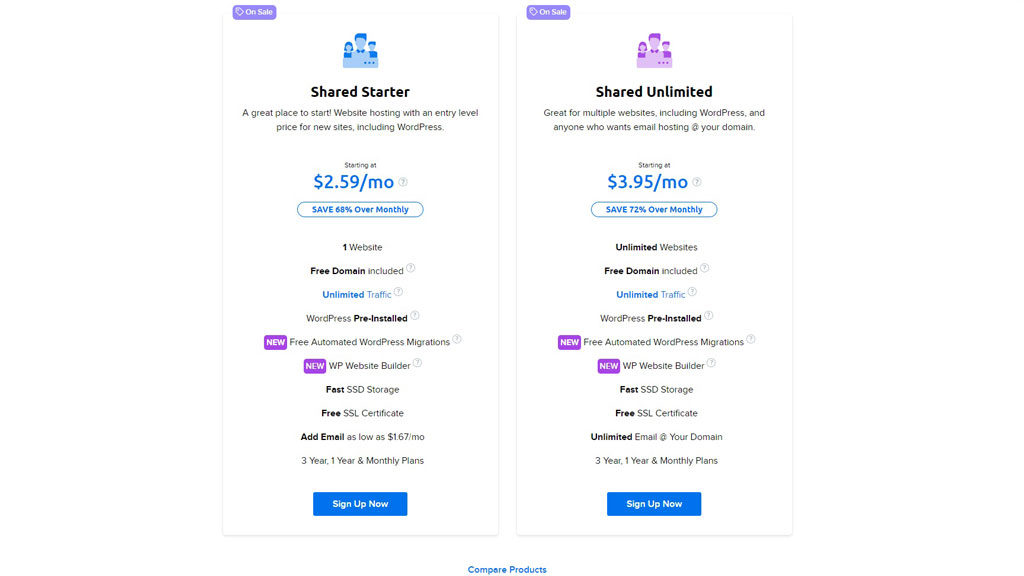 Open-Source contributions
many brands say they support the Open-Source software, but there's a difference between offering open-source software and actively supporting it. DreamHost actively contributes to the open-source movement and WordPress in particular, by creating and contributing to code snippets, community libraries, and more.
While this might not have a noticeable impact on you as an individual, it is a good thing for the company as a whole.
Privacy
One of the aspects of privacy is hiding your WHOIS information. You might wonder what does hiding WHOIS info can do for you and why should you bother to do it, but the truth is that doing so can cut down on spam and make it harder for hackers to target you.
DreamHost is a budget brand, but we are happy to report that during our DreamHost review it was very clear that they do take your privacy very seriously. There is some pretty decent privacy features included in the plans, including a comprehensive anti-spam policy and, yes, free WHOIS privacy.
Uptime Guarantee
Guaranteeing uptime is a usual marketing strategy that most web hosting brands pull off. DreamHost does offer this feature, but there's a difference. You see, where most other brands just talk about guaranteeing their uptime, DreamHost gives you compensation for every hour of downtime. As such, you can get a credit of one day's fee for every hour of downtime, up to a maximum of 10% of the monthly fee.
Green Hosting
Are you concerned for the future of Earth? or are you an environmental activist who cares about pollution? or maybe you are trying to reduce your company's carbon footprint? Then DreamHost seems like a pretty good choice for you.
Not only does DreamHost uses high-efficiency cooling infrastructure at its data center, but it's also powered by grids that use renewable sources for electricity. Not only that but also the company implements a range of recycling plans and other eco-friendly initiatives in its offices to further reduce its impact.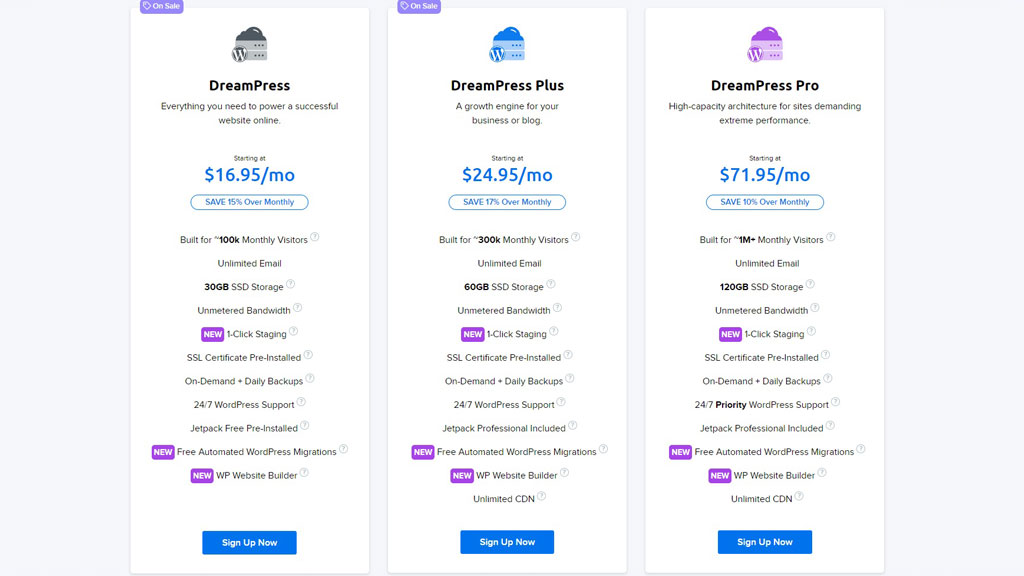 DreamHost review: Ease of Use
Ease of use is one of DreamHost's advantages, that's because it does not overwhelm you with features, so it is easier to find your way around.
Signing up and building your custom package is relatively easy as well. The only time you might run into problems is when you have a question and can't get the support team to help you out.
DreamHost also offers a website builder, and our DreamHost review could help get us started. But keep in mind, it can't compete with more professional content management systems (CMSs for short) out there – like WordPress.
Another nice thing is that it offers monthly packages, opposed to the six-month and one-year minimum contracts that many other web hosting brands try to force upon their customers, yes, I'm looking at your SiteGround – also you can read our SiteGround review.
Signing up
Signing up with DreamHost is super simple, they made it as simple as possible by putting friendly guides every step of the way. All in all, the sign-up process was more like a friendly chat.
The only problem I had was the verification process, it was a bit much, but I don't think DreamHost does this to every single customer – it's an extra step and it takes a bit of time. Also, we contacted DreamHost's customer support regarding this issue and they told us that they only require extra verification steps if there's a problem with your payment.
So, aside from the little hiccup in the verification process, signing up was quick and easy.
WordPress Installation
The setup experience I had in my DreamHost review was one of the easiest I have ever seen. You can automate the process of WordPress installation by checking a box when signing up. DreamHost will notify you via email once it is done setting up your WordPress, so you can jump in and start using it however you want.
Even configuring a domain name and installing my free Cloudflare CDN was easier than most other web hosting brands I reviewed.
WordPress Hosting Packages
WordPress is the number one CMS used worldwide, there are no questions about that – since it powers more than half of the websites on the internet. So, it's not a surprise to see web hosting companies try to win over customers by adding more and more features to their WordPress hosting packages.
As such, DreamHost's main offering is its WordPress hosting packages. These packages include everything from easy installers to over 50,000 plugins that you have to pay for elsewhere. Oh, and did I mention free themes?
DreamHost even automates updates, which can be great as it can take a load off your back. But, there's one thing I want to point out in my DreamHost review, regarding its automatic updates: sometimes you are better off with a manual update, as an automated update will take your website offline whenever it needs to.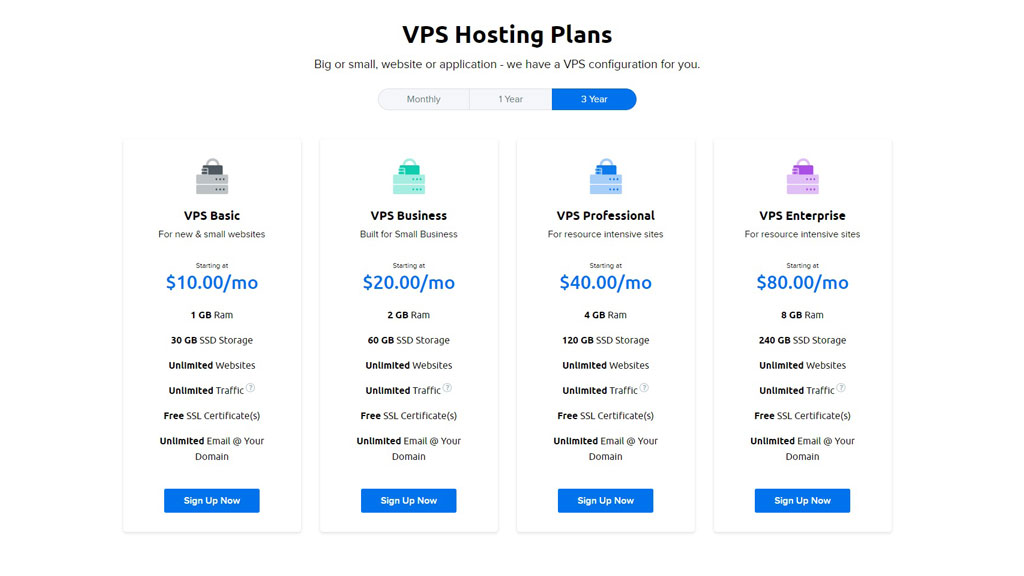 Free WordPress Site Migration
DreamHost started offering this feature recently in their WordPress and shared hosting plans, and they promise this migration to be done without any downtime.
However, the Free Site Migration feature is free only for WordPress websites. So, if you are using any other CMS (like Wix, Weebly, or anything other than WordPress), you'd still have to pay a one-time fee of $99.
So, it's good news for WordPress users, but not so much for others.
Caching
Caching can help your website load more quickly by serving up a cached version of your site to visitors, and it can even prevent downtime, so it's a nice feature to have.
Built-in caching was one of the extra features offered during our DreamHost review, so you have to pay a little extra to get it, never less, it's good to know it's there – plus it's not that expensive to add.
DreamHost Hosting Plans
the vast majority of all the web hosting brands in the industry will give you a 30-day refund period; which is a full month to test out their services before risking your money – although you have to pay that money upfront.
There are a few, like HostGator, that will give you 45 days.
Then there is DreamHost. DreamHost has a 97 days money-back guarantee. That's over a full three months to make sure of your choice.
Another thing that was rare and caught our attention during our DreamHost review was that it doesn't have any hidden terms or hoops to jump through if you want a refund, either. Furthermore, there are monthly billing plans available, and you can cancel these anytime you want as well. All of these points are very rare in the web hosting industry.
Not So Basic Features
DreamHost's Shared Starter option starts at only $2.59 per month, but don't mistake it for a bare-bone package.
This package comes with a free domain name, and an SSL certificate included. And let's not forget the unlimited bandwidth and storage.
DreamHost has its website builder – it's called Remixer – but they also offer access to SquareSpace, Weebly, and Wix in their app library. You can also find Joomla, phpBB, Zen Cart, Drupal, Magento, Shopify, and tumbler in this library.
WordPress is pre-installed as well. With the one-click installation, setting WordPress is pretty easy on most servers these days. But novice webmasters might enjoy the fact that it is immediately ready for them when they signup.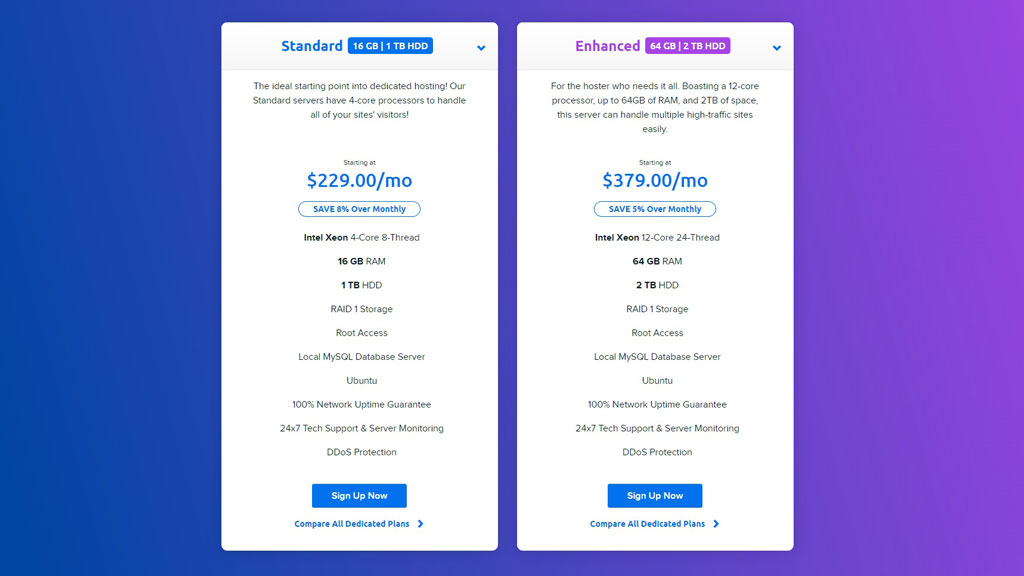 Unlimited Features
As mentioned, DreamHost offers a set of "unlimited" features on their pricing and plans, like disk space and bandwidth.
This means you don't have to worry about disk storage or network transfer if your site is getting popular.
There are a few caveats to this policy though, but none of them are out of the ordinary.
First, your website has to be built properly. Meaning it should not be wasting server resources or cause issues with other sites, or they might try to move you and your website to their private servers.
Also, DreamPress, VPS servers, and email do not fall under this policy. Email is restricted to 2 GB, and MySQL databases need to stay under "a few GB in size."
DreamHost review: Plans and Prices
Here's a list of DreamHost's plans along with their prices:
WordPress Hosting Plans:
WordPress Starter: Starting at $2.59 per month for the 3-year term ($2.95 per month for the 1-year term and 4.95 per month for the monthly term), this plan lets you run one website with all of the unlimited and free features we mentioned. You can also add Email for as low as $1.67 per month.
WordPress Unlimited: for only $3.95 per month for the 3-year term ($2.95 per month for the one-year term and $8.95 for the monthly term), you can have multiple websites and unlimited email added to the WordPress Starter package.
Managed WordPress Hosting Plans:
DreamHost calls them DreamPress. These plans come monthly and yearly, and choosing the yearly option can save you up to 17%. Here's a list of the three tiers of DreamPress:
DreamPress: up to 100,000 monthly visitors, 30GB SSD storage, pre-installed SSL certificate, on-demand, and daily backups, Jetpack free, free automated WordPress Migrations, and WP website builder. This is a quick list of the features you can get for $16.95 per month on the yearly plan ($12 per month for the monthly plan.)
DreamPress Plus: if what the DreamPress offers is a little light for you, then you can have DreamPress Plus for only $24.95 per month on the yearly term ($24 per month on the monthly term). This will give you 300,000 monthly visitors, 60Gb of SSD storage space, Jetpack professional, and an unlimited CDN on top of all the normal DreamPress plan features.
DreamPress Pro: this is the top WordPress hosting plan DreamHost has to offer. It's priced at 71.95 for the yearly term and 79.95 for the monthly one. This one will let you have up to one million monthly visitors, 120GB of SSD storage space, and 24/7 Priority WordPress Support on top of all the DreamPress Plus features.
DreamHost's Dedicated Hosting Plans:
If you want to spend some more and have a server dedicated to your website, DreamHost's dedicated Hosting plans have you covered. These plans come in two tiers and each tier has its levels, so you can choose the one you want based on your budget and needs. All of these packages come with RAID 1 Storage, Root Access, Local MySQL Database Server, Ubuntu, 100% Uptime Guarantee, 24×7 Tech Support and Server Monitoring, and DDoS Protection. These packages are as follows:
Standard: starting at $149 per month for the yearly plans, it gives you an Intel Xeon 4-Core 8-thread CPU, 4GB of RAM, and 1 TB of HDD. If you need more – and also don't mind spending more – you can upgrade this plan to its next level. This level starts at 189 per month on the yearly term and increases the RAM number up to 8GB. You can still upgrade to a final level for $229 per month on the yearly term and get 16GB of RAM.
Enhanced: if you want to host multiple high-traffic websites, then this one is for you. Starting at $279 per month on the yearly plans, you can either have an Intel Xeon 12-Core 24-Thread CPU, 16GB of RAM, and 2TB of HDD, or you can get the SDD version of the same plan. The SDD versions have the same price but they give you SDD Storage (as the name suggests). So, the base SDD plan is also $279 per month on the yearly plan and gives you 240GB SSD Storage. You can upgrade these plans as well. 32GB of RAM for $329 per month on the yearly plans or 64GB of RAM for $379 per month billed yearly, these are the options you can get if 16GB of RAM is a little too low for you.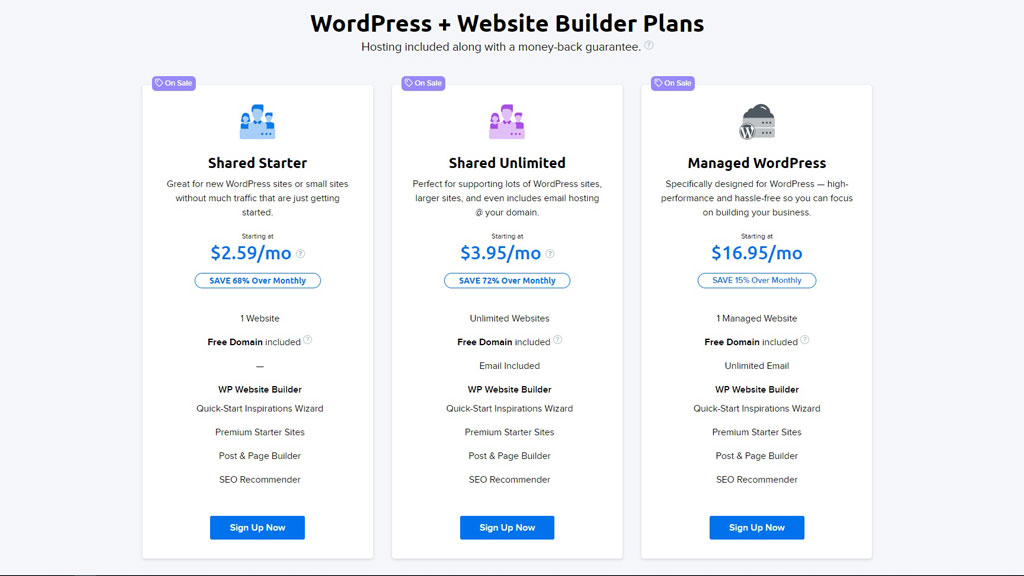 DreamHost's VPS Hosting:
DreamHost's VPS Hosting plans come in different shapes and sizes. You can choose to buy the monthly, 1-year, or 3-year plans. All of these plans will give you the ability to host an unlimited number of websites, have unlimited traffic, Free SSL certificates, and unlimited Email. The only differentiating factor is their hardware and price. Here is a list of these packages for the 3-year term:
VPS Basic: starting at $10 per month, this one will give you 1GB of RAM and 30GB of SSD Storage.
Business: starting at $20 per month, this plan will increase those numbers to 2GB of RAM and 60GB of SSD storage.
Professional: if you want more resources for your website, this plan can get you 4GB of RAM and 120GB of SSD. This one starts at $40 per month.
VPS Enterprise: the top tier of DreamHost's VPS Hosting plans. Starting at $80 per month, this one will give you 8GB of RAM and 240GB of SSD storage.
Performance
Not a good experience
This is where we were surprised the most during our DreamHost review. There are many pretty good reviews for DreamHost performance on the internet, some even go as far as to say it is a haven from the bigger hosts. But some people have experienced downtime or even 500 internal server errors. To make it worse, the support team is anything between slow and non-existent in these situations.
Now that we are talking about support, I have to say that I've seen something from web hosts recently: if you are a new customer, the server setup works okay, but if you do run into a problem, they will take forever to fix it. In the meantime, your website is left crippled or worse, offline for days on end. Let's hope this does not turn into a trend.
We used the Sucuri page load tester during our DreamHost review and to say that the results were not good is an overstatement. DreamHost's average loading speeds were terrible, it is ten times slower than some of the other web hosting servers I've tested. It was disappointing.
We tried using a CDN to help bring those numbers up a bit, but a CDN doesn't do miracles either. So, if speed is important to you – and let's be honest, is there anyone who doesn't care about their website loading speed? – then you better off somewhere else.
DreamHost review: Support
Award-Winning Horror Stories
DreamHost boasts about its 24/7 support, and it claims to have won awards for it. But the customer review is not all that positive there are stories of people waiting weeks for a response to their query.
On the bright side, DreamHost offers a knowledge base and discussion forums, both of these are free to use. There's also email support and live chat between 8 AM – 4 PM Pacific Time on Mondays – Fridays.
I wanted to test the support features for my DreamHost review, so I started with the live chat agent, which is a poorly configured bot that can barely understand a human. But when I eventually got through, it was not bad at all. I also filed a support ticket to test the email support functionality, and it also was a pleasant experience.
The live chat feature was clunky at first, but when I finally got through and started speaking to a real human, he was pretty polite and super helpful.
As mentioned before, DreamHost offers access to its discussion forums where you can seek help from other customers, as well as official representatives of the company. Unfortunately, you will run into problems, and waiting for a response from DreamHost's support team is not that uncommon, so having these forums can be very useful – more than one would think.
Pricing
DreamHost's winning card is its Pricing which makes it stand out from the rest of the competition. Even after factoring in the drawbacks, when you combine these cheap plans with DreamHost's monthly billing and unlimited resources, you can see why it's so popular.
Then there's another drawback: Payment options. DreamHost accepts all major credit cards, but no PayPal or Cryptocurrencies, sorry.
Refunds
Canceling your DreamHost account is easy and takes less than a minute. All you need to do is to go to the billing section of your admin panel and file a cancellation request.
I was especially impressed by how transparent and clear they were about their refund policy when I decided to cancel my account at the end of my DreamHost review. I think DreamHost is the only web hosting brand I've seen that automatically told me when I could expect my refund without requiring me to contact their support team.
Pros and Cons
Pros
Great Basic Features
Cheap Prices
Green Hosting
Privacy Features
Easy to use
Cons