If you are looking for a fully-fledged out online file converter that is easy to use and understand and supports almost all file types, this might be the one for you. CloudConvert is an online file converter, which means it is a device and platform-independent service, and the only things you need to use it are a web browser and an internet connection. If you'd like to know more about its features, keep reading up on Cyberg's CloudConvert review.
Using a very clear and intuitive interface, CloudConvert makes sure that all users can convert their files flawlessly, even those first-timers. There are no ads or need for registration to use it, and it takes you straight to the conversion process as soon as you land on CloudConvert's home page.
Also, if you are a developer, you can use CloudConvert's advanced and scalable build-in API. By integrating this API into your apps or websites, you can make the most out of this file type converter without the need for the app itself.
This online file converter covers almost all and every file category you can think of, whether you're looking to convert MOV to MP4 or PDF to IMG. In this CloudConvert review we will take a look at its features, but first, a quick list you can use to decide if you like this file converter or not.
Pros and Cons
Pros:
A comprehensive list of high-quality file type conversion options
Supports major cloud services
Platform and device-independent
Easy to use
Having the ability to convert files in batches
A powerful API
Cons
Free usage is limited to only 25 files per day
CloudConvert review: Features
One of the major advantages of any online file conversion service is that, because it is online, it's independent of platforms and devices. This is the point that should be mentioned in my CloudConvert review because it can save you the headache of the installation and registration of software on your computer. Also, CloudConvert is a do it all online tool with tons of features, here is a quick list of those options: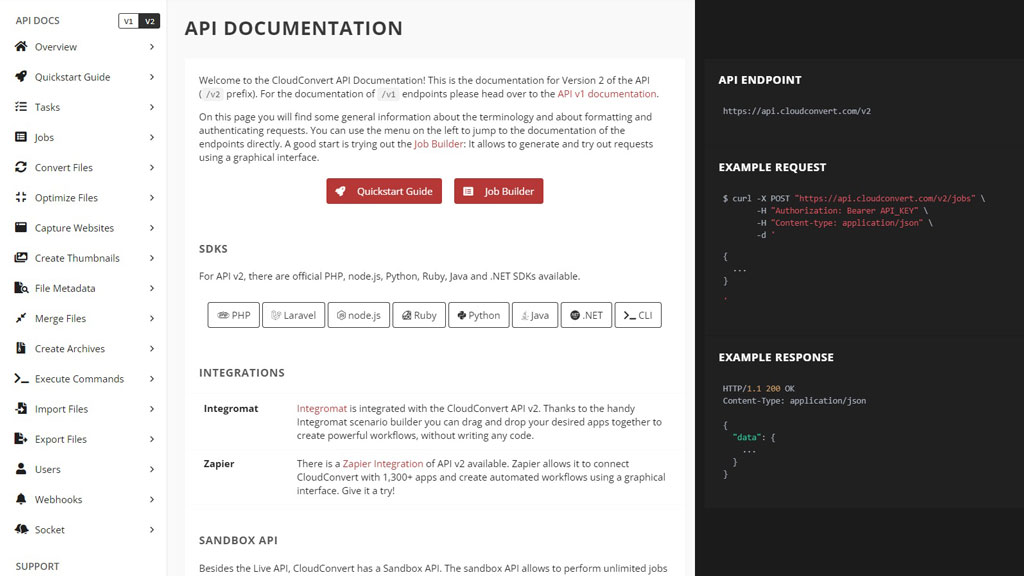 Fast file conversions – since everything is processed in the cloud, CloudConvert does not take up any of your system resources.
You can choose to use your local storage, URLs, or cloud services like Google Drive, Dropbox, and OneDrive as the source of your file.
By using the batch conversion option, you can convert multiple file formats, which will save you a lot of time.
Supports over 200 file types, enough to cover almost all popular documents and files.
Gives you the option to define the quality of conversion based on your needs, there are also other parameters you can change to get your desired output.
A powerful API that can be used for custom integrations with other apps and websites – for example, CloudConvert has full Amazon s3 integration.
CloudConvert ensures all data security for all the uploads and downloads.
Since it is an online tool, it does not need any installation or registration of PC software.
A clean, clear, and straightforward interface that is convenient to use.
Supported File Types
Here is a quick list of all the file formats supported by CloudConvert – spoiler alert, it's a long one:
Archive: 7Z, ACE, ALZ, ARC, ARJ, BZ, BZ2, CAB, CPIO, DEB, DMG, GZ, IMG, ISO, JAR, LHA, LZ, LZMA, LZO, RAR, RPM, RZ, TAR, TAR.7Z, TAR.BZ, TAR.BZ2, TAR.GZ, TAR.LZO, TAR.XZ, TAR.Z, TBZ, TBZ2, TGZ, TZ, TZO, XZ, Z, ZIP
Audio: AAC, AC3, AIF, AIFC, AIFF, AMR, AU, CAF, FLAC, M4A, M4B, MP3, OGA, SFARK, VOC, WAV, WEBA, WMA
CAD: DWG, DXF
Document: ABW, DJVU, DOC, DOCM, DOCX, DOT, DOTX, HTML, HWP, LWP, MD, ODT, PAGES, PDF, RST, RTF, SDW, TEX, TXT, WPD, WPS, ZABW
Ebook: AZW, AZW3, AZW4, CBC, CBR, CBZ, CHM, EPUB, FB2, HTM, HTMLZ, LIT, LRF, MOBI, PDB, PML, PRC, RB, SNB, TCR, TXTZ
Font: EOT, OTF, TTF, WOFF, WOFF2
Image: 3FR, ARW, AVIF, BMP, CR2, CR3, CRW, DCR, DNG, EPS, ERF, GIF, HEIC, ICNS, ICO, JFIF, JPEG, JPG, MOS, MRW, NEF, ODD, ORF, PEF, PNG, PPM, PS, PSD, RAF, RAW, RW2, TIF, TIFF, WEBP, X3F, XCF, XPS
Presentation: DPS, KEY, ODP, POT, POTX, PPS, PPSX, PPT, PPTM, PPTX, SDA
Spreadsheet: CSV, ET, NUMBERS, ODS, SDC, XLS, XLSM, XLSX
Vector: AI, CDR, CGM, EMF, SK, SK1, SVG, SVGZ, VSD, WMF
Video: 3G2, 3GP, 3GPP, AVI, CAVS, DV, DVR, FLV, M2TS, M4V, MKV, MOD, MOV, MP4, MPE, MPG, MTS, MXF, OGG, RM, RMVB, SWF, TS, VOB, WEBM, WMV, WTV
Requirements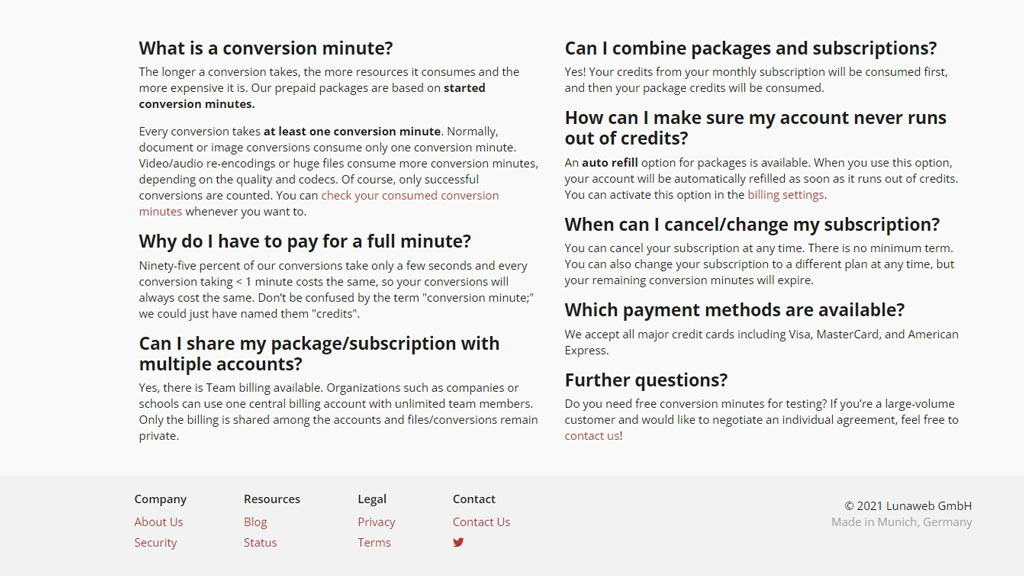 As mentioned before in my CloudConvert review, this is an online web conversion service we are talking about. Because of this fact, it is not too demanding in terms of hardware specs. This is all you need for a smooth file type conversion:
An internet connection – a good and stable internet connection is important to handle both the file uploads and downloads of the converted files.
An up-to-date Browser – a modern web browser will ensure that the service is displayed properly with all components working.
Storage – enough storage space to store your converted files.
Once these requirements are met, you can use CloudConvert on any platform and device with full compatibility.
Pricing
In my opinion, CloudConvert's limitation on the number of files that one can convert in a day is hardly a limit – I mean, who needs to convert more than 25 files per day? And if there is such a person, they surely can afford one of CloudConvert's paid plans. Yes, if 25 files per day are not enough for you, then you can consider paying for the ability to convert more files. The good thing is that these payments are flexible and you can tailor these plans, which are offered as packages or subscriptions, to suit your specific needs.
How it Works
Here's how CloudConvert's Packages work: these packages are a one-time fee and your quota will not expire. You buy a number of conversion minutes and you use them whenever you like.
CloudConvert's Subscriptions are a bit different. This is better suited for those who do a LOT of file conversions per month. This is a monthly plan, meaning you are charged every month for a fixed amount of conversion minutes. Unused credits do not roll over at the end of each month, but in exchange, these plans are 50% cheaper than packages.
Both of these plans start at $9.00, but the amount of conversion minutes you get for that price is a bit different. For example, if you pay $9.00 for a Package, you'll get 500 conversion minutes, while that same amount of money will get you 1,000 conversion minutes in the Subscription plan.
You can use the intuitive slider to choose exactly how many conversion minutes you want; This slider goes from 500 up to 1,000,000.
"But what is a conversion minute," you ask, well that is the last thing I need to cover in this CloudConvert review. Conversion Minutes are simply the CloudConvert's currency. Each conversion takes at least one conversion minute – this is usually for converting documents and images – while heavier conversion, like videos or audio files, will consume more conversion minutes (read "credits"). The consumption rate is also based on the quality and codecs, but the good news is that only successful conversions are counted.
This credit can be shared, which is a useful feature for companies and organizations that want to use a central billing account with unlimited team members. If you want to buy one of these services, CloudConvert accepts all major credit cards including Visa, MasterCard, and American Express.
CloudConvert review: Conclusion
As the finishing note for my CloudConvert review, let me just say this: this is a powerful online file converter that lets you convert almost any file type without the need to install or register anything. It will always deliver the output you were looking for, even in the free version – and the paid plans are not expensive either. It's safe, secure, reliable, and efficient. If you are looking for a good, solid, and worthy online file converter for your personal or commercial needs, I suggest you give CloudConvert a try.