Overview
Computers are a big part of our day-to-day lives now. And if you have ever used a computer, you know that there are some files you simply can't use on some Operating Systems (or OS). That's why conversion services are so popular these days. These services let you convert one file format to another, so you can use your file and do your job without having to find third-party software for that specific file type. this is why we are doing this Convertio review.
Convertio is one of these conversion services, and I consider it to be one of the more comprehensive online converters there is. With this converter, you can convert a ton of formats. To be specific, you can convert a variety of file formats like video, audio, archives, images, documents, presentations, ebooks, vectors, fonts, and CAD files. So, stay with us on Cyberg in this convertio review as we take a deep dive to see how it actually stacks up against its competitors.
Online File Converters
one of the web application's main advantages is that they do not require any specific platform. This means that you can convert almost any file format out there without having to worry about the registration or installation of any software. All you need to have access to online file format converters such as Convertio is a web browser – and a good internet connection of course.
But being an online web converter is only one of Convertio's winning cards. The main reason that I use it, and I think I should mention it in this Convertio review: It is also one of the few file format converter web apps that feature a built-in OCR to help process scanned or image-based documents. And, let's not forget about Convertio's handy Chrome extension that simplifies the whole file conversion process quite a lot.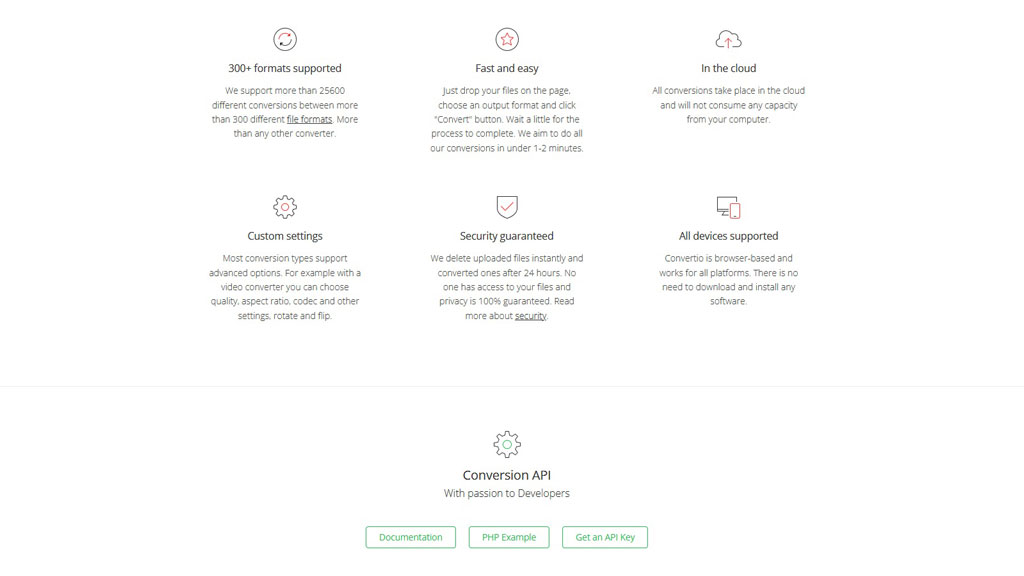 Pros and Cons
I will cover more features in the subsequent sections of this Convertio review, but for now, let's have a look at its Pros and Cons:
Pros:
Built-in OCR tool
Works on all platforms
Guaranteed security and privacy
Integrates popular cloud services
Fast with batch processing
Easy to use
Support for over 300 file types
Features a developer API
Cons:
The free version limits to 100 MB per file
Features
One of the reasons why I wanted to do a Convertio review was its features. These features are the reason many use Convertio, and they help you deliver high-quality results. Here is a quick rundown of Convertio features:
Ease of use
Convertio helps take the processing load off of your computer by working in Cloud. This also helps Convertio do your orders faster with the help of Cloud's enhanced processing power.
You can use Convertio in various ways. You can use your local files, add files or documents from direct URLs, or integrate cloud services; Like Dropbox and Google Drive.
One of the other ways I used during my Convertio review to speed up my work, was the much-coveted batch processing option. This option can help you save a ton of time by converting multiple files simultaneously.
Another thing that I need to mention in my Convertio review is that it lets you customize settings for a more tailored output. For example, while using Convertio as a video converter, you have the ability to tinker and tweak parameters like the aspect ratio, quality, codec, rotation, flipping, and many more.
Security
Convertio has many security measures put in place to ensure your security and privacy; These include things like deleting files from the server after 24 hours, encrypting uploads and downloads, isolating data for each task, and many more. By doing so, Conversion makes sure that no data or information falls into the hands of unauthorized parties.
Even if you are a first-timer, Convertio is easy to use. Also, it does not have any ads, and the conversion process is straightforward.
You can use Convertio without having to submit any personal information to access its features.
One of the promises Convertio boasts about is its delivery output time, which is under 2 minutes. And it delivered on that promise in my Convertio review.
Being a web application, Convertio can work on all platforms and it only needs some fundamental requirements; an internet connection and a web browser.
Other Features
Convertio allows you to do a full or partial conversion; which is a great thing for documents. You can convert the entire file, like any other conversion service, but you can also choose a page range or even individual pages.
Convertio uses a built-in OCR (which stands for Optical Character Recognition) to handle data extraction from scanned or image-based files and obtain editable documents like word, excel, etc. It supports popular languages including Chinese, German, Dutch, French, Italian, and Japanese.
Supported File Formats
Here is a list of main categories and their supported formats. Just to give you an idea of how comprehensive Convertio is.
Video: 3G2, 3GP, AAF, ASF, AV1, AVCHD, AVI, CAVS, DIVX, DV, F4V, FLV, HEVC, M2TS, M2V, M4V, MJPEG, MKV, MOD, MOV, MP4, MPEG, MPEG-2, MPG, MTS, MXF, OGV, RM, RMVB, SWF, TOD, TS, VOB, WEBM, WMV, WTV, XVID
Audio: 8SVX, AAC, AC3, AIFF, AMB, AMR, APE, AU, AVR, CAF, CDDA, CVS, CVSD, CVU, DSS, DTS, DVMS, FAP, FLAC, FSSD, GSM, GSRT, HCOM, HTK, IMA, IRCAM, M4A, M4R, MAUD, MP2, MP3, NIST, OGA, OGG, OPUS, PAF, PRC, PVF, RA, SD2, SHN, SLN, SMP, SND, SNDR, SNDT, SOU, SFARK, SPH, SPX, TAK, TTA, TXW, VMS, VOC, VOX, VQF, W64, WAV, WMA, WV, WVE, XA
Archive: 7Z, ACE, ALZ, ARC, ARJ, CAB, CPIO, DEB, JAR, LHA, RAR, RPM, TAR, TAR.7Z, TAR.BZ, TAR.LZ, TAR.LZMA, TAR.LZO, TAR.XZ, TAR.Z, TBZ2, TGZ, ZIP
Image: 3FR, ARW, AVIF, BMP, CR2, CRW, CUR, DCM, DCR, DDS, DNG, ERF, EXR, FAX, FTS, G3, G4, GIF, GV, HDR, HEIC, HRZ, ICO, IIQ, IPL, JBG, JBIG, JFI, JFIF, JIF, JNX, JP2, JPE, JPEG, JPG, JPS, K25, KDC, MAC, MAP, MEF, MNG, MRW, MTV, NEF, NRW, ORF, OTB, PAL, PALM, PAM, PBM, PCD, PCT, PCX, PDB, PEF, PES, PFM, PGM, PGX, PICON, PICT, PIX, PLASMA, PNG, PNM, PPM, PSD, PWP, RAF, RAS, RGB, RGBA, RGBO, RGF, RLA, RLE, RW2, SCT, SFW, SGI, SIX, SIXEL, SR2, SRF, SUN, SVG, TGA, TIFF, TIM, TM2, UYVY, VIFF, VIPS, WBMP, WEBP, WMZ, WPG, X3F, XBM, XC, XCF, XPM, XV, XWD, YUV
Document: ABW, AW, CSV, DBK, DJVU, DOC, DOCM, DOCX, DOT, DOTM, DOTX, HTML, KWD, ODT, OXPS, PDF, RTF, SXW, TXT, WPS, XLS, XLSX, XPS
Presentation: ODP, POT, POTM, POTX, PPS, PPSM, PPSX, PPT, PPTM, PPTX
Ebook: AZW3, EPUB, FB2, LRF, MOBI, PDB, RB, SNB, TCR
Font: AFM, BIN, CFF, CID, DFONT, OTF, PFA, PFB, PS, PT3, SFD, T11, T42, TTF, UFO, WOFF
Vector: AFF, AI, CCX, CDR, CDT, CGM, CMX, DST, EMF, EPS, EXP, FIG, PCS, PES, PLT, PS, SK, SK1, SVG, WMF
CAD: DXF
Plans and Prices
While you can use Convertio as a free file converter, it has placed some limitations to earn money – since Convertio does not use any kind of ads, it doesn't have any financial backups. This limits the file size that you can process at a time. If you want to have these limitations lifted, you can purchase or subscribe to any of Convertio's paid plans.
Here is a quick list of these plans and their features:
Light: this plan raises the file size limit to 500 MB, gives your conversions a "High" priority, and gives you the ability to convert 24 files in a single batch. This plan is priced at $9.99 monthly or you can subscribe for an annual billing fee of $5.99 per month.
Basic: this is the most popular plan. The Basic plan raises the file size limit to 1 GB and lets you convert 50 files in a batch. It also raises your conversions priority to "Higher". It's priced at $14.99 monthly or $8.99 per month paid annually.
Unlimited: priced at $25.99 monthly or $15.58 per month billed annually, this is the highest tier of Convertio paid plans I could find during my Convertio review. It lifts the file size limitation, so you can convert any size of files, raises your conversions priority to "Highest", and gives you the ability to convert an unlimited number of files in a single batch.
Conclusion
If you want an online file converter that is easy to use, supports almost all file formats you can come across, and does its job the way you want it to, Convertio is a solid choice. Convertio's use of top-notch algorithms to retain the original quality, its wide range of supported files, and the fact that it works on any platform as long as you have an internet connection and a web browser tool, makes it hard to miss out for anyone looking for a file converter.