In this Alexa Review, we audit the Alexa website to perform Alexa User testing, discuss the SEO tools and optimization features that Alexa internet provide, evaluate Alexa analytical performance, weigh Alexa marketing tool products and services against the cost, discuss the features and duration of the free Alexa trial application, compare Alexa to other potent competitors, and finally, proving an Alexa score.
Alexa internet review: Introduction
Alexa is a web traffic analysis company that is part of the AWS (Amazon Web Services) conglomerate. As the competition for SERP pages heats up, content creators seek a web analytics solution to help them find strong Keywords, increase their Pay per click (PPC), boost their organic traffic, and improve their domain authority. The Alexa website provides traffic, reach, keyword, competition, and many other analyses to improve your digital marketing strategy.
Alexa user testing: Is Alexa a user-friendly SEO tool?
The best SEO tool requires a user friendly environment, ease of access and availability, reliability, high-value content, and other application features identified as the UX or user experience. In this part of the Alexa SEO tool review, we test the Alexa internet website to assess:
First impression: How is the Alexa home page organization
Alexa Website navigation test: How easy is it to get keyword optimization data on Alexa?
Alexa Tutorial: How can I learn how to use the Alexa SEO tool?
Read through this section of the Alexa internet review to learn more, or skip to the Alexa features section.
Home page and Graphic design: Alexa SEO Review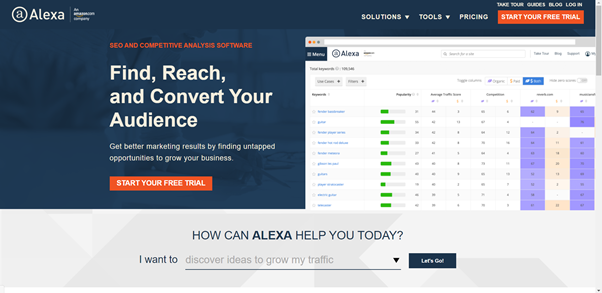 The common element we discuss in the first impression of a review is a subjective evaluation of the landing page. In this case, we talk about the Alexa home page. The home page can be divided into four parts:
Graphic analysis
Marketing strategy analysis
Toolbars and menus
Website footer
Graphical design in Alexa
The overall theme represents the idea behind Amazon's marketing design. Alexa software states the name of AWS Corporation as the parent company. Moving on to graphics, the Alexa website uses a three-color design language. I realized a single sans serif font is used for the typography. Whatsmore, I enjoy the fact that the design elements are spread across the screen in a balanced way.
Marketing analysis: Alexa home page clickfunnels
One of the most annoying feedbacks is getting swamped by ads promoting products and packages; on the other hand, the home page is the first step of a clickfunnel or a marketing funnel. Therefore, an optimized design balances these ends. There are links to the trial version and Alexa paid services in four places. The first link is on the right side of the Home page toolbar. There are also links at the top, in the middle, and at the bottom of the Alexa home page. Each link attempts to attract clients with different information and trigger points.
Alexa Toolbar and Menus
The landing page toolbar can be divided into two parts. There are Amazon and Alexa logos on the left while the menus lay on the right side of the page. There are solutions and tools drop-down menus, and also pricing and free trial links. You can also access guides, tutorials, Alexa Blog, and your account using tiny links above the menus. The menus provide safe navigation guides for any type of visitor. They can browse the Alexa marketing tool website based on their project requirements or based on similar tools they have used on other website optimization software.
Website footer: Alexa internet website sitemap
At the footer, there are Alexa internet contacts, sitemap, and copyrights. The Sitemap provides links to Alexa SEO tools, Alexa competitive analysis tools, Marketing resources, And Alexa Company information.
Alexa navigation test: Alexa keyword tools
In this part of the Alexa Review, we want to test how easy it is to perform a typical content marketing task using Alexa internet software. The chosen task consists of finding keyword suggestions for "SEO tools."
IS it easy to use Alexa SEO tools?
To complete the task mentioned above, I found a Keyword Research Tool link in the middle of the Alexa home page. The link takes you to the Keyword Research page, where I found the Find Easy-to-Rank Keywords button.
The button takes you to the middle of the same page to find out how to interpret the SEO data.
Using Alexa premium account
To evaluate the Keyword difficulty tool, I signed into my account. If you're signed in, your landing page changes to the Alexa dashboard, where you can use different content optimization and analytic tools.
There, you can choose the Keyword difficulty tool on the SEO menu to search for solid keywords.
The navigation was smooth and straightforward, leaving a good impression on my Alexa User Experience.
Alexa Tutorials
There are many ways to learn how to use Alexa Analysis tools. I want to point out three of these methods:
Alexa Blog:
The sponsored Alexa weblog answers users' questions, tutorials, guides, and digital marketing tips.
Alexa Tour:
Another in-house method to learn how to use Alexa SEO software is by taking this tour. It walks you through different tools and information on the website.
External Alexa tutorials:
There are plenty of free and paid SEO courses on YouTube and other education or video streaming websites. Here is a sample Alexa tutorial on YouTube:

Features and tools: What are Alexa top features?
Having a wide range of tools with high accuracy is essential for successful content creation. Alexa offers various quirks and features in the Marketing Stack. I've discussed Alexa SEO tools, Alexa Competitive Analysis tools, and Alexa Site Audit tools in this Alexa review.
What can Alexa do? Alexa SEO tools:
Developers rely on Search Engine Optimization programs to find keyword opportunities that help them with competitive benchmarking. Alexa Marketing Solution provides the following services to optimize your web content:
Alexa Site audits:
The Site Audit tool crawls and analyzes your website and gives you scores based on your content SEO, website performance, security, HTML tags used, your Reputation, and an overall grade. I need to mention that these scores are based on Alexa's analysis; Having a high Alexa Ranking doesn't necessarily mean you will be at the top of Google SERP. It provides Guidelines that Alexa internet has extracted from crawling top SERP webpages and tracking other websites.

ON-Page SEO edit:
This Alexa on-page SEO tool asks your website URL and your target keyword, then runs and provides you with SEO modifications that you can instantly apply to your page. For the purpose of illustration, I entered our ProWritingAid Review, and here are the results from Alexa:
On-Page SEO Tool test:
The optimization suggestions fall into four categories. Relevance means how close Alexa estimates that your keyword is to your content. SERP appearance helps your link appear better on the search engine results page. Visitors Experience indicated factors such as content arrangements, headers, outbound links, and other features. A good user experience will increase your traffic and SERP rank in time. Target Keyword analyzes your keyword choice against your page authority and domain authority. Then compares your results to those of the Top SERP pages. If you're aiming too high, it would suggest you choose an easier keyword.
Keyword tools in Alexa
Alexa Keyword Difficulty tool:
Choosing the right Keywords is vital to reach the top of Google ranking. This is the best SEO tool that the Alexa application provides. It defines how potent a keyword is using a measure called Competitive Power that assesses your keyword authority.

Keyword Share of Voice:
Gaining ranks among less attended Keywords is easier. Alexa Keyword Share of Voice lists the sites that use the same keyword as you. It gives you insights into how competitive you can be against top-performing web pages.

Alexa Competitive analysis tools
Making it to the top pages of the SERP requires both SEO optimization and scouring your competitors. In this part of the SEO tool review, we introduce these analytic tools.
Site overview:
This Alexa competitive analysis surfer provides insights on other websites. Including similar websites, their top keywords, and Their SEO and keyword performance.

Site Keywords:
Alexa web crawler surfs the website you choose to extract its keywords and gives you an overview of their performance to benchmark their keywords or create content using the exact keywords.
Alexa Site Screener:
This tool illustrates top websites that belong to a particular niche or use a specific keyword. Alexa program lists their Global Alexa Rank, the Average time spent on their site, and the number of inbound links to their web domain.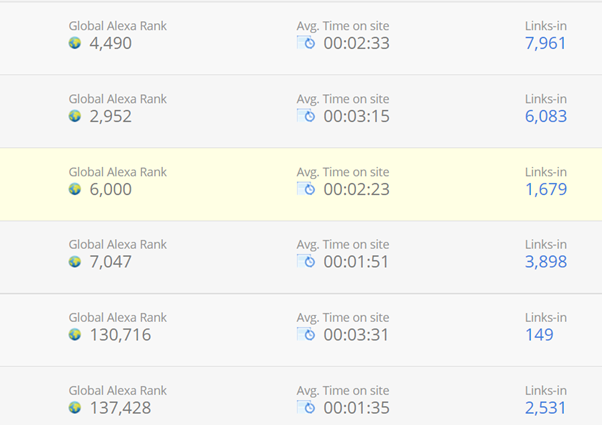 Alexa Site and Content Tools
Choosing the right content and keyword can help you pinpoint a winning strategy in the SERP ranking race. This Alexa feature provides an infographic illustration of the related topic to a specific keyword.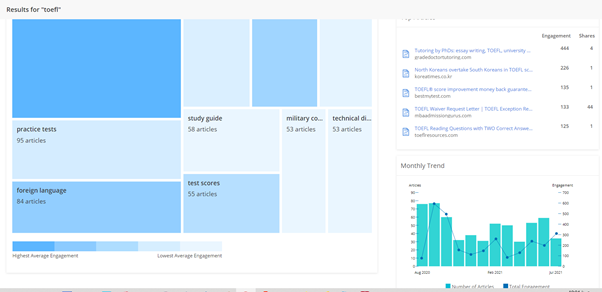 Alexa applications and subscription plans
A great SEO marketing tool has to offer proper tools and helpful features; however, users also prefer to use cheap SEO tools. Many freelancers and content creators even combine free SEO solutions to satisfy their SEO requirements. Thus, Alexa pricing is as important as the features of the SEO assistant tool. In this part of the Alexa Review, we discuss the free browser extensions, Alexa free trial, and the cost and benefits of the Alexa Advanced Plan.
Free SEO tool browser extension
Amazon's Alexa offers browser extensions for Mozilla Firefox and Google Chrome, but not for Microsoft Edge. Alexa ranking chrome extension benefits both the user and the service provider. The extension scans the browsed pages to gather metrics and other data. There are two significant features in the browser extension; Alexa website ranking browser extension provides an Alexa rank for the website you're browsing. Moreover, the Alexa traffic chrome extension displays and ranks the website traffic. However, From my perspective, the extension works in favor of the company rather than the client.
14-days of Alexa free subscription
Most programs provide a free subscription as part of their marketing strategy. The trial period is a great way to offer a firsthand experience for prospects. Alexa offers 14-days of free SEO products that include all the features of their advanced or premium plan.
Alexa advanced plan
We have discussed different features that the Alexa internet tool includes in the features section. In this part of the Alexa review, we emphasize those features that significantly influence how valuable Alexa is. Is it worth paying for Alexa?

The data provided is generated by Alexa software and does not give you actual SEO rating and ranking detail. There are many keywords and web pages without insight from Alexa. However, the price for Alexa advanced plan is 150$ per month. I consider that a lot of money, especially when you compare Alexa to alternative SEO tools.
Cyberg's choice
Don't bother at all. There is plenty of fish in the sea; you can benefit from more comprehensive SEO tools with more precision and better data analytics. I believe 150 is overcharging users for these services; if I were to put a price tag on the services, I would charge 100$ at most for the services.
As for the free SEO Tool, there is no harm in trying it; however, other apps such as Moz Pro, SEMrush, Google Search Console, etc., are all worthy programs you can also try. Read the next part of the Alexa review for a more detailed comparison.
A comparison of Alexa to top SEO applications
There are SEO tools from tech giants such as Google or new small business SEO application startups. However, the following 10 SEO tools are the most powerful SEO tools of 2021.
2021 Top SEO tools
Other strong content marketing tools:
Surfer:
Surfer is a content optimization tool that merges content creation, content strategy, and content optimization. The services cost from 60$ a month and have been used by many marketing specialists satisfied with the Surfer application tools. Read our Surfer Content optimization tool review for more detail. The best feature of the Surfer SEO tool is the NLP (Natural language Processing) analysis.
SE Ranking:
The SE ranking SEO tool provides keyword and other content analytics at a relatively lower price. The basic subscription fee is 31$ per month; moreover, at only 71$ a month, you can have 3 user seats for the SE Ranking Pro service. Remember that an extra seat in SEMrush costs at least 40$! Discover the SE Ranking Review to evaluate its capabilities.
Ahrefs:
a Cyberg Review will be released soon on this SEO tool
SpyFu:
a Cyberg Review will be released soon on this SEO tool
Conductor:
Conductor SEO tool uses AI to promote your content and achieve higher marketing ROI.
Keywordtool:
Keywordtool is an SEO optimization assistant that provides better keyword use. a Cyberg Review will be released soon on this SEO tool.
Which of these SEO apps is best for you? Some are good at providing comprehensive search analytic data, some are more easy-to-use, and some are just cheaper. We try our best at Cyberg to give you valuable data to choose your ideal SEO assistant tool.
Alexa Internet pros and cons
Alexa is a part of the Amazon Web Service Corporation. Therefore, we would expect it to use AI tools, NLP, and other advanced technologies; nevertheless, the Alexa platform is far behind other rivals such as SEMrush, Moz, and Marketmuse. In this part of the Alexa Review, we point out the merits and setbacks of the Alexa Internet SEO optimization tool.
The Advantages of Alexa
Adequate keyword analysis tools
Content research
The Disadvantages of Alexa
Alexa is only available on the web, and there are no desktop or mobile apps
Most tools are primitive
Results are not accurate
Alexa does not have a vast database on websites and keywords
Relatively low value compared to the cost
2021 Alexa review conclusion
The disadvantages of Alexa outweigh its advantages. There are better applications for your content optimization and website analysis. The platform is isolated, there is obsolete and inaccurate data within the results that Alexa shows. Also, many of the analytics used to be important in the past years; however, Search Engines are shifting towards intelligent keyword analytics, making Alexa inefficient.
Please share your views on Alexa and Cyberg's Alexa Review in the comments.