An introduction to Marketmuse review
Market muse is an AI-powered application that helps you create better digital content. As the influence and number of bloggers and websites continue to boost after two decades into the 21st century, the competition to win the SERP is on the rise. Therefore, web developers, bloggers, marketers, and basically anyone willing to influence the digital world are looking for SEO (Search Engine Optimization) apps and tools. The Marketmuse review includes a user test and UX report; a list of what features Marketmuse has; free, premium, and business version comparison; applications that are similar to Marketmuse; and finally, rating Marketmuse.
Marketmuse User Experience (UX) – User testing Marketmuse
In this part of the Market muse review, we enter the website as a test user and experience the website regarding how user-friendly Marketmuse is and how you can access different features in the Marketmuse web page. In addition, Marketmuse is an SEO tool; therefore, how Marketmuse displays the important information is also a factor we have discussed in the Marketmuse UX review.
Marketmuse first impression
When I entered the Marketmuse webpage, the home page is neat and graphically balanced. There are navigation menus at the top of the page and a pair of log-in and sign-up buttons. The menus include product, about, pricing, and blog. There are four items in the product menu: Inventory and Applications, Content Briefs, First Draft, Optimize.
Moving to the center of the page, at the left side of the Marketmuse homepage, there is a slogan, an introduction to Marketmuse services, and a textbox for creating a free account. Scrolling down the home page, you can see the logos of the companies that endorse Marketmuse. Further down on the page, there are highlights of Marketmuse key features and how they help you create AI-optimized content.
At the bottom of the page, you are asked to enter your email and sign up for a second time; this is a solid marketing strategy to close the deal with prospects who have spent some time evaluating your services.
Last, in the footer of the Marketmuse home page, like you would expect a professional website, there is a sitemap including the essential links.
In short, the homepage is graphically balanced and easy to use. Leaving a good first impression is vital to attract visitors, especially if your website promises to help other websites promote their ranking. So well done, Marketmuse! Your website leaves a great first impression.
Marketmuse browsing experience – Discovering Marketmuse website features
After creating your account and signing in to Marketmuse, the UI takes you to a tutorial of how Marketmuse works. The tutorial is a walkthrough that provides an example of what you can do step by step to improve your SEO. In this section of the Market Review, we explain the different stages of this tutorial.
Marketmuse Tutorial
In the first place, after you have set your account, Marketmuse takes you to a tutorial. First, you have to select a topic out of a dozen options. I chose the following subject for the sake of illustration in this Marketmuse Review: "What is Bitcoin?"
After selecting a topic, Marketmuse takes you to the screen shown above, where you can see a panel to the left, a workspace in the middle, and another panel to your right. At the bottom of the left panel, there is the tutorial wizard.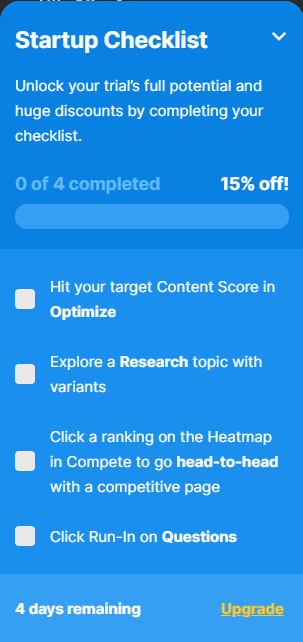 The Startup checklist has assigned 4 tasks:
Hit your target Content Score in Optimize
Explore a Research topic with variants
Click a ranking on the Heatmap in Compete to go head-to-head with a competitive page
Click Run-In on Questions
To complete these tasks, we need to cover some of the UI features. On the right panel, there are keywords pertaining to the selected topic. The right number shows the suggested number of the phrase in your text, while the left number shows how many times the phrase is currently used in your content. Therefore, in order to complete the first task, we must add some words to the text.
To improve your content, you have to use the phrases in the right in your content. After sporadically generating unthoughtful content for the sake of demonstration, the content score improved significantly. Compare the screenshots taken before and after adding these keywords.
The image taken before adding keywords, the score reached 48 after adding the keywords and questions.
The second task required using different variants inside the content. After adding these phrases, the SEO improved once more. And the second task was also fulfilled.
The 3rd task: the Heatmap indicates top keywords vs. top web pages. The color represents the number of that specific word used in the content. By clicking on the company name, users can compare the frequency of keywords in their content with those of the chosen web page. You can surpass your rivals in SERP (Search Engine Result Page) by adding those keywords.
What are the top features of Marketmuse?
Marketmuse introduces many features to provide AI-generated analytics on how to promote your website. A web developer can use many of Marketmuse features to achieve high SEO and SERP ranking.
The 4th task: this task requires that you answer some frequently asked questions related to your topic. By including the answer to these questions, your SEO will be promoted. There are three ways to achieve this goal: researching the variants, competing with top pages, and optimizing your text. The user has learned these three methods in the first task.
After optimizing your content, you can export your text for uploading on your website.
How easy is it to use Marketmuse?
In conclusion, although SEO would be a tiresome task for content creators, SEO tools are vital for fast and efficient modification to web materials. Marketmuse offers much complex analytics; nonetheless, it provides the information in a user-friendly UI, and it is easy to use.
Marketmuse Review: What are the top features?
Marketmuse provides a diverse set of tools to analyze and optimize your content on SERPs. In this part of the MuseMarket Review, we focus on the features this application offers its users.
There are six applications that Marketmuse offers premium users. Research, compete. Optimize, questions, connect, and newsroom. In this Marketmuse Review, we start with the most comprehensive and user-friendly AI applications and continue to explore other features, respectively.
Marketmuse Optimize
The Optimize application views your content in the same manner that your web-developing editor does. This allows you to edit your content in a familiar environment. Therefore, Optimize is the first application we scour.
In the Optimize tool, you first have to enter your search topic and the URL that hosts your content at the top of the page. Then by pressing the Run/Fetch button, Marketmuse does the magic; after a minute or two, your text appears in the workspace/ editor area. In the right panel, Marketmuse inserts the keywords you should add to your work, plus a brief analysis on your content that includes your content score, Avg which is the average score of the webpages related to your content, target which is the score that will put your page in the first page of the SERP. It also compares the word count of your context and compares it with the top players in the niche.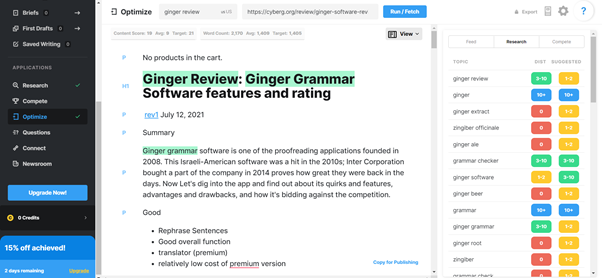 The picture above shows a review from our website that ranked down to the seventh page of Google SERP. After applying the changes suggested by the SEO tool, the text score raised to 57, the score offered by Marketmuse software.
I didn't have to accept all of the AI keyword suggestions, Just enough keyword density to optimize content for the Search Engine. Including keywords in a text is vital for getting a High SEO ranking. However, the problem with the Marketmuse tool is that the editor does not have the features that Web developers expect and use in programs such as WordPress.
Second Best SEO tool: Marketmuse Research application
The research tool is a content marketing application that surveys search engines for relevant data. In other words, the research tool uses machine learning to search existing content for keyword recommendations. You can enter the phrase you want to include in your data in the research bar at the top of the page or let the machine learning software perform an automated site audit and present you with the most common keyword recommendation options using content search.
In the Marketmuse Research tool, you can enter a phrase that you want the surfer SEO tool to optimize. After entering the data, the SEO tool starts to find relevant keywords in the existing content all over the web. Then as shown in the picture, you are able to see a list of keywords provided by the machine learning tool.
As you can see in the picture above, there are two sets of data for every key phrase. Data variants and suggested distribution. You can look into different variants to insert a keyword in your existing content. Such a variety helps a market planner in content creation.
Marketmuse Compete: an important marketing strategy
By definition, the best has to be better than the rest. This translates to beating your rivals in keyword rankings, creating high quality content, and keyword optimization in the content planning world. In this part of the Marketmuse SEO tool review, we learn how to use this AI-powered optimization tool to compete against other websites.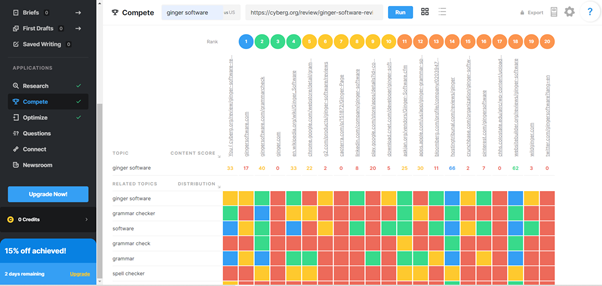 There are three different ways to optimize your content against rivals:
The Heatmap:
This type of diagram allows users to view how their top rivals have used the relevant keywords. In this diagram, your webpage is put in the first column. Others are sorted by order of appearance on the Google search engine result page. The more frequently you use the top keywords, the more likely you make it to the top.
The ListView:
Another way to manage your keywords is to use the list view.
The list view focuses on your content's word count and overall score and its comparison to the top pages.
Head-to-head view:
This type of view is used to compete against a single rival. Sometimes optimizing your content better than one rival might give you the desired marketing optimization. Therefore, using head-to-head analysis, users can optimize their content in a more focused fashion.
Marketmuse Questions tool: The answer to SEO is Questions!
In order to achieve comprehensive content, your content strategy has to go beyond keywords and include the frequently asked questions and their answers inside your context. AI powered content marketing provides the questions you need to address in your content. So here is how your content strategist can add questions to his work.
When you enter the Questions tool, you have to pick a topic and let the SEO tool surf for relative questions. For the purpose of illustration, I've searched for questions related to the Marketmuse software review.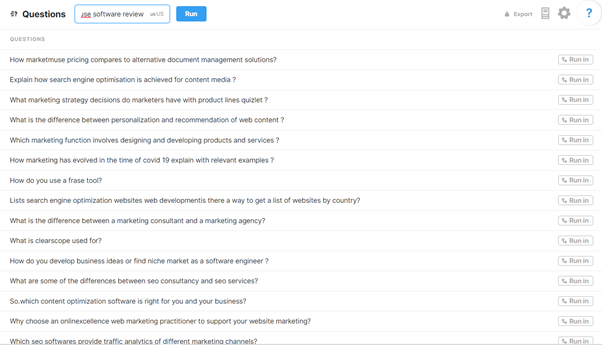 After the list of relevant questions appears in the central part of the page, you can run the question in the application provided by Marketmuse. These tools include research, Compete, and Optimize. In this part of the Marketmuse review, I've chosen to use the Optimization tool. Therefore, all I have to do is to type " how Marketmuse pricing compares to alternative document management solutions." A content marketer can improve his search engine optimization results by including this question and other suggested queries inside the work.
Marketmuse Connect tool: link your content
The connect tool helps you find internal linking opportunities to turn separate pieces of content into a high-performing data cluster. This feature also allows creating external links to authoritative sources and non-rival websites. In addition, Marketmuse marks the external links to competing content; therefore, you can change those links.
Newsroom: the Marketmuse tool for writing news articles

This tool is exclusively tailored for creating news articles. Search engines take qualities other than keyword research into consideration; one of the essential aspects of content optimization is creating comprehensive content. Although optimizing content by LSI keywords costs you more, Marketmuse suggests that it's a strong content strategy.
Other Marketmuse features
Marketmuse has many other features that require a paid plan. Therefore, we only mention a concise explanation about the content marketing tool.
Dashboard
This feature provides content-creating opportunities based on your previous metrics.
Inventory
This feature creates an automated inventory by scanning your whole website. Having such an inventory might help you make new content.
Projects
Marketmuse projects app has four subcategories. These functions help with managing your works.
Briefs
You can access all of your Content Briefs, assign them to your team, set due dates, and mark them done once you publish your content.
Plans
You can group topics by plans, assign them to your team members, set due dates, and mark when you finally hit publish.
First drafts
Marketmuse provides a keyword planner that produces AI generated content. You can use the keyword arrangement to your advantage.
Saved writings
It is easier to add a new keyword to your content when you can save a different version.
Marketmuse paid memberships and different subscription plans
Content Marketers are looking for a great tool that would help them hit higher in the SERP; accordingly, they are willing to pay top dollar if the service improves their content quality; hence the revenue. Marketmuse is aware of content marketers and their needs; therefore, they offer different plans to their clients.
To get a better understanding of the features and plans, let me explain two definitions:
Query: A query is used to enter a focus topic into a MarketMuse app (Research, Compete, Questions, Connect, Optimize).
Credit: are used to order MarketMuse Content Briefs or First Drafts.
The Trial Version
Marketmuse comes with a 7-day demo to show off its capabilities. The trial version is available to only one user, 4 application workflows, and unlimited queries.
Marketmuse plus
This version includes 1 domain, 500-page limit, 5 annual credits, 50 queries per month, and 3 application workflows. This service costs 179$ a month, or 1825$ a year!
The Premium version
Marketmuse Premium costs 1000$ a month. Yes, they charge a lot. In return, unlimited users can use the app; you can add up to 5 domains, optimize more than 500 pages, Track managed topics, unlimited self-serve briefs, unlimited queries, and use all application workflows. To acquire an annual subscription, you have to contact Marketmuse sales.
Marketmuse pro
This plan stands somewhere between the plus and premium plans in terms of features and price. The pro plan costs 499$ a month or 5100$ annually.
Which plan is the best?
The answer to this question depends on you, your company and how large your company is. You can search for relative keyword groups in free apps. However, having a user-friendly AI that generates drafts is next-level content optimization. Therefore, If you're an independent content creator or a non-professional developer, forget about any of these plans. On the other hand, if you work for or own a large company, I recommend you read the following section first to evaluate different alternatives and then opt for the SEO assistant tool that suits you. As a marketer, it is crucial to understand the strength and weaknesses of other marketing tools.
Marketmuse Comparison: What are other alternative content optimization tools?
There are other free and paid services available for content optimization and SEO improvement. Here are the top players in the content marketing niche.
Clearscope:
This app helps content marketers grow their audience scope and search traffic by removing the guesswork behind the content performance.
Frase.io:
The company is building a word processor tool equipped with AI to perform unsupervised searches and make marketers more productive.
Surfer:
Surfer app is an SEO tool that compares key on‑page factors of top-ranked websites.
Semrush:
Online Visibility and Content Marketing SaaS Platform
Moz Pro:
The app helps boost your online visibility and keep ahead of competitors
Honorable mentions:
Brightedge, Spyfu, act.on, conductor, Siteimprove, SE ranking, and Ahrefs
Comparison result
Marketmuse is an excellent tool for achieving a fully fledged SEO for large marketing teams. It provides content research on an AI platform that generates organic traffic much faster than rivals, thanks to implementing keyword variations and an automated content audit. However, it won't be the last tool you need to rise in SERP or on social media because content editing is complex in the app and the Marketmuse team better works on their editor.
Marketmuse pros and cons
It's time to wrap up the Marketmuse Review by mentioning Marketmuse positive and negative points.
Advantages of Marketmuse:
Quick and accurate analysis
Fast ROI
Various SEO tools
Head to head comparison
Easy to use
Disadvantages of Marketmuse:
No add-ons or browser extensions
Poor content editor and compatibility
Expensive
Limited features for most of the paid membership plans
Our verdict on Marketmuse
Marketmuse is a must-try app! You can learn so much from the tools it has and try to find feasible alternatives if you think the price is too steep for you. The User Interface is not simple, but there are internal and external tutorials to help you understand how to use them; plus, there is no way to do what they do in a simple way. The features are great and can save a lot of time and money. In a nutshell, Marketmuse is excellent for large-scale content creators.
Videos
­­