With the advent of digital marketing and growing interest in eCommerce, more and more people and companies tend to create and own independent websites to strengthen their market value and reputation. Back when people had to use HTML codes, building a website used to be a strenuous process. Nowadays, web builder applications such as Zyro provide easy-to-use user interfaces that substitute coding with a graphic preview of their pages. The Zyro Review scrutinizes the quirks and features of a 2021 top website design software.
About the Zyro Review
Our goal at Cyberg is to provide comprehensive reviews on different apps so you can opt for the package that serves you and your business the best. We need to cover a few chapters to attain a clear understanding of Zyro web application capabilities. First, we introduce Zyro; second, we perform a user testing task. Third, we highlight the most prominent features of the web development tool. Then, we dig into different subscription plans and pricing options; after that, we compare Zyro to other top-notch players in web design and eCommerce niches. Finally, we give our verdict on the app to point what entities can benefit from Zyro services. In addition, we will mark the positive and negative aspects of the application and give it a rating out of ten.
What is Zyro?
Zyro is one application that has made life easier for those who want to create a website without spending much time and effort. Zyro is a Lithuanian company that has incorporated artificial intelligence and simple design feature for those who want to build their website from scratch. The company is still young, started in 2019; still, they have had incredible growth. Therefore, let's move on to the user testing part of the Zyro Review to see how it performs.
User testing Zyro Review
Traditionally, people hired experts to build their websites and user experience. Those days have given way to an era of entrepreneurship and information explosion. To get a glimpse of how fast everything is changing, note that the Google Page algorithm changes over 400 times a year. That means Google updates its search engine algorithm more than once a day, on average. People have become interested in building and owning websites to cultivate the power of the World Wide Web. Thus, a broad spectrum of users, from generation Z to boomers, are in the business, trying to spread their word online. This means a prominent web-building app has to be simplified and user-friendly.
In this part of the Zyro Review, we discuss four main aspects of the program to see how easy it is to use Zyro. First, we discuss the first impression and the web builder's homepage design; second, we navigate through Zyro's features and perform a sample task. Then, we talk about the tutorial and how you can learn to use Zyro. Finally, we assess the marketing and clicking funnels on the homepage.
Zyro Review: first impression
Let's land on the homepage first. The overall design signals creativity and vigorousness. There are many, perhaps too many, items on the home page. First, we have the motto and a picture, then the pricing and payment plans. Further down, you can read the top features of Zyro and move on to tutorial links. Then, there are some FAQs and their answers right before we reach the footers and sitemap. The problem with the homepage is that it is too informative. They have included every piece of information they could give on payment plans which takes a lot of space and much of readers' willpower.
The menus are nothing out of the ordinary. You have a website, online store, pricing, and features links beside all products and resources menus. You can also change the language or sign in using the buttons on the right. In the footer, there are the copyrights marks and the sitemap.
Overall first impression
The website homepage is a bit cramped, and you will most likely skip through reading. They have put many unnecessary details on the page, yet I like how lively and energetic the website feels.
Signing up into Zyro Review
Now that we have discussed the aspects of the homepage, let's create an account to continue the test. You can create an account using your Google or Facebook account. Alternatively, you can create an exclusive Zyro account from scratch. I used my Google account for simplicity. A setup wizard appears after you sign in, which helps create a website depending on your desired persona and niche.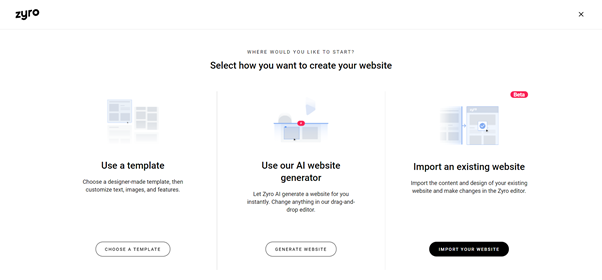 You can start developing your content from a template, generate a website using Zyro AI website Generator, or import an existing website. I chose the second option for the sake of evaluating the AI. Then, the wizard will ask you some questions regarding your purpose, niche, and design preferences.
For instance, the picture above shows how Artificial Design Intelligence determines your preferred style from the type of buttons you would choose.
In the following steps, you are asked to choose color palettes, fonts, and the features you want your website to have.
Then, the Ai starts doing its magic, and after a few seconds, your website is ready. You can choose your overall style from one of the three suggested designs. However, if you're not satisfied with the results, you can rerun the website generation.
Just like that, you've got yourself a fully functional website! After picking your favorite design, you are directed to your dashboard, where you can modify your pages.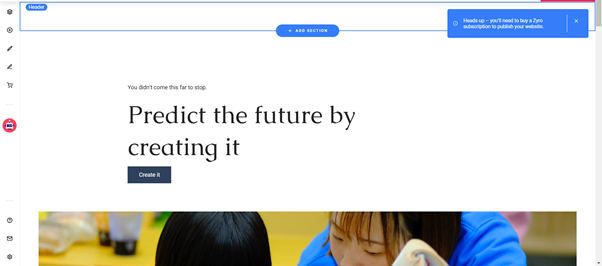 We will discuss how easy it is to change things on your pages in the next part of the application benchmarking.
Navigation and benchmarking task
In the Zyro review, we will perform the same procedure we took in other website builder reviews. We will create a new page and add a review to that page.
Creating a new page
First, we have to create a new page and add it to the website. The process is a piece of cake and so intuitive. You can find your page setting in the panel on the left of the page. Adding the new page was easy. However, the new page was a blank page with no premade template. This has its merits and setbacks. You won't have to change everything to match what you want, and you can build a theme once and for all. On the other hand, if you were to design the material, why would you pay Zyro? We leave answers to that for when we've learned more about the application.
Adding a survey extension
Adding a survey is not that common, so that every application has thought about how to include it in their package, yet it is a valuable item for many websites. Therefore, if we're able to fulfill this task, Zyro receives a high user testing score.
Before we get into the survey extension, I want to note how easy it is to modify the graphics in Zyro. You can drag and drop items to/ from your website pages and change the fonts, colors, and hierarchy in a blink of an eye.
Unfortunately, I couldn't find extensions and plug-ins in the developer's UI, let alone links to other software like Surveymonkey. Therefore, Zyro fails the benchmarking task.
Is it easy to learn Zyro?
Zyro is intuitive and straightforward; however, a good application provides comprehensive information on website design concepts and how to use the application to create the website you expect. In the Zyro Review, we evaluate the in-house educational material and external sources to learn how to build a website using Zyro.
In-house tutorials
There are different educational resources inside the Zyro web application that you can browse for learning. The application has support, blogs, a help center, and other guides that will help you familiarize yourself with Zyro. We also have to consider that using Zyro requires no complex skills regarding design or UX. However, you can optimize your user experience by learning how to use the machine-aided website builder. However, the opposing point of their website is that it doesn't provide video material.
External tutorials
Although it is beneficial to refer to the in-house resources, finding external material using Zyro proves that it's a widely popular application among web developers. The first source we often check is YouTube. Zyro doesn't have an official YouTube channel as of August 2021, yet there are some independent influencers and content creators that have uploaded guides and walkthroughs.
Another source for learning an application is online websites such as Udemy, Coursera, and Edx. The only available Zyro tutorial course I found was on Udemy. Therefore, there is not much on how to use Zyro outside the web application. With that being said, Zyro is only two years old, and there is a lot to achieve in the future; thus, although their presence might not be as strong as other developing tools, their features compensate for that.
Marketing Strategy, Zyro Review
This part of the Zyro Review aims to identify and assess the marketing and clicking funnels inside the website. We try to answer this specific query: "Are users compelled to join Zyro?"
The homepage is considered the starting point of our marketing journey, though Google Ads also brings Zyro Ads on top of the related search results. There are different trial links all over the homepage. Due to the Google sign-in tool provided along with the free trial version, I suppose curious website developers would give it a try. Therefore, the marketing strategy is practical and accessible. Another point that I would like to mention here is that Zyro has put the pricing and features on the top of its home page because it is one of the most affordable web builders available that utilizes AI.
Zyro Review: What are Zyro top features?
Nowadays, website tools are user-friendly and creative, just like Zyro is; therefore, what distinguishes a web application in the first place, is the features it has to offer. In this part of the Zyro Review, we discuss the best features of Zyro for personal and business purposes.
AI-generated templates
Back then, in the good old coding era, you would have to spend weeks, if not months, to design a template. Zyro offers an AI-designed template that would be more elegant than most of the top websites of the '10s. This feature means a lot to individuals who want to create and manage their websites without hiring another expert. The themes are all adjustable, and you can apply the changes to your entire domain or just the selected parts.
Interactive UX
The user interface and dashboard are relatively intuitive and straightforward. You can surf around your pages and different domains to add or modify your web content. Changing the fonts, colors, adding and removing HTML codes, and such features are fun to do. Moreover, the drag and drop feature makes editing easier, although many rivals also offer this feature.
AI tools
What makes Zyro different from other competitors is using AI. We've mentioned the template already. Even so, Artificial Design Intelligence is not limited to that. There are seven different AI tools under the AI products menu; nevertheless, we only highlight the most valuable tools because some are less important and less sophisticated.
AI writer
These tools will generate a paragraph given a specific topic.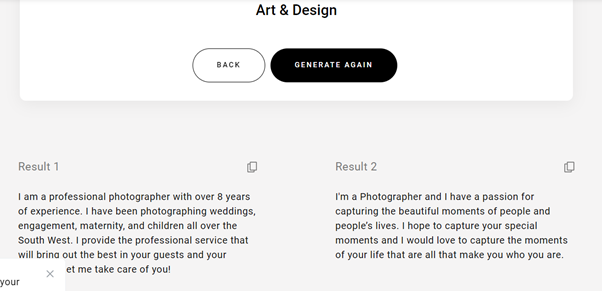 As you can see in the picture above, I entered Arts and Design topic and chose photography. Zyro AI Writer generated seven different paragraphs, each with a unique tone and level of formality. It might be too short, yet it sounds enough to get the ball rolling and set the tone for the rest of your content.
Another option users have, is the Go Wild option. This is where the AI shows its talent or clumsiness.
I typed in the sentences above to see how it performs, and here are the results.
To be honest, it is not impressive at all. Editing these autonomously generated texts take as much time as writing these tests manually would. Maybe they are trying to pull a rabbit out of the hat just for fun; other than that, I don't find it practical.
Logo maker
Zyro offers a free Logo maker as a part of its packages, including the free trial period. Let's try this one out together.
The first thing you need to do in your website dashboard is select the AI tools button on your panel. Then select the Logo maker as shown in the picture below.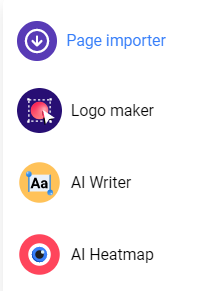 From here, you're able to either create a Logo yourself or let the AI generate one for you. For the sake of the Zyro Review, we will generate a logo.
First, you have to pick one of these shapes or press space for more shapes. Well, I get a feeling that the AI blends the existing logo and breeds new mutants! The image qualities are not impressive either.
You can also do the same with colors this time. Doesn't it look a bit familiar, in any case?
Finally, you get to choose a shape for that weird logo.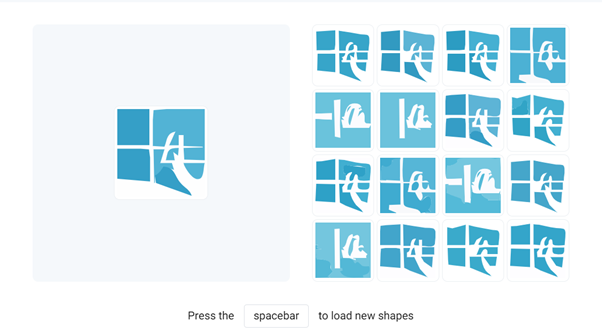 I have to say that this doesn't make any sense. The app never asked my name or title, my niche, or something that would make sense. And it just gives you random results with more random adjustments. These features are counterproductive if you ask me since they are making unfulfilled promises. I mean, having a paid logo generator that works would be better for me.
Zyro AI Heatmap
These AI tools help with identifying focal points on your pages.
It is far more helpful than the last items, and it makes sense. So you can use this tool if you want to emphasize your marketing funnels and critical ingredients.
Zyro Page importer
This tool uses AI to identify and copy the content from other pages. It won't ask for ownership verification; it only warns you that you have to be sure the content is not subject to copyrights.
The eCommerce tools in Zyro
Zyro offers digital marketing options if you are interested in selling products on your pages. It supports shipping options, and you can connect your domain to Amazon, Facebook, and Instagram. It also supports plug-ins such as Google Analytics that will help you evaluate your website performance in CTR and other metrics.
We will scrutinize these options in the plans and accounts section, where we compare different subscriptions.
Overall assessment of Zyro features
Zyro offers the necessary means to create and manage a website and commercialize it. You can take charge of your entire site or hire other people to help you out. There are a variety of features for website developers in Zyro. However, AI tools are just a waste of time and effort. They are like student projects rather than professional tools, and perhaps that's why they don't cost much.
Is Zyro Free? What is the Zyro subscription fee?
Zyro does not offer a limitless free experience but allows you to explore the web application for 14 days. This enables users to test the application according to their needs.
In this part of the Zyro Review, we discuss the price and features of Zyro's different subscription plans. There are four other options, namely Basic, Unleashed, eCommerce, and eCommerce Plus.
Zyro accounts common features
You can get these features regardless of the plan you choose.
Connecting your domain
Security with SSL
SEO tools
Designer crafted templates
Free web hosting
Basic
The basic version costs only $8.90 a month and offers the following features besides the standard items:
You will have a free email for three months, 3 GB bandwidth, and 1 GB storage. So these are the
The Unleashed Plan (recommended by Zyro)
The Zyro unleashed account contains all the benefits of the basic account, plus unlimited storage and bandwidth, which is helpful for a professional website. The other options include one year of free domain, Google Analytics, Google tag manager, Facebook Pixel, Stripe payment integration, and other features.
This membership costs $12.5 per month, and Zyro claims it is the most popular subscription plan.
Zyro Review, eCommerce membership
To use your Zyro website as an eCommerce platform, you have to use this type of account in Zyro. The eCommerce package costs $24.5 a month.
Using this subscription, you can sell up to 100 products. Use shipping options and accept online payments. The membership covers all of the Unleashed Plan services.
Zyro eCommerce Plus
The Zyro eCommerce plus is the most advanced account available. It is best for companies that provide a long list of items and gain many profits. This package costs 30$ a month.
The eCommerce Plus package supports sales of 2500 items, abandoned carts, and other features. In addition, it allows you to put your products on Amazon and Facebook Shops.
The best Zyro plan
If you're trying to create a personal website for the first time, try the Unleased version. It supports most of the features you would need to build a successful website. If you intend to sell a product, the eCommerce package is your best option in the beginning.
Zyro Review Comparison: What are the best 2021 Zyro alternatives?
Zyro is a newcomer to the web development and digital marketing niche. Since it supports both personal and eCommerce websites, we will introduce the most competent apps of each niche separately.
Zyro Review, Alternative website building tools
WordPress:
WordPress is one of the most solid web builders of the last two decades. The free application is much broader than a website application for sales. It hosts many features and add-ons that enable a comprehensive website campaign. WordPress SEO tools, Analytic tools, Marketing Plug-ins, etc., make it a powerful rival. The negative point is that WP takes a lot of time and effort to master. Read the WordPress Review, especially if you want to create a Blog or a website.
Wix:
Wix offers excellent design features, is easy to learn, and is less sales-oriented; on the other hand, you can have more features and plug-ins in Wix. Read the Wix Review for more information on the pricing and features of the web builder.
Site123:
This app is also a powerful web builder that is simple, offers excellent options for your email marketing campaigns. Users can use templates and sell products in Site123; however, the services cost more, and there are storage and bandwidth limits. Read our Site123 Review for more information on the software.
Alternative marketing tools
Shopify:
Shopify is a well-known sales platform that helps businesses sell their products around the world. But unlike Zyro, they will charge for every transaction on the shopping page. On the positive side, they have great templates for sales, reviews, and abandoned carts. In addition, many users know how to use it and where to find tutorials.
BigCommerce:
This website provides a platform that hosts your sales and eCommerce. It is a premium service, but it won't charge for every transaction. It also has drag and drop, a user-friendly environment, useful plug-ins, and great support. Read our BigCommerce Review to read more about this excellent marketing tool.
Woocommerce:
As the name suggests, the web application is optimized for sales websites and transactions. The eCommerce hosting web application is more complex than Zyro. It requires additional plug-ins to get the same results and practicality.
Comparison Results, Zyro Review
Zyro is a relatively new app that has a promising future. Nevertheless, as of this moment, they are far behind in terms of practicality and features. If you want to build a website for personal reasons or small businesses, you would like to opt for a one-stop shop that provides all your needs with minimal effort. Zyro is a far cry from that level of influence. I believe they are heavily investing in AI technologies to attract customers. However, in reality, most of Zyro's AI-powered is impractical, and you would have to pay for extra plug-ins and web applications separately if you want to rely on such technologies.
As for larger companies, the reliability standards implicate that you invest on stable platforms with at least three years of experience and feedback. Therefore, depending on a developing platform such as Zyro could be both risky and rewarding.
The conclusion of Zyro Review
To sum it all up, let's discuss the pros and cons of Zyro before giving our final verdict on the application.
The merits of using Zyro
Good user interface
Fairly good templates
eCommerce is available
The setbacks of using Zyro
impractical and useless AI tools
limited template themes compared to rivals
needs to find a niche
no video tutorials on the website
Will all that said, I would not recommend using Zyro because they have focused on AI tools that can't cut the mustard and make a difference in your designs and sales. The only place where the AI performance is acceptable is when creating themes for your website. The cost is not that different from apps such as Wix with better UX and website building options.
Let us know if you are using Zyro and write the comments below about the web application's thoughts.