There is a growing demand for creating more and more digital content in the 21st century. Therefore, the number of pages required is growing at a frantic pace, making conventional HTML coding obsolete. Moreover, the new website builder applications offer many graphical and analytic features at web developers' disposal. Wix is an Israeli company that offers one of the best web builders in 2021. In this Wix Review, we evaluate Wix's quirks and features along with a thorough assessment of its capabilities against other competitors. Let's move on to the Wix content management system (CMS) review.
Wix Review content
In this article, we first talk about the user experience in Wix to determine the most apparent features and test how user-friendly it is. Next, we talk about the top features that Wix software offers clients. Then, we delve into Wix Free website builder and its features to compare it with the paid plans so that we can understand which plan is best for you. Afterwards, we compare and contrast the advantages and disadvantages of Wix compared to its top rivals in the niche. Finally, we sum up the Wix Review by marking the advantages and disadvantages of creating websites using Wix and give it a score out of ten.
Wix User Testing – an evaluation of Wix user experience (UX)
While flexibility, being open-source, and diversity are important, an application is useless in today's web development niche if it takes a lot of time and effort to learn and use. Thus, we dedicate a part of the Wix review to walk you through the Wix User Interface (UI). There are four items we check inside Cyberg Website Builders Reviews:
The user interface and graphic design
Navigation and task benchmarking
Tutorials availability
An analysis of Wix marketing funnels
Wix UI and graphic experience
Landing on the Wix homepage, I notice that the web pages are designed to express creativity and simplicity at the same time. There are many graphical elements spread across the homepage to attract visitors and enhance readability.
Let's start with the menus. On the top of the page, you can see the four dropdown menus beside the Wix logo on the left of the Wix toolbar. The menus consist of creation, business, growth, and resources. Further to the right, there are pricing and support buttons. The creation menu contains options and tools used for content creation. For instance, you can view different website designs and templates, along with Blogging tools in the Creation Platforms submenu.
Wix homepage content
Next, we move on to the main area in the homepage, where Wix has to attract visitors and prospects to further engage the website and move through the click and marketing funnels.
Since Wix claims that it is a comprehensive Content Management System (CMS), we would expect both graphical and analytical tools for marketing and traffic monitoring. This promise is clearly announced at the top of the homepage, with the motto shown in the following screenshot.

The homepage elaborates Wix capabilities further down the page by listing its features regarding website customization, advanced features, Editing mobile view, and Search Engine Optimization (SEO) tools. Later on, Wix introduces more than 500 websites templates and states that you can customize your web design without any limits by using Wix.
Then, Wix introduces two prominent features, namely Wix ADI (Artificial Design Intelligence) and Velo open dev platform. Below these items, there are other features illustrated that attract mainstream developers. Next, there is an introduction to Wix's business solutions and capabilities regarding analytics and management tools. And there is other information on how to build a website or how to spark creativity in your work. Then there is the FAQ section, and before we reach the footer and Wix sitemap, there is the most distinctive advertisement on the homepage, which is a simple yet important sentence: "This website was designed with Wix."
The footer and sitemap
Finally, we reach the footer where a sitemap is located next to copyrights information, Social Media links and the Wix logo again. The sitemap is graphically unbalanced since you would need to scroll down to see all products, but there are only two links under the support section on the right side of the sitemap.
Overall homepage assessment
The homepage in Wix is generally well designed as it blends creativity and simplicity together. There are sufficient links to direct you to the sign-up page without shouting out too hard and pushing people further away. And they successfully convey how powerful Wix CMS is by stating that their very own webpage is developed using Wix.
Wix Navigation and benchmarking: How easy it is to use Wix?
Completing a routine task is one of the best ways to assess how user-friendly a web application is by measuring the time and difficulty of task accomplishment. In this Wix Review, we try to create a webpage using Wix that includes a survey question. But first, let's create a Wix account.
Singing up in Wix
Creating an account in Wix is simple, as you only have to enter a mail address and set a password; then, you're directed to a survey.

The survey is creative and interactive. In the picture above, you can see that the underlined blue texts are my answers to the previous questions, and the survey implies that I'm writing a letter of some sort. Then you're asked if you want the Wix ADI to create your website or you want to create the website on your own.
Creating the website
As I intend to put Wix to the test, I chose the ADI design option to let the Wix artificial intelligence-powered designer impress me.
Thus, the website survey, which now looks like a setup wizard, asked about my niche and website type; then, as depicted in the picture above, the wizard asks which features you want to include in your web design.
After choosing a set of features, the UI asks for more information about your business and asks you to upload your logo. Then, it asks a few additional questions and offers a few homepage designs. Then after you picked the design theme, the wizard asks what other pages you would need to have and then it produces the pages automatically.
After creating your website, you have to edit the pages next. But let me tell you how pleased I am with the simplicity and speed that the pages were created. It would take an idealist such as myself weeks to do what the artificial design intelligence did in a matter of minutes.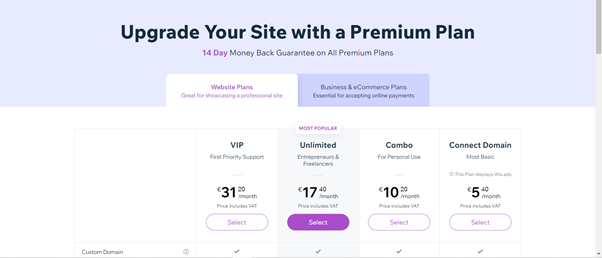 Connecting to your actual domain
The design is almost ready, but in order to launch your website, you have to pick one of the following payment plans.
Adding and editing pages
You can use the ADI to generate new pages and content easily. However, the set of apps you can implement to your ADI design is limited. In fact, I couldn't use a survey option here. However, I could have linked the page to another page or API, which I don't intend to do. Therefore, I had to switch to the editor mode, where I have more options.
The web builder recognizes the change and offers a YouTube tutorial. This caught my attention because, as I always say, it is essential to provide users with tutorials and training data. So, nice job Wix!
In the editor, I went to a page in my blog where I wanted to add a survey question. And I typed survey in the search section. The web builder offered the options on the right of the picture above.
As you can see in the picture, I used a free third-party survey widget on the page, and it was pretty easy. Now that we have accomplished the task let's discuss tutorials and marketing features. Then compare the features highlighted in the Wix Review to those of other CMS programs to find the best option for you.
How can I find Wix Tutorials?
Wix has provided a user-friendly ambient that enables skilled website developers to get acquainted with the tool instinctively. Nonetheless, our goal here is to include tutorial and learning material as a part of the application benchmarking. After all, what good is a website builder if you don't know how to use it?
In this Wix Review, we divide the tutorials into internal and external sources.
Wix in-house tutorials
There are plenty of ways to learn how to use Wix without leaving the website. Their walkthrough tasks help you set up your website properly. There is a Blog about the latest features and web-building tools from Wix and third-party companies. You can always use the help search bar to find related content to your questions. And you can get help inside the editor while editing each area as a block.
Other places to learn Wix
Though many learning materials are built into the Wix website, some people, including myself, would prefer a comprehensive step-by-step course from sources such as YouTube videos or apps such as Coursera and Skillshare.
Wix on YouTube
There is an official Wix YouTube channel that provides free tutorials. In addition, there are many influencers and content creators who are Wix users and create Wix tutorials, and watching these videos and trying out the tutorials at the same time could be the best way to reinforce your skills.
Free and paid courses
There are also some prerecorded courses in online education platforms such as Coursera and Skillshare. The Wix academy is also a good choice to explore the application to its full potential.
An evaluation of Wix CMS Marketing
The last part of the user testing is dedicated to analyzing the market funnels and how they interact with users. The marketing tone is subtle and isn't straight and annoying by any means. The click funnels are also more practical than most web applications and won't rush you into buying a product. This is a less annoying and more confident approach where clients can convert into customers by the diversity of features represented. The free website editing feature is also a great way for a prospect to test the web developing platform.
On the other hand, Wix is spending a lot of cash on Google Ads and other external links. This contributes to the steady growth that Wix has achieved in the last decade. All in all, Wix is a growing company with high goals on its agenda. The proof is in the pudding, and Wix understands this concept by providing a user-friendly environment, AI-assisted design, and various plug-ins.
Wix Top Features: What makes Wix stand out?
There are many web design platforms for both general website building such as WordPress or more specific genres of websites such as Shopify that focus on eCommerce and online shops. Wix stands somewhere in between the ends of the spectrum. It can generate themes and page templates using ADI on the one hand and has the ability to benefit from third-party applications. Here's a list of top features users get from the Wix website builder:
Wix Review, the top 3 features:
1- Easy to use:
The most important feature Wix has is the ease of creating websites and implementing changes into your pages. The Wix UI supports drag and drop, which makes posting photos and videos a piece of cake. Moreover, if you use the paid accounts, you can implement many add-ons and plug-ins such as Google Analytics and Canva to improve your website analytics and design, respectively.
2- Wix Artificial Design Intelligence:
The ADI feature will make what would ordinarily take you hours happen in a few minutes, if not seconds! The pages created by the AI follow general design principles and guidelines, and thanks to the user-friendly Wix User Interface, you can add or remove the items within a page with a few clicks.
3- Wix tools:
Wix claims to be a one-stop shop where all your web creation needs are catered for. The app not only includes content creating assets and web design tools but also a variety of tools such as marketing tools, analytic tools, Social post makers, chat support for your website and many other features.
Other useful Wix features
Free hosting
Image editor
Page protection
Social feed
Facebook comments
Social buttons
Financial tools
Live chat
Contact manager
And many other features to create a content-rich website.
Now that we have covered some of the most crucial Wix tools and features and also benchmarked how web design is done in the app, it's time to compare the payment plans.
What are the Wix payment plans, and how much do they cost?
In this part of the Wix Review, we compare different payment plans that Wix offers users. Is there a free trial version, what are the mainstream users' options, and what does Wix have to offer companies and large business agencies?
Free Wix trial
Wix used to provide a free beta testing service; however, as of August 2021, the free service has been revoked. Instead, the website offers a 14-day refund if you don't like the features. So there are no free rides for those who want to try the app.
Wix Review: plans and pricing
There are a total of 7 subscription plans if you want to use Wix. The first four plans are clustered into the Website plans. The rest of the plans are categorized under Business and eCommerce Plans
Wix website plans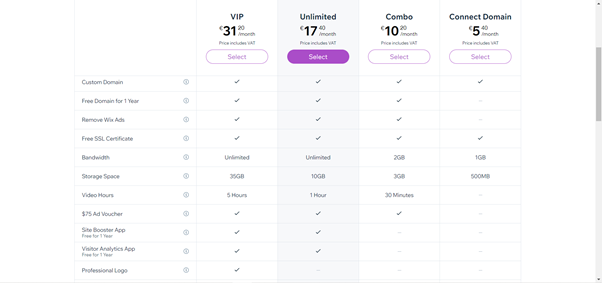 The cheapest Wix option is the Connect Domain plan that gives access to creating and editing a single domain. This service costs 5.4 Euros. The service provides all the basic features and 24/7 customer care support.
The next plan on the list is Wix Combo which costs 10.2 Euros a month and supports 30 minutes of video on top of all features included in the previous plan. The Storage Space is also increased to 3 GB, and you can also use a 2GB bandwidth. In addition, you can benefit from having a 75$ Ad voucher if you decide to buy this service.
Your 3rd option is to use Wix Unlimited, which is the most popular plan according to Wix. Users can enjoy unlimited bandwidth, 10 GB of storage, 1hr video content, Site Booster App, and Visitor Analytics App. This subscription comes with a 17.4-Euro monthly bill.
The last plan offered to mainstream users and freelancers is the VIP plan that costs 32.2 Euros a month. It includes all the features from the Unlimited plan. Plus, the storage is 35GB, and you're allowed to upload 5hrs of video content. It also provides a professional logo and Social Media Logo Files.
The best of Wix's Website Plans
Considering that you would also need SEO tools, advertisements, and other services, you have to be frugal with your website costs, or you'll never make profits. Although the Wix website claims that the Unlimited plan is the most popular, I suggest using the most basic version first before you commit to Wix. Remember that there is plenty of fish in the sea.
Website Solutions for Businesses
Wix offers three packages for business users. The first package is the Business Basic Plan. Some features are standard in all business subscription plans. Secure Online Payments, Plans & Recurring Payments, Customer Accounts, Custom Domain, Free Domain for one year, Remove Wix Ads, Unlimited Bandwidth, 75$ Ad voucher, and 24/7 customer care are included in all packages.
However, the basic business includes 20GB of storage and 5hrs of video. Business Unlimited includes 35 GB storage space and 10 hours of video content. The Business VIP plan supports 50 GB of storage and unlimited videos.
Wix Review: What are the best Wix alternatives?
Wix is a great web builder, especially if you don't have the previous web developing experience or you don't want to bother yourself so much creating a website. However, the user-friendly tool comes at a relatively high price and hinders some website performances. Moreover, there are some features that are free if you combine some web developing tools with plug-ins. Here are some apps you might want to consider before subscribing to Wix.
The top web builders
WordPress:
WordPress is an open-source web builder that provides the websites of more than one-third of all websites. The Web builder is highly compatible, and you can use endless plug-ins using WP. The support is not as good as Wix's, and it takes longer to learn how to design and modify pages in WordPress; however, once you've acquired the necessary skills to develop sites, WP would become a compelling web designer as it is for many freelancers and content creators.
Squarespace:
This app is also a simple, powerful web builder, offers excellent options for your email marketing campaigns, and has great blogging options. However, Wix emphasizes graphics and costs more to provide sales and eCommerce support.
Woocommerce:
As the name suggests, the web application is optimized for sales websites and transactions. So if you want to create an online shop, make sure you read our Woocommerce Review for a more detailed examination.


Other excellent web building applications
Weebly
Webflow
Network Solutions
Site123
Wix Review: Which app is best for me?
There are different strokes for different folks. Some newcomers to the digital world might prefer simplicity, some might want to learn the fundamentals. Some need to create a website once, some look at content creation as a life-long career. The verdict of the Wix Review is that if you just want to scratch the surface of web development and get your website up and running as fast as possible. Wix is your best option. However, if you're looking for a long-term versatile web builder solution, I would recommend spending some time learning WordPress. You might need to rely on other Applications and plug-ins this way. However, we can't deny that using some Analytic Tools, such as Google Analytics, is vital. You will eventually have to learn other apps if you choose to use Wix.
Wix Review Summary
In conclusion, let's highlight some of the advantages and disadvantages of Wix before ending the Wix Review.
What are the advantages of Wix?
Easy to use
Artificial Design Intelligence designs
Ample tutorials
Drag and drop
What are the disadvantages of Wix?
Relatively high cost
Complications in using a lot of plug-ins
Some premium features overlap with other Premium essentials such as Google Analytics and SEO tools
There is no doubt that Wix is an excellent web-building tool. The intrinsic drag and drop of blocks make it so simple that even school students can use it to create blogs and websites. Moreover, the website builder uses ADI that generates pre-designed templates and website designs in a few minutes. You can use various plug-ins in Wix UI to optimize your content for SERP ranking and traffic analytics.
With that being said, WordPress is a worthy rival among other web-building tools with many free features and open-source codes. Therefore, I suggest you read our WordPress Review before making a purchase.