Accessing a safe and secure internet connection has become a current controversial issue. Some prefer to use a VPN application to preserve their privacy and avoid getting hacked. The CyberGhost Review has scrutinized one of the best VPN services on the market. As a result, you will be introduced to the essential features of CyberGhost VPN; moreover, this article will compare the application to similar VPN apps for a better overview.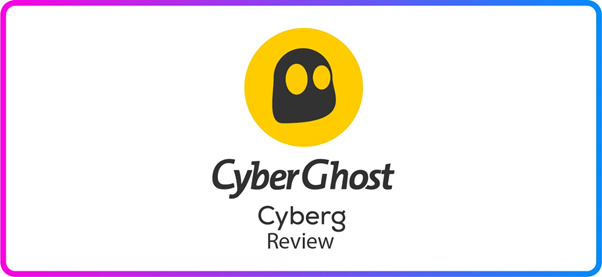 About the CyberGhost Review
At Cyberg, we aim to give you an unbiased overview so that you can choose whether or not an application is suitable for you or your company. Therefore, a proper review demands a comprehensive investigation of the quirks and features of the application at hand. Thus, the CyberGhost Review consists of the following chapters.
First, we will list the available servers to which users can change their IP. Second, we'll investigate the protocols you can choose using the VPN app. Third, the devices that can run the VPN application will be discussed. Next, we have assessed the top features of the VPN program. Further, we will view the free and paid plans. Afterward, we shall compare CyberGhost to its top competitors. Finally, we will highlight the pros and cons of using the app before putting the review to a conclusion.
Server Locations, CyberGhost Review
The number and location of the VPN servers are among the prominent features of any VPN service. Therefore, we have included this section in the CyberGhost Review to determine if the application provides servers in your desired locations.
CyberGhost has over 7400 servers in 91 countries across the globe. These servers are categorized into different regions for a more clear distinction. Here are the most critical server locations based on their regional distribution.
The Americas
CyberGhost servers exist in dozens of American states; however, the following countries have servers in at least two different cities.
The USA:
The country hosts more servers than any other nation in the entire world. There are over 1300 active servers in the US. These servers are located in 11 cities.
Canada:
Like the USA, Canada is a popular server location for VPN users. Therefore, CyberGhost hosts over 300 servers in three Canadian cities.
Other countries:
The list goes on in the Americas. Countries like Brazil, the Bahamas, and Venezuela, etc., are home to CyberGhost servers.
Europe Servers, CyberGhost Review
After North America, the highest demand for VPN servers goes to the green continent. CyberGhost has servers in most large European states. However, we only mention those countries with two different server locations in the CyberGhost Review.
France: 2 server locations
Germany: 3 server locations
Italy: 2 servers
Romania: 2 locations
Switzerland: 2 cities
The United Kingdom: 3 server locations
Others:
Some small nations are worth mentioning because of their liberal views on internet access and monitoring. Malta, Monaco, and Iceland are among those states.
Asia Pacific
The following countries in the region provide more than a single server location.
Australia: 2 cities
Others: some less liberal countries are also listed on the CyberGhost website. China is the paragon example of such states.
Africa and the Middle East
Due to restricted internet access and poor connection speeds, these areas are less popular among VPN users. However, CyberGhost hosts servers in many countries in this part of the world. Here are some countries listed on the website:
Cyber Ghost's abundant servers
In short, CyberGhost offers plenty of servers in locations that you might never even have heard of before. Nevertheless, the abundance of servers ensures you can access almost any website you want.
The Supported VPN Protocols, CyberGhost Review
VPN protocols are encryption algorithms that keep your log safe from adverting companies and other unwanted stalkers. These codes have been evolving to deliver data as fast as possible without compromising the security of users' traffic. Thus, this chapter of the CyberGhost Review will discuss the protocols available on the VPN app.
OpenVPN
Since 2002, OpenVPN has proven one of the most trusted open-source protocols. The encryption method is divided into TCP and UDP. The TCP protocol is known for high-security encryption, while the UDP code focuses on higher speeds. Therefore, it is harder to block TCP traffics; however, UDP offers higher speed and connection quality.
The OpenVPN protocols apply to Windows, Linux, Android, and Fire TV apps.
IKEv2/ IPsec CyberGhost Review
While maintaining a high-security connection, the advanced IKEv2 protocol also brings high speed. Internet Key Exchange Version 2 works best when connected to the nearest physically available server.
The IKEv2 VPN connection is available on Mac, iOS, and Windows.
CyberGhost Review, Wireguard protocol
Wireguard is one of the latest encryption technologies available today. It keeps your data secure while transferring data at optimal speed. In addition to being faster than OpenVPN, Wireguard uses less power and CPU resources than other encryption methods.
Another merit of using Wireguard technology is being compatible with almost any operating system. The protocol supports Windows, Mac, iOS, Android, Linux, Fire TV apps.
Compatible Devices
Another critical aspect of a VPN service is the number of available devices. For example, if your VPN does not support your phone, you will need another VPN. To avoid the undesirable circumstance mentioned before, you would better check the compatible devices before acquiring any application. The devices that can be connected to the VPN app are listed in this part of the CyberGhost Review.
CyberGhost Review, desktop apps
You can install the CyberGhost app on your PC, easily connect your computer to its server, and enjoy a fast and secure connection. The application can be downloaded and installed for Windows, Mac, and Linux.
Mobile Apps CyberGhost Review
CyberGhost is available on the most popular smartphone operating systems, Android and iOS. You can download the iOS version from the App Store, and the Android app is available on Google Play Store.
Browser Apps
The browser extension VPN apps have their benefits and setbacks. While these apps are less secure than other versions of the VPN app, they allow simultaneous connection using your standard local service and the VPN account. In addition, the CyberGhost browser extension offers a free VPN. Users can add the extensions to their Firefox and Chrome browsers.
TV apps
Are you tired of hassling to connect your TV to Netflix? Try the CyberGhost VPN TV apps. Once you have installed the app on your smart TV, you can access any website you want. The TV version of the VPN tool is available for Fire TV, Android TV, Apple TV, and other Smart TVs.
Console apps
Gamers would also want to connect their gaming consoles using a VPN tool. Low ping and high bandwidth are two essential aspects of a suitable virtual private network application created for these devices. You can download and install the CyberGhost app on Xbox and PS consoles.
CyberGhost Review, Routers, and more
Many other devices can benefit from CyberGhost VPN services. One of such essential tools is a router. Suppose you connect your router to a VPN network. In that case, you can automatically use the VPN service on any device linked to the router. However, the traffic will also be split between the associated devices.
Top Features – CyberGhost Review
In this chapter of the CyberGhost Review, we discuss the most significant features of the VPN application. First, we start with the aspects related to security; then, we will move on to topics like support, help, and tutorials.
Military-Grade Encryption and Kill Switch
Among all VPN features, security is of paramount importance. Chances are, if you're using a VPN, you wouldn't appreciate advertising companies, governments, and hackers sniffing out for your information. Fortunately, CyberGhost benefits from AES256-bit encryption. The protocol is claimed to be used by top-notch military systems to keep their communication private.
In addition, the kill switch ensures users' abrupt disconnection in case the VPN server is out of reach, even for a short period.
Dedicated IP, CyberGhost Review
Suppose you want to access your workstation while enjoying your vacation. In that case, you might want to make sure you avoid getting blocked by security systems than ban foreign traffic. Having a dedicated IP will secure your connection and avoid detection by such systems. Dedicated IPs are only available on the US, Germany, France, UK, and Canada servers.
Help, support, and tutorials
Read the latest news and alerts in the help center. The help center provides guides, FAQs, troubleshooting, and announcements.
The guide contains articles on different subjects related to using CyberGhost and other VPN-related topics. Some articles provide step-by-step screenshots, but most of them come as plain text.
However, there are no official videos on YouTube. Still, you can find some influencers reviewing the VPN app and providing walkthroughs.
CyberGhost free version and pricing
In this part of the CyberGhost Review, we mention how to use the servers for free and investigate different plans. However, we shall start by warning you about the risks of using random free VPN services.
Why you shouldn't trust free VPNs
If you live in a country that is not so keen on cyber freedom, you might want to question those free VPN sites that are not filtered by the authorities. Some free VPN apps might leak your data since they use outdated protocols and might even present your logs willingly to advertisers and governments.
In addition, the speed and connection quality is way lower than in premium VPN apps.
How to use CyberGhost for free
Since providing free VPN services would decrease the company's chances of selling their products, there are no free applications for PS and smartphones. However, the browser extensions are for free.
Still, you can use the app for free within the first 45 days. All CyberGhost premium plans come with a 45-day money-back guarantee. Thus, if you are not satisfied with the VPN service, you can take back your cash.
CyberGhost Review: plans and pricing
There is only one type of account on CyberGhost. However, you can add additional features to any of your accounts. For example, you can buy a dedicated IP for $5 a month. In addition, you can buy items such as a security updater and antivirus.
However, there are three payment plans from which you can choose how you pay for the CyberGhost VPN service.
Nevertheless, all three methods include a money-back period, service for seven devices, and 24/7 support.
The monthly plan costs $13 per month. The 6-month plan costs $6 a month, and the recommended plan, which lasts for 27 months, will cost less than $2 per month. However, the period is too long for first-time users.
Suggested Plan, CyberGhost Review
Since there is a considerable price gap between the six-month and the 27-month packs, I suggest trying the latter. However, note that you can take your money back anytime within the first 45 days of the service.
CyberGhost Review, user testing
In this part of the CyberGhost Review, we will download and install the Windows VPN application. Then we will try a server located in the US to see how fast and secure the connection is.
First, go to the website and select Windows VPN from the products menu.
Then, download the VPN setup file and run it. Next, select a server and press the connect button. You can also modify the settings inside the app.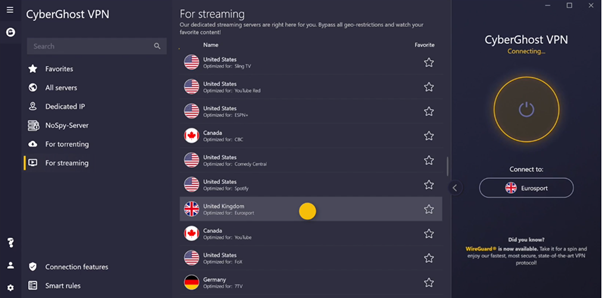 The ping is only 86ms for a server in the UK, where I am. Therefore the Wireguard protocol proves effective. There are also ample servers in any country, so you can always switch to a new one if someone blocks one or two servers.
Comparing CyberGhost to alternative VPN apps
Now that we have discussed the features of CyberGhost VPN solo let's see how it stands against the competition. There are hundreds of free and paid VPN services, but we only mention the most popular and trusted apps in the same league as CyberGhost.
NordVPN VS. CyberGhost
Nord VPN is one of the most popular VPN service providers, with servers located in over 60 countries. The VPN Company is based in Panama and charges about 10$ per month, the same as PIA; however, the long-term prices are almost the same. Read the NordVPN Review for more detail on the web application and its pricing options.
CyberGhost VS. Express VPN
One of the other potent competitors among VPN web applications is Express VPN. The monthly price is much lower than Express VPN's monthly cost. However, Express VPN offers servers in fewer countries. Nevertheless, the support and quality are inferior to Express VPN. It is also worth mentioning that Express VPN provides a more significant discount for long-term subscriptions. Go to the Express VPN Review to find more about its best features.
Hotspot Shield VS. CyberGhost
Hotspot Shield is one of the best VPN providers, according to 650 million users who have used the application. The VPN application offers over 3000 different IPs in 82 countries. Moreover, it is based in the United States as a member of Five Eyes. Although the pricing is almost the same as CyberGhost, Hotspot Shield offers a free trial version on smartphones and PC. Nevertheless, there are some limits to using free software. Read the Hotspot Shield Review by clicking this link.
CyberGhost vs. Surfshark
Suppose you want a safe, secure, and practical VPN solution at a bargain price. In that case, you have to consider Surfshark. On the other hand, CyberGhost has servers in over 90 different locations, but they mainly focus on US servers. In addition, the VPN service provides simultaneous access for ten other devices. Read the Surfshark Review to learn more.
CyberGhost VS. PIA
Private Internet Access is an American VPN company that offers a secure and fast internet connection. Just like PIA, CyberGhost provides a massive discount on its long-term subscription with a 45-day money-back guarantee. The monthly price is, however, as same as CyberGhost at $13 a month. Nevertheless, the monthly cost for a 2-year subscription is as low as $2.25. Read more about the pros and cons of Private Internet Access VPN services.
Windscribe VS. CyberGhost
Windscribe is one of the best VPN services that also provide a permanent free version. Although the speed, bandwidth, and locations are limited, trying the software for free is nice. The most sophisticated membership, the Pro plan, costs $9 a month. At such a lower rate, the VPN provider offers almost the same features as CyberGhost; therefore, I strongly recommend you read the Windscribe Review to discover its advantages and disadvantages.
Comparison Results, CyberGhost Review
CyberGhost offers the most efficient protocols, offers servers in various locations, and comes clean in terms of keeping users' privacy. It is located in Romania, so it is free from subscribing to treaties such as Fourteen Eyes. In addition, the price is relatively competitive compared to other rivals.
CyberGhost Review Conclusion
Eventually, the CyberGhost Review is put to the end by highlighting the pros and cons of using the web application. In addition, there is a summary included in this chapter. Finally, we will rate the application out of ten.
What are the positive points?
Over 7400 servers in 90 countries
Wireguard protocol
Not a member of Five Eyes
Available on most devices
What are the negative points?
Supports and guides are not suitable as rivals
The monthly subscription is overpriced
The Summary of the CyberGhost Review
To sum it all up, CyberGhost is a popular VPN application based in Romania. It has been active for a couple of years, during which no record of data leaks was reported. You can pick a server in over 90 countries and enjoy the cutting-edge Wireguard encryption technology. The long-term subscription plan is economical; however, the monthly subscription plan is overpriced.
Let us know in the comments what you think of CyberGhost and share your experience if you have used the VPN service before.