Nowadays, using a VPN app has become necessary as users want to reach any website they want while keeping their traffic safe and encrypted. The Windscribe Review scrutinizes one of the most popular VPN solutions of 2021. But why do you need a VPN in the first place? Suppose you want to trade some tokens using a cryptocurrency exchange application that is based in the USA. However, you are far from home, and the servers would block foreign traffic; therefore, you can change your IP address to the US and trade your assets using a secure VPN connection. Another example of implementing a VPN app is browsing the web freely in countries with restricted internet access. Thus, more and more users are buying VPN services.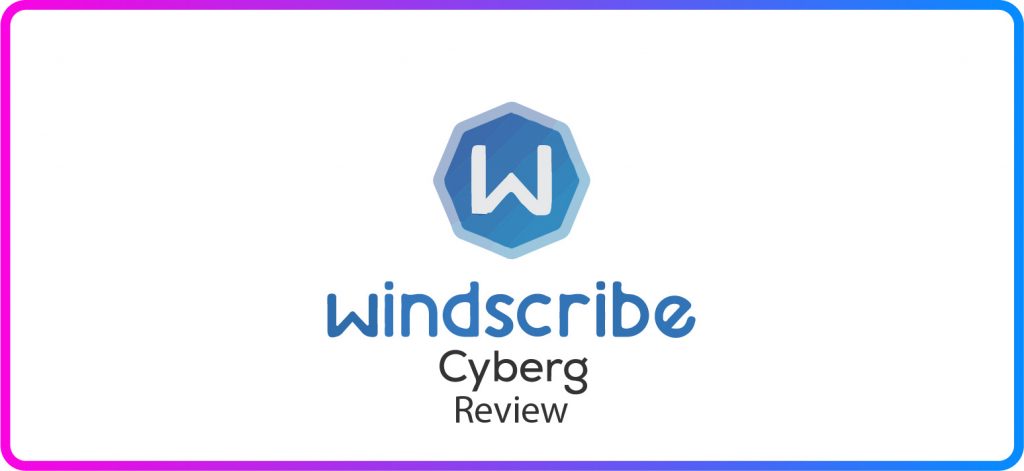 About the Windscribe Review
Here at Cyberg, our goal is to provide comprehensive and fair assessments of web applications so we can help you decide which application suits your needs. Therefore, a thorough approach has been adopted while publishing the Windscribe Review.
First, we have listed the available servers across the globe. Second, the protocols that you can choose are investigated. Third, we have demonstrated the devices on which you can establish a VPN connection using your Windscribe VPN account. Next, we dive into the most crucial features of the VPN application. Further, we have presented an evaluation of the free and paid accounts and their respective pricing. In addition, we have tested the VPN connection to check out the ping and connection quality. Then, we will compare Windscribe to similar VPN competitors. Finally, we will bring the Windscribe Review home by highlighting the pros and cons of using the web application.
Windscribe Review: server locations
The number of servers can be used as an indicator of how vast the VPN network is. Windscribe hosts servers in 63 different countries. However, they focus on the US more than anywhere else. In the Windscribe Review, we only mention the countries with more than one data center location. Additionally, we have sorted the servers by region so you can compare the servers to those mentioned in other VPN Reviews.
The Americas
Most users would want to have access to the websites in this region, especially websites that provide service to US citizens exclusively. Therefore, the Americas is of significant importance. Here are the most noticeable countries with Windscribe servers:
The United States
With over 40 server locations, the US accounts for the most servers located in a single country. The Windscribe servers in the States are divided into US Central, US East, US West, and WINDFLIX US.
Canada
There are eight server locations in Canada that are constantly being updated. Servers located in Canada are also divided into East and West servers.
Other nations with two server locations are Brazil and Colombia.
Europe
The green continent is also a popular location for changing your IP address. Therefore, Windscribe offers servers in many European states. The following countries have servers in multiple locations.
The United Kingdom
The UK has one of the most popular IPs among European nations. There are five server locations available to Windscribe users.
Germany
Czech Republic
Finland
France
Greece
Iceland
Italy
Netherlands
Poland
Russia
Sweden
Switzerland
Asia Pacific
Another fascinating region is Asia and the Pacific. There are also some countries in these continents with Windscribe servers. However, here are the countries with at least two server locations. Note that each server location hosts several servers.
Australia

Second, only to the US, the country hosts 11 servers locations.
Hong Kong
India
Japan
New Zealand
Philippines
Singapore
South Korea
Africa and the Middle East
Since these regions have a terrible reputation for internet freedom, fewer servers are located in Africa and the Middle East. Moreover, there is less traffic going through these servers from other locations. Anyway, there are countries in these regions with more than one server location.
Windscribe Review- available VPN protocols
There are many different VPN protocols on the market. Some are outdated, slow, and less secure; however, current generation protocols have provided a combination of speed, security, and reliability. When using a VPN app, not only your IP address is changed to the server IP address, but also your data will become fully encrypted. Therefore, you can experience a secure internet session. VPN protocols are algorithms in charge of data encryption. In this part of the Windscribe Review, we mention the protocols available on the VPN application.
IKEv2, default connection mode
The Internet Key Exchange version2 is the default encryption method used by Windscribe. It combines high-speed connectivity with high security. However, it is not that difficult to block its servers compared to connection protocols such as Wireguard.
OpenVPN- Windscribe Review
OpenVPN is one of the oldest VPN encryption methods with an open-source code. VPN applications widely implement the protocol. There are two types of OpenVPN connections: TCP and UDP.
The TCP connection has high security; on the other hand, it has a lower speed compared to other connection methods. The UDP protocols emphasize speed; therefore, UDP servers are easier to block.
Double encryption connections
While conventional VPN protocols might get blocked in some countries more often, using double-encrypted VPN protocols will ensure a permanent connection. However, this method significantly reduces speed; therefore, it's not recommended for gaming or online streaming.
Stealth and Wstunnel are two double encryption protocols used in Windscribe.
Supported devices, Windscribe Review
Another aspect of VPN services is what devices their users can connect to the VPN network. While some people only need a VPN service for their phone and PC, others might want to connect devices such as smart TVs, gaming consoles, and other gadgets.
Windscribe for PC
The following operating systems have a Windscribe application.
Mobile apps
You can also have the VPN app on your phone if you use one of these smartphones:
Windscribe Review, browser extensions
Users can install the browser extensions on Chrome, Firefox, MS Edge, and Opera. However, these VPN apps are less protected and do not protect your torrent traffic.
Smart TV VPN
You can also connect your Fire TV to Windscribe to enjoy watching movies without interruptions.
Routers
Windscribe is also available on routers. If you connect a router to the VPN, all devices using the router will automatically connect to Windscribe servers.
Top features of Windscribe VPN application
In this part of the Windscribe Review, we discuss the noteworthy features of the VPN service. We start by scrutinizing those features that deal with security and privacy. Then, we move on to other features like help and support.
Encryption and ad blocking
Windscribe offers users the latest encryption technology that is also being used by the military. The AES-256 is a sophisticated algorithm that is difficult for hackers to crack.
Dedicated IP, Windscribe Review
Users who work remotely are exposed to being banned and blocked by local servers. Therefore, having a dedicated or static IP will avoid the risks mentioned before. However, there are only a few locations with available static IPs. Windscribe disclaims that it cannot dedicate an IP for it can't keep your identity due to internet legislation. Windscribe offers two types of Static IP.
Datacenter:
Windscribe datacenters will allow users to use their IP addresses in a specific city. These servers are located in the US, Germany, the UK, France, Switzerland, and Canada.
If you want to use this type of static IP, you have to pay an extra $2 per month.
Residential:
This type of static IP passes all your traffic through a residential IP address. Using this service, you can bypass blocking and restrictions. The residential static IPs are available In the US and Canada. The cities that provide this service are Chicago, Dallas, and Toronto.
If you opt for this feature, you have to pay $8 on top of the standard cost for Windscribe accounts.
Split tunneling
Windscribe offers using your local IP and the server's IP simultaneously, thanks to split tunneling. You can allocate a specific amount of your traffic to the VPN and keep the rest for local ISP servers.
Time and location warp
Using time warp enables changing your time zone to that of the VPN server. In addition, location warp changes your location, so you can't be marked as a VPN user by websites you're browsing.
Help, Support, and Guides
In this part of the Windscribe Review, we discuss how you can learn to use the app to its full potential. First, you can learn by yourself using setup guides, FAQs, and Knowledge base pages on the Windscribe website. Additionally, you can get the Windscribe technical support team to help you. Users can go to the subreddit, talk to Garry, or submit a ticket.
Subreddit
You can find questions and answers on Windscribe's Reddit page.
Talk to Garry
For some reason, Windscribe has named its online chat support Garry! You can always ask Garry questions about Accounts, Sales, Technical, and other issues.
Submit ticket
Here, you can type your problem inside the text box and send it to the support team. The support team will check the issue and reply to you via email.
External Tutorials, Windscribe Review
Although the best place to find solutions regarding an application is on the website, in this part of the Windscribe Review, we seek external links and tutorials on the VPN service. Thus, we can evaluate how much attention Windscribe has gained among the cyber ecosystem.
Windscribe has an official YouTube Channel. However, instead of finding guides and tutorials, you will find dozens of funny short video clips. Nevertheless, there is one video that introduces the VPN application.
There are also many influencers and YouTube streamers that have tested and reviewed the VPN app.
In addition, some websites and Blogs instruct on how to use VPN apps, including Windscribe.
Free Windscribe Subscription and Pricing
In this part of the Windscribe Review, we check out a free version of the app; furthermore, we will investigate the pricing and offers you can get on the application.
A word of caution on free VPNs
While there are hundreds of free VPN applications and browser extensions, they provide limited access or failure to deliver your data without being intercepted. In addition, some of these "free" VPNs bombard users with annoying ads every few minutes. Therefore, the best VPN apps cost money, for they have to maintain the network and also earn some profits.
Free trial version- Windscribe Review
Windscribe offers a free subscription. Although it offers fewer features than the premium account, it is helpful if you're on a shoestring budget. You can connect to ten server locations and use up to 10 GB per month for free.
Windscribe pricing and plans
If you want to use the VPN to its full potential, you have to subscribe to one of the plans mentioned below in the Windscribe Review.
Monthly plan
This plan gives you unlimited data through all VPN servers. It also includes the features mentioned earlier in the Windscribe Review. The monthly plan costs $9 a month.
Yearly plan
This plan is the recommended subscription that is also the most popular plan, according to the Windscribe website. With over 50% discount, you only have to pay $4.08 per month.
Build a plan
Windscribe allows users to create their tailored VPN contract. This plan is particularly efficient for people who only need VPN servers in one or two locations. This plan costs $1 per location per month. For example, a user who wants to connect to servers in London and Chicago has to pay just $2 per month.
Additional features
Suppose you want to grant more individuals access to a certain account or enjoy a static IP connection. In that case, you have to pay for the extra services.
The cost for adding users is $3 per user per month. Furthermore, acquiring a data center static IP costs $2 per month, while a residential IP will cost $8 a month.
Pricing evaluation results, Windscribe Review
If you want to access multiple server locations, I recommend paying annually to get the best value for your money. However, creating a custom plan would be more economical if you only need access to less than three locations.
User testing the VPN- Windscribe Review
Now that we have covered the features and pricing chapters, it's time to put the application to the test. First, we are going to create an account and install the VPN app on a Windows PC. Then, we will perform a test on how fast and secure the VPN service is.
Creating a Windscribe account
In the first place, you have to create an account. You can sign up to Windscribe for free. You have to pick a username and password to create an account. Note that including an email address and verifying it will extend the free trial version to 10GB a month.
Installing the PC application
Second, you can download any app according to the device on which you want to have a VPN session. For the purpose of user-testing the VPN for the Windscribe Review, I downloaded and installed the Windows app.
Then, a browser window will show up that offers you also to install the browser extension.
Adding the extension will help block ads and manage secure links.
Next, you can run the VPN. As you can see in the picture below, Windscribe automatically offers me to connect to a server in London, where it's near my physical location.
The connection ran smooth and with satisfying speed. Windscribe also offers promotion plans in the app and via mail. So, if you want an even better deal, keep an eye on those offers.
Alternative VPN apps
Now that we have fully assessed the VPN web application in the Windscribe Review, we will give you some alternative VPN solutions comparable to Windscribe. Check out these VPN apps so you can make sure that you are paying for the proper application.
NordVPN VS. Windscribe
Nord VPN is one of the most popular VPN service providers, with servers located in over 60 countries. The VPN Company is based in Panama and charges about 10$ per month, a bit higher than Windscribe; however, the long-term prices are almost the same. Read the NordVPN Review for more detail on the web application and its pricing options.
Windscribe VS. Express VPN
One of the other potent competitors among VPN web applications is Express VPN. The monthly price is much lower than Express VPN's monthly cost. However, Express VPN offers servers in fewer countries. In addition, the support and quality are inferior to Express VPN. It is also worth mentioning that Express VPN provides a more significant discount for long-term subscriptions. Go to the Express VPN Review to find more about its best features.
Hotspot Shield VS. Windscribe
Hotspot Shield is one of the best VPN providers, according to 650 million users who have used the application. The VPN application offers over 3000 different IPs in 82 countries. Moreover, it is based in the United States as a member of Five Eyes. Although the pricing is almost the same as Windscribe, Hotspot Shield offers a free trial version on smartphones and PC. Nevertheless, there are some limits to using free software. Read the Hotspot Shield Review by clicking this link.
Windscribe vs. Surfshark
Suppose you want a safe, secure, and practical VPN solution at a bargain price. In that case, you have to consider Surfshark. On the other hand, Windscribe has servers in over 90 different locations. In addition, the VPN service provides simultaneous access for ten other devices. Read the Surfshark Review to learn more.
PIA vs. Windscribe
Private Internet Access is an American VPN company that offers a secure and fast internet connection. Just like Windscribe, PIA provides a massive discount on its long-term subscription with a 45-day money-back guarantee. The monthly price is, however, significantly higher than Windscribe at $13 a month. Nevertheless, the monthly cost for a 2-year subscription is as low as $2.25. Read more about the pros and cons of Private Internet Access VPN services.
Windscribe VS. CyberGhost
Windscribe is one of the best VPN services that also provide a permanent free version. Although the speed, bandwidth, and locations are limited, trying the software for free is nice. The most sophisticated membership, the Pro plan, costs $9 a month. At such a lower rate, the VPN provider offers almost the same features as CyberGhost. Therefore, I strongly recommend you read the CyberGhost Review to discover its advantages and disadvantages.
Comparison results, Windscribe review
Indeed, Windscribe is one of the most popular and effective virtual private networks. The plans are more flexible than many rivals, and the prices are relatively fair. Therefore, I recommend you shortlist this app.
Windscribe Review Conclusion
Now that we have thoroughly investigated Windscribe, it is time to put the article to the end by highlighting its best and worth features. Then, we will rate Windscribe.
The positive points of using Windscribe
Servers and device accessibility
Relatively fair price
Effective protocols
Useful features
Free version available
The negative points of using Windscribe
Part of the Fourteen Eyes
Extra money for static IP address
Summary of the Windscribe Review
Windscribe is a popular VPN application based in Canada. It offers servers in over 90 countries and benefits from using some of the most efficient VPN protocols. It also has many features that help users maintain their privacy and connection security; some of these features include ad blocking, time and location warp, and split tunneling. There is also a free version of the VPN with limited servers and data transfer. The prices are reasonable compared to other competitive rivals.
Let us know what you think of the app if you have ever used Windscribe VPN. Also, tell us about your favorite VPN application so we can review it for others.