Nowadays, having private and secure internet connections is becoming a significant concern. The Private Internet Access Review evaluates one of the most popular and trusted VPN applications on the market. Virtual Private Networks not only make your connections secure by encrypting transferred data, but they also help users circumvent IP limitations and filtering. For example, you might want to use a cryptocurrency exchange application to buy some tokes, but your government has blocked the website. Using a VPN application such as PIA, you can change your IP location to another country that allows access to the website and trade safely. Further, we will assess the most critical features of the Private Internet Access VPN service.
About the PIA Review
THE Private Internet Access Review aims to provide a comprehensive overview of the VPN application and its features. Thus, users can decide whether or not PIA is the proper choice for them. Therefore, this article is organized in parallel to other VPN application reviews that are available on Cyberg.
First, we will list the available servers worldwide and what VPN protocols the web application supports. Second, we will highlight the most prominent security features and other significant quirks in the next chapter of the PIA Review. Third, we will evaluate the free and paid membership plans and find which is best for ordinary users. Then, we will run a benchmarking test to see how fast and safe PIA connections are. Furthermore, we will compare alternative apps in a separate chapter of the Private Internet Access Review to discover how it stands against the existing competition. Finally, we will highlight the pros and cons of using PIA as your VPN app and wrap up the PIA Review.
PIA Review: Available servers
One of the fundamental factors used to compare VPN apps is the number of servers and their diversity. In other words, the more servers available across various regions, the more popular it becomes. That's because some apps are available for local users exclusively. Therefore, we have listed the server locations in this part of the Private Internet Access Review.
The PIA servers allow network connection with IPs in over 78 countries spread across different regions. However, these servers are actually located in 35 geolocations. Additionally, Private Internet Access users can get a dedicated IP in five countries to avoid getting banned and punished. Here are the most frequently used servers of PIA.
PIA Review, servers in Americas
PIA has servers in countries such as the Bahamas, Panama, and Venezuela; however, the primary servers are located in the following states:
United States of America:
This is where PIA has the most number of servers; furthermore, it's the most requested location by users. PIA also provides dedicated IPs in the US.
Canada
Brazil
Argentina
Other server locations
Other PIA servers in Europe are in countries such as France, Germany, the United Kingdom, and other countries.
PIA also has some servers in the Asia Pacific region, including countries like Australia, New Zealand, China, and India.
Servers are also available in Africa and the Middle East, in the UAE, Egypt, and South Africa.
Private Internet Access Review- supported protocols
There are different internet protocols available when establishing a virtual private network connection. These protocols encrypt data and change your IP address. Some of these protocols emphasize high security, while others deliver fast connection and low ping. The following protocols are supported when using PIA.
Wireguard
One of the hottest VPN protocols that deliver fast connection with high security is Wireguard. This open-source communication encryption protocol is widely accepted and used by various VPN applications.
OpenVPN
There are two OpenVPN protocols available on PIA. OpenVPN TCP offers the most secure connection; however, it comes at the cost of reducing the connection speed. On the other hand, the OpenVPN UDP connection provides a fast connection that is less secure and easier to block. Therefore, the UDP servers have to get updated every once in a while to avoid getting blocked by authorities.
IPsec/ IKEv2
This protocol is available for iOS users that connect through PIA. It offers a combination of high security and high speed. However, the disadvantage compared to Wireguard is that IPsec is easier to block.
Available devices- PIA Review
While some VPN applications are exclusive to specific devices or applications, users would like to purchase a service that is accessible through different devices. Therefore, in this part of the PIA Review, we have discussed the devices on which you can install the PIA VPN settings.
Operation Systems
You can download and install the PIA VPN service on Windows, Linux, and Mac PCs. Each program comes with different options and protocols. These apps are stored on the PIA website for users to download.
Mobiles and Smart Phones
Users can also connect to secure internet using PIA apps available for iOS and Android. You can download the iOS version from the App Store, and the Android app can be downloaded from the PIA website or Google Play Store.
Browser extensions
Although VPN connections are less secure on web browsers, sometimes users have to reach their VPN for specific websites while connecting to another link using their ordinary IP. That's where browser extensions are most helpful. You can add the Private Internet Access browser add-ons to Chrome, Firefox, and Opera browsers.
Setting up a VPN router
Connecting the router to the VPN service will automatically pass all the traffic that passes through the router to PIA VPN servers. This means you can enjoy a secure connection for multiple devices at once. To install the VPN configuration on your router, your device must be supported by PIA. Click here to see the official guide on how to connect your router.
PIA Review- top VPN features
In this part of the Private Internet Access Review, we have mentioned the essential features that make PIA a viable solution as your VPN. First, we mention those features related to security; then, we will end with tutorials and guides on how to use the VPN service.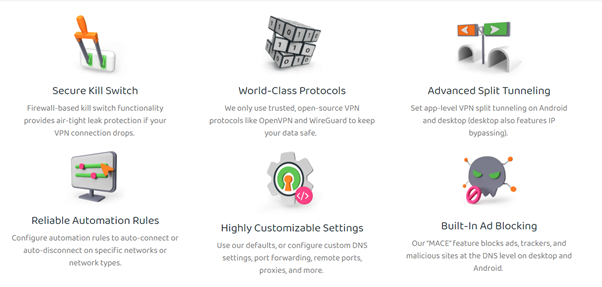 Secure Kill Switch PIA Review
If you are using an application or a website that has banned your country, a disconnection from the VPN server might lead to forbidden traffic detection; thus, possible bans and fines. However, a Kill Switch will automatically block the traffic in case of a server failure to ensure your protection against such events.
Advanced Split Tunneling
This feature allows some applications to bypass the VPN and use the ordinary internet connection. You can set up the split tunneling option in the PC and Android applications.
Adblocking
PIA applications will automatically block ads and pop-ups so you can enjoy surfing the net without distractions. PIA calls the ad-blocking feature "MACE," which is available on PC and Android applications.
Help, support, and tutorials
The Private Internet Access applications are straightforward. However, having a helpful guide along with configuration tutorials shows how much the company cares about users' convenience. Therefore, in this part of the Private Internet Access, we have covered the website's help, tutorial materials, and external resources.
Help Center, PIA Review
The PIA help center provides guides, news, and relevant information. In addition, you can read the Blogs by going to the community page.
Private Internet Access also provides 24/7 support for users. If you have any questions or encounter problems using your VPN, you can ask in live chat or contact the support team.
Guides, PIA Review
One of the most challenging tasks when using new applications is setting up the program and activating its features. The Private Internet Access website has created step-by-step walkthroughs in the Help Center. You can browse the topic of interest and find the solution to your problem. However, there are no video tutorials on the website.
External tutorials and resources
Having external tutorials and reviews shows how people pay attention to the application. The more content available, the more likely the program is popular and user-friendly. Therefore, we investigate the tutorial resources from YouTube and elsewhere.
YouTube is the number one streaming website that many people refer to when asking how-to questions. Therefore, in this part of the Private Internet Access Review, we monitor YouTube for videos about how to use PIA. There are no official videos from the PIA team. Still, you can find dozens of walkthroughs and reviews from third-party content creators on YouTube.
You can also find reviews, guides, and general information about VPNs and PIA on different websites and Blogs. Nevertheless, the Private Internet Access VPN app is not as prominent as other competitors regarding external links.
Free and paid VPN services- PIA Review
In this chapter of the Private Internet Access Review, we discuss the free trial version and the features of its paid plans. However, before we overview those plans, we will explain why PIA disapproves of free VPN applications.
The disadvantages of using free VPN services
There are hundreds of free VPN applications available today, but are they safe and fast enough? Although some users prefer free VPNs for trivial surfing, using them might prove inadvisable due to the PIA website. Here is why.
As the saying goes, the only free cheese is in the mousetrap. Free VPNs wouldn't exist if they weren't beneficial to the developers. Therefore, there are some negative aspects of using free VPN applications in compensation for the money they are not charging you.
For example, free VPN apps usually have lower speeds, poor connection quality, and limited data. In addition, they might keep your logs and track your activity to sell it to advertising and other companies. Thus, we do not recommend using such applications.
Free PIA account
Private Internet Access has no permanent free account. However, there is a 30-day money-back policy that you can consider as a free trial period. Many VPN providers implement this policy since giving away free VPN accounts has some disadvantages.
First, if they want to provide users with free VPN, they have to limit data and speed, which does not leave a good impression on users. In addition, it will reduce the incentive to buy the premium services and overload PIA servers.
Private Internet Access Pricing, PIA Review
PIA offers only one type of account that includes every feature mentioned earlier in the Private Internet Access Review. However, there are three payment plans from which you can pick your preferred deal.
First, there is the monthly plan with no discount, which costs $10 per month. Alternatively, you can pay annually and pay $2.85 per month. Last but not least, there is the 3-year plan that costs only $2 a month. However, three years seems a long time, and you might want to try the service for a month before taking the long-term deal.
PIA pricing review
Since only one type of account includes all the features, you don't have to bother comparing different plans. However, you can first try the app for a month before opting for the one-year program when choosing a project. In my view, the three-year contract is a long shot.
User Testing the VPN service, PIA Review
Now that we have explored different aspects of the VPN application in the Private Internet Access Review, we test to see how fast and secure the PC version of PIA is. First, we have to download and install the app from the PIA website.
You can download the VPN app for both 32-bit and 64-bit Windows PCs. Then, I installed the app, and since the installation is easy, I will skip this part.
After installing the app, you can take a quick tour to pick a theme and get to know the ambient.
Then, you have to log in to your account, select a server and protocol, and all you have to do is to press the connect button.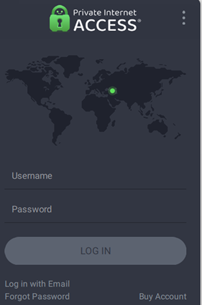 The protocol that I used for this article is the Wireguard VPN connection. I chose a server in New York, and the speed was pretty impressive. My ping was also increased by about 100ms which is acceptable considering how far I am from NY.
Private Internet Access Review, alternative VPN apps
Now that the PIA Review has scrutinized the VPN solo, it's time to compare the VPN service to other potent rivals. Here are six popular VPN applications with prices and features that most viewers anticipate from a proper virtual private network service.
NordVPN VS. PIA
Nord VPN is one of the most popular VPN service providers, with servers located in over 60 countries. The VPN Company is based in Panama and charges about 10$ per month, the same as PIA; however, the long-term prices are almost the same. Read the NordVPN Review for more detail on the web application and its pricing options.
PIA VS. Express VPN
One of the other potent competitors among VPN web applications is Express VPN. The monthly price is much lower than Express VPN's monthly cost. However, PIA offers servers in fewer countries. Nevertheless, the support and quality are inferior to Express VPN. It is also worth mentioning that PIA provides a more significant discount for long-term subscriptions. Go to the Express VPN Review to find more about its best features.
Hotspot Shield VS. PIA
Hotspot Shield is one of the best VPN providers, according to 650 million users who have used the application. The VPN application offers over 3000 different IPs in 82 countries. Moreover, it is based in the United States as a member of Five Eyes. Although the pricing is almost the same as PIA, Hotspot Shield offers a free trial version on smartphones and PC. Nevertheless, there are some limits to using free software. Read the Hotspot Shield Review by clicking this link.
Private Internet Access vs. Surfshark
Suppose you want a safe, secure, and practical VPN solution at a bargain price. In that case, you have to consider Private Internet Access. PIA has servers in over 30 different locations, but they mainly focus on US servers. In addition, the VPN service provides simultaneous access for ten other devices. Read the Private Internet Access Review to learn more.
CyberGhost VS. PIA
CyberGhost is a Romanian VPN company that offers a secure and fast internet connection. Just like Express VPN, CyberGhost provides a massive discount on its long-term subscription with a 45-day money-back guarantee. The monthly price is, however, as same as Express VPN at $13 a month. Nevertheless, the monthly cost for a 2-year subscription is as low as $2.25. Read more about the pros and cons of CyberGhost VPN services.
Windscribe VS. Private Internet Access
Windscribe is one of the best VPN services that also provide a permanent free version. Although the speed, bandwidth, and locations are limited, trying the software for free is nice. The most sophisticated membership, the Pro plan, costs $9 a month. At such a lower rate, the VPN provider offers almost the same features as PIA; therefore, I strongly recommend you read the Windscribe Review to find out its advantages and disadvantages.
Comparison Results, Private Internet Access Review
Private Internet Access VPN app is an economical and safe solution for internet users. The price is below the average monthly cost among the top VPN providers. However, the number of servers and the connection quality is somewhat lower than apps like Nord VPN. In addition, the PIA headquarter is located in the US. Therefore, your network providers must follow the security protocols that the US implements.
Private Internet Access Review Conclusion
In the end, we have discussed the features of PIA VPN apps and compared them to other peers. Now, let's summarize the advantages and disadvantages of using PIA before we pass judgment.
The advantages of PIA
High security
High compatibility
Relatively low price
Supports up to 10 devices with a single account
The disadvantages of PIA
Lack of tutorials
Only one type of account
Member of Five Eyes
The summary of the PIA Review
Private Internet Access is one of the most promising VPN applications with over ten years of clean records regarding preserving users' privacy. The company has servers spread across over 70 countries; however, they have mainly focused on the USA servers. You can use the VPN account for up to 10 different devices, including routers. The prices are sensible, especially if you opt for long-term contracts.
Let us know what you think of the IPA application in the comments below.