The Cyberg NordVPN Review is a comprehensive article on the features of one of the most well-known Virtual Privet Network programs available. We all should enjoy a secure internet connection and access the best online material that has been blocked in some regions. So, you can avoid theft of information or monitoring bots by using a VPN. Another merit of using a VPN is utilizing the benefits of particular location IPs. For example, suppose you're on a long trip and use your work email, which is restricted to your local national IPs. In that case, you can use your home IP to enjoy the music with a VPN service, such as NordVPN. VPNs also allow users in more restricted nations to find their way through the filtering blockade and freely reach for the World Wide Web. So, I advise that you read this article to learn about the NordVPN application and find out the best virtual private network.
About the NordVPN Review
Here in Cyberg, we do not intend to advertise any particular application. In fact, we provide a thorough assessment of web applications, so you can decide which app suits you best. Therefore, the NordVPN Review contains the following information: First, we briefly introduce the application. Secondly, we discuss the top features of NordVPN, such as security and killswitch. Thirdly, we demonstrate the servers and connection protocols available. Next, we discuss pricing and the best deal you can get. Then, we test the VPN as a user to evaluate the UI and see if the connection quality is appropriate. Afterwards, we compare the NordVPN app to other potent rivals. IN the end, we conclude the NordVPN Review by giving it a rating out of ten and paraphrasing its pros and cons.
What is NordVPN?
NordVPN is a Virtual Private Network developed by Nord Security Company. The company was founded by Tom Oakman in Panama and was initially released in 2012. The company has other offices in the UK, Lithuania, and Netherlands; although, because they do not follow Five Eyes or Fourteen Eyes cybersecurity protocols, they are active under Panamese jurisdiction. During the last decade, NordVPN has become one of the most popular VPN applications thanks to its privacy and diversity of servers and supported protocols. In addition, the VPN service is available on many devices, which we will thoroughly mention further in the web application review.
NordVPN security and other top features
In this part of the NordVPN Review, we discuss perhaps the most significant aspect of the app, security and privacy. Moreover, we will discover the app's exciting quirks and features, including the devices with which you can enjoy a NordVPN internet connection.
Privacy, security, and availability: NordVPN Review
A VPN application utilizes an encrypted connection that uses the virtual private network servers instead of conventional routers and ISPs. This method has many benefits. In addition to having a fully cyphered internet session, you can change your IP to one of your VPN provider locations. This means you have access to all the content allowed in specific regions. For example, you want to buy some Bitcoins, but your country has banned cryptocurrency exchange applications. Using NordVPN, you can ensure that no one will detect using the cryptocurrency exchange application. In addition, the exchange app will assume that you are in the location of the VPN server of choice.
End to end data encryption and keeping no records of your logs and internet activities are claims made by NordVPN to protect your privacy and secrecy.
What devices can use NordVPN? What protocols are available?
So far, we have covered what NordVPN is and how secure your information is with the service providers. Now, let's overview the devices on which you can install and use the NordVPN application. Most free VPN services are exclusive to PCs or cell phones; however, NordVPN is available on many platforms and supports different protocols.
Compatible devices: computers NordVPN Review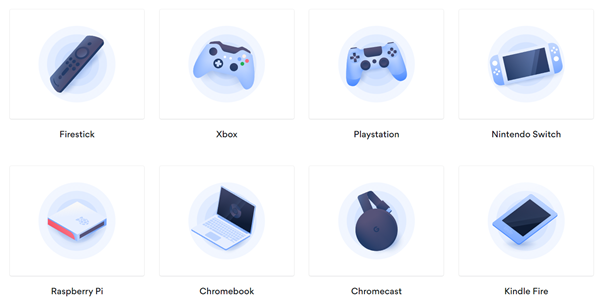 NordVPN can be installed on different computer devices such as desktops and laptops with a Windows or Mac Operating System. The VPN service is also available on LINUX computers.
Cellphones and tablets that support NordVPN Review
The VPN service is also available on Android and iOS devices such as iPad and iPod touch. Users can also connect their Kindle Fire to a secure network using NordVPN.
Connecting a router to NordVPN
In case you want all your devices to use the NordVPN servers, you can connect your router to the VPN service to switch all of your traffic to NordVPN. OF course, NordVPN does not support L2TP/IPsec for routers which means some modems can't connect to the VPN servers.
Read the official NordVPN support to see how you can connect your router to the VPN network.
Other devices
Firestick
Xbox
Playstation
Nintendo Switch
Raspberry Pi
Chromecast
Smart TVs
In conclusion, you can connect most devices to NordVPN either using a predesignated application or other proxy programs. This feature makes NordVPN a reliable option for a secure internet experience.
List of NordVPN countries and IP information
First of all, why does an apt VPN application need various servers? Suppose you want to set up a local website as a freelancer and web developer. In this case, you would better use your website builder application and its add-ons using the IP of the country that you want to build a website in. For example, you can add the analytic tools and WordPress extensions using the local IP to benefit from the reports from that area.

Thus, having different servers around the world is crucial for many developers and users. In this part of the NordVPN Review, we categorize the 5148 severs in 60 different countries to show you how capable Nord Servers are. Therefore, we have divided the countries into four regions: the Americas, Europe, Asia Pacific, Africa, Middle East, and India. The same classification is done by the VPN provider's official website.
Americas
NordVPN provides servers in the following American Nations. The servers inside the US and Canada where internet policies are strict offer obfuscated connections. Therefore, this option ensures that your traffic won't be blocked by these countries. We will discuss VPN protocols in the next section of the NordVPN Review.
The US : with 15 different cities
Canada: 3 cities
Brazil
Argentina
Mexico
Costa Rico
Chile
Europe
NordVPN offers severs in over 20 of the European countries. Since we don't want to mention all of these countries, we only mention those countries with more than two cities. Nevertheless, there are some regions with a single city that have more than one server.
Here are the countries in Europe that have two or more city locations on NordVPN:
Germany: 2
France: 2
The rest of the counties such as the United Kingdom, Spain, Italy, Serbia, Latvia, and others have just one server location. However, if you are looking for a static IP, you can use the UK, Germany, France, and Netherlands servers.
Asia Pacific, NordVPN Review
There are 11 countries on this region with Nord VPN servers. However, multiple cities are only available in Australia with 5 different server locations. In addition, the only county with double VPN option is Taiwan. Only Singapore, Japan, and Hong Kong have obfuscated VPN connections. Besides, we mention the other countries with Nord servers in the NordVPN Review:
New Zealand
Vietnam
Indonesia
Malaysia
South Korea
Thailand
None of these servers support a dedicated IP in the region.
Africa Middle East, and India: NordVPN Review
There are only five location available in this vast part of the world:
South Africa
United Arab Emirates
Israel
India
Turkey
The only country with servers on two separate cities is India. None of the servers in the region have a designated IP service. Plus, none supports double VPN. However, obfuscated connections are available in Turkey and UAE servers. In fact, the United Arab Emirates have no other choice than an obfuscated connection due to the strict regulations.
NordVPN Review: are there enough servers?
The answer depends on your area of interest. NordVPN servers in Europe and The United States are adequate. However, the service is not that strong in other parts of the world. For example, the company doesn't have any servers in Russia. In addition, the connection protocols are limited in many areas. Read the next section of the NordVPN Review to find out about the supported VPN protocols.
Which Protocols are supported? NordVPN review
To begin with, there are different encryption codes and connection protocols for VPN connections. Some are better for online gaming experience and activities that rely on a low ping, while other are highly dependent on security features. Therefore, an appropriate VPN solution must satisfy all the requirements. In this part of the NordVPN Review, we discuss the protocols available in the app.
Before we evaluate the available methods, you should know that NordVPN does not support L2PT/IPsec connections, so if you are looking for these connections, I suggest you read other VPN Reviews on our website to find the best VPN service with a fair price.
NordLynx
According to the NordVPN website, the NordLynx protocol is based on Wireguard® and can be up to two times faster than any other protocol. This protocol is the default choice in Nord Application. So I tested the claim and I was surprised that my ping wasn't increased noticeably when I used a UK server from the UK. Of course the further you are from the VPN server, the higher the ping. You can enjoy this type of Internet Protocol on any NordVPN server.
IKEv2/IPsec
The Internet Key Exchange version 2 protocol is one of the most popular and trust worthy internet protocols that assure fast and secure internet connections. This tunneling protocols is available on all of the NordVPN servers. The quality and speed of your experience depends on how strong the connection between you and the server is.
OpenVPN UDP/TCP
The last supported protocols that we mention in the NordVPN Review are Transmission Control Protocol and User Datagram Protocol which both are helpful to those who want to use a proxy service. This method allows you to use the NordVPN on any device with an OpenVPN application. These IPs are supported by all of the NordVPN servers.
Help, support, and Tutorials: NordVPN Review
Users might have some questions about how to connect their devices to the VPN service or how to troubleshoot possible errors. Therefore, in this part of the NordVPN Review, we list the different ways that you can ask for help on the VPN web application.
NordVPN help center
Whether you're using the application or browsing the web application, the help center provides different services for NordVPN users. There is a 24/7 live chat support that will respond to your questions as soon as possible. In addition, common categories are listed with simple instructions to help you solve your connection problems.
Tutorials
One of the most significant features of a proper application is how easy it is to learn how to use it. The NordVPN Review, therefore, takes both in-house and external tutorials on NordVPN into account. The tutorials are classified into different topics and you can find both instructive texts and videos for each section. The instructions address topics like how to connect your router, installing and using NordVPN on different operating systems and devices, and so on.
NordVPN YouTube Channel is the official channel for Nord users who need more explanations and walkthroughs to successfully install and use the virtual private network connection. There are many other websites that have criticized NordVPN as well. Therefore, the amount of information on the application verifies its reliability and popularity.
NordVPN Review: pricing, payment, and free NordVPN
Now that we have discussed the available servers, provided VPN protocols, and safety features in the NordVPN Review, it is time to put the pricing to a test and see how much it costs to use the VPN service. We would also try to find a free version and how long you could use one.
Free VPN and trial NordVPN Review
Many clients would like to test the VPN service for free, while others are not willing to pay for a VPN connection at all. There are dozens of VPN providers that offer entirely free services; however, there is a catch! Most of those free VPN services are sluggish, insecure, and in some cases you would have to watch ads to gain access to servers. In addition the number of servers are usually limited in those applications.
Secondly, there are some premium VPN services that offer a short trial version. The number of such companies is dwindling due to the amount of bandwidth that free users would take; thus, hindering the access of the premium users.

The third and last type of free VPN services are those applications that would charge you first, but they assure you a full refund in case you're not satisfied with the service. NordVPN falls into this category, offering a 30-day full money-back policy. This method keeps the loyal customers happy and ensures that the VPN provider is not losing money.
The picture above shows how NordVPN disapproves free VPN applications. Let us know to what extent you agree with these claims in the comments section of the NordVPN Review.
NordVPN price and payment methods
The NordVPN website offer certain benefits such as high-performance server clusters, 24/7 support, and constant improvement to charge the following prices.
As usual, there are different offers for NordVPN users according to their preference. The costs are calculated on a monthly basis, but you have to pay the full price at the beginning of the deal. Here are the three subscription plans available:
The monthly plan: If you want to try the VPN for a month or don't like making long-term commitments, you can acquire this service for a monthly deposit of 8.84 GBP or 11.95 USD. However, this plan is not economical at all especially if you need a VPN connection all the time.
The 1-year plan: choosing this method cuts the fee to almost half of what you would pay for the monthly plan. According to this plan, you will pay 3.64 GBP or 4.99 USD per month. This accumulates to an annual cost of 43.66 GBP or 59 USD.
The 2-year plan (recommended by NordVPN): choosing this plan, you will get three months of free VPN, in addition to the 24 months that you have paid for. This service would cost 2.71 GBP or 2.5 USD a month. This means that you have to pay 73.26 GBP or $99 for the NordVPN service.
Unless you really want to opt for the monthly subscription which is as high as other VPN services among the best applications, the yearly and 2-year plan are fairly economical given that you'll enjoy various servers and also a great connection quality. However, if you intend to use servers in certain countries or require double VPN protocols in countries that are not supported by NordVPN, proceed to the comparison section of the NordVPN Review.
Payment methods on NordVPN
Next, after choosing the proper subscription plan, you need to pay NordVPN. There are different ways to acquire NordVPN services.
The NordVPN box
The most exciting payment method is buying the Nord VPN box at the following retail stores. This will help you keep your tracks off the paper trail. You can also send these boxes as gifts to your friends and families.
Paying with crypto tokens!
But that's not the end of it. You can also pay for the VPN using Bitcoin and other cryptocurrencies. All you have to do is reach for a cryptocurrency exchange to buy some, or use what you have in your crypto wallet. You can use the following coins to pay for the service. Make sure you read the cryptocurrency exchange reviews to learn how to use applications such as Binance and Coinbase to acquire virtual money.
Credit cards
You can get your VPN subscription using one of the following credit cards:
VISA
MasterCard
American Express
Discover
JCB
VISA Electron
Other payment methods
You can get the VPN pack using Google Pay, Direct Debit, and Amazon Pay, if you prefer them to the methods explained above.
User testing NordVPN
This part of the NordVPN Review will inspect how easy it is to setup and run the NordVPN application on Windows. And test the speed and Ping to evaluate its performance.
Signing up and paying for the account
In the first step, we have to create an account using the website or application to use Nord VPN. For this process I tried paying in Bitcoin based on the bearish trend of crypto assets in the day. The payment was done smoothly. Then, we go to the sitemap on the NordVPN home page. Next, the latest version for Windows OS was downloaded and installed on my PC. The application is only a few megabytes, and it takes less than a minute for it to be installed on a moderate windows ten system. You can also add NordVPN to your start-up applications. Then I restarted my PC to make sure the application worked properly. If you have any problems connecting to the servers, watch this video by the official NordVPN YouTube Channel.
Now that you have NordVPN on your system, run the application; you have to log in once, and then, you can select a server and a protocol to enjoy a free and secure web experience. Now you can continue installing the application on 5 other devices, such as your cellphone and router.
Comparing the best VPN applications, NordVPN Review
Now that we have overviewed the features and prices of NordVPN solely, it is time to compare it to the most popular VPN brands available. In This part of the NordVPN Review, we have listed six alternative Virtual Private Network services and highlighted the major differences between them and Nord VPN.
Express VPN VS. NordVPN
Express VPN provides more servers in over 90 countries and it is one of the most popular VPN services as of 2021. However, the monthly cost is a bit steeper than NordVPN. Another positive feature of using Express VPN is double encryption in more countries compared to its rival. Make sure you read Cyberg's Express VPN Review to find out more about this web application.
Surfshark VS. NordVPN
One of the other potent competitors among VPN web applications is Surfshark. The monthly price is the same as the monthly costs of NordVPN. However, Surfshark offers servers in fewer countries. Nevertheless, the support and quality are almost equal to Express VPN and NordVPN. Go to the Surfshark Review to find more about its best features.
Hotspot Shield VS. NordVPN
Hotspot Shield is among the top VPN providers, according to 650 million users who have used the application. The VPN application offers over 3000 different IPs in 82 countries across the globe. Moreover, it is based in the United States as a member of Five Eyes. Although the pricing is almost the same as NordVPN's, Hotspot Shield offers a free trial version on smartphones and PC. Nevertheless, there are some limits to using free software. Read the Hotspot Shield Review by clicking this link.
Private Internet Access
Suppose you want a safe, secure, and feasible VPN solution, at a bargain price. In that case, you have to consider Private Internet Access. PIA has servers in over 30 different locations, but they mainly focus on US servers. In addition, the VPN service provides simultaneous access for 10 different devices, which is 4 devices more than what you can use by getting a Nord account. Read the Private Internet Access Review to learn more.
CyberGhost VS. NordVPN
CyberGhost is a Romanian VPN company that offers a secure and fast internet connection. Just like NordVPN, CyberGhost offers a massive discount on its long-term subscription with a 45-day money-back guarantee. The monthly price is, however, a bit higher than NordVPN at $13 per month. Nevertheless, the monthly cost for a 2-year subscription is as low as $2.25. Read more about the pros and cons of CyberGhost VPN services.
Windscribe VS. NordVPN
Windscribe is one of the best VPN services that also provide a permanent free version. Although the speed, bandwidth, and locations are limited, it is nice to try the software for free. The most sophisticated membership, the Pro plan, costs $9 a month. At such a lower rate, the VPN provider offers almost the same features as NordVPN; therefore, I strongly recommend you read the Windscribe Review to find out its advantages and disadvantages.
The comparison results
NordVPN is a great virtual private network provider with a wide range of highly efficient servers and sophisticated IPs. The price might be above average compared to other competitors, but you can reduce your costs by sharing the service with family, friends, and coworkers, since a single account would support up to six devices. If you decide to choose this application, I strongly recommend getting the 2-year plan to reduce the cost. However, if you need a VPN for a short period of time, other applications mentioned above would be considerably cheaper.
NordVPN Review conclusion
In the end, we restate the advantages and setbacks of using the NordVPN web application before passing our verdict and rating the application.
What are the benefits of using NordVPN?
High security and encryption
Available on most devices
Various servers
Great support and tutorials
What are the setbacks of using NordVPN?
Relatively high cost
Not a member of Five Eyes or other intelligence alliances
Final verdict
In a nutshell, NordVPN is one of the most popular and reliable apps in the virtual private network niche. The features assure a safe and fast internet connection experience using over 5000 servers spread across 60 different countries. The pricing is steep for the monthly plan, yet the 2-year subscription is a great deal. However, make sure that p2p and double encryption protocols are supported by the servers you would use. If the servers do not support the protocol, you can use other applications that we have discussed above in the NordVPN Review.