VPNs are essential for many users who would like a secure and private connection or would rather connect to the internet via an IP from a different location. Therefore, applications such as Surfshark are on top of many internet users' lists. For instance, if you want to buy cryptocurrency from a foreign crypto exchange platform that is banned in your country, you can turn on your VPN using a server in another country to invest your assets in virtual money. In the Surfshark Review, we overview the web application in detail to provide a thorough analysis of the application's features, pricing, and overall approval rate. Our goal at Cyberg is not to sponsor or dump any application, but rather give you comprehensive reports so you can decide for yourself if the application is worth your trust or not.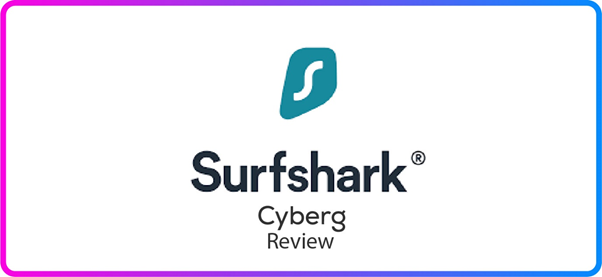 In this Surfshark Review
Cyberg presents a detailed review under many sections that scrutinize an application's quirks and features. Thus, fulfilling our goal to provide you with up-to-date and helpful information. Therefore, the first and foremost part of the Surfshark Review describes what Surfshark is briefly. Secondly, you are presented with key information on connection security and available tools for Surfshark clients. Thirdly, we list the devices on which you can run the application and establish a virtual private network connection. Next, we discuss the diversity of servers and the protocols at your disposal. Then, we have reviewed the Surfshark service plans and how much they cost; additionally, we list the payment methods offered by the VPN provider.
Furthermore, we have mentioned how you can enjoy a free VPN connection using Surfshark. Afterward, we try the VPN connection and test the ping and speed; we also rate the user-friendliness of the website and application in the Surfshark Review. Then, we compare this popular VPN app to other potent rivals in its niche. Finally, we highlight the positive and negative points of Surfshark and give it a score out of ten for easier comparison.
Whether it's worth your money or not is your decision to make, so please read what matters to you regarding VPN applications.
Surfshark Review: introduction to the application
Surfshark is a VPN service company that offers products such as data leak detection systems and private search tools besides virtual private networks (VPN). The company is based in the British Virgin Islands where legislation does not that restrict. Therefore, the company does not have to follow Five Eyes, Nine Eyes, and other international protocols. The company was established in 2018 as an iOS application. However, today, they have extended their services to more platforms and operating systems such as Windows and browser extensions. According to millions of users who use Surfshark, it is secure, fast, and offers a sufficient number of servers and protocols. We will discuss these features further in the Surfshark Review.
Is Surfshark secure?
VPN companies claim they don't keep any information regarding your internet sessions. However, experience has shown that some VPN companies, especially those that offer free services, sell clients' information and activity logs. ­­There are over 5.7 million people around the world using Surfshark. Thus, they are attesting their trust in the company. There is no record of Surfshark being compromised as of today. There are several protocols and sophisticated encryption methods used for p2p connections, tunneling, and static IP connections. Therefore, it is safe to say that the application is one of the best in terms of security. In addition, those not complying with Five Eyes and Nine Eyes international protocols can deny any requests from governments in favor of their customers' privacy.
It is also worth mentioning that Surfshark features include Killswitch, Auto-connect, Bypasser, and 24/7 support to guarantee a high-quality internet service.
Available Internet Protocols
Users can connect to a VPN server with different protocols. Some are faster, some are safer, and some offer a combination of both. Therefore, in this part of the Surfshark Review, we list the available protocols on the Surfshark web application.
IKEv2/IPsec:
Internet Key Exchange version2 is one of the most popular ways to achieve a secure VPN connection. This encryption and the proxy setting are available on all Surfshark servers. In addition, this method is one of the fastest ways to diverge your traffic.
OpenVPN UDP/TCP:
This type of connection benefits from proxies and is harder to block by ISPs and governments. The catch is higher ping and lower speed in most cases. This protocol is also offered on all servers.
Wireguard:
This protocol is one of the most efficient connections due to its high speed and low overhead. The cutting-edge encryption also promises a secure internet connection experience.
Shadowsocks:
This protocol is only available on Windows and Android. This proxy encryption protocol was improvised to get through Chinese blockades. This application is open source, which means anyone can set up a new proxy and create a new server to counter the heavy internet filtering issued by some governments.
Surfshark VPN Review: Server Locations
Connecting to remote servers means more lag, while some applications are only available in certain countries. Therefore, it is imperative that your VPN application has as many servers as possible to meet your demands. In this part of the Surfshark VPN Review, we have listed the servers and different locations where you can connect your devices.
Surfshark offers over 3200 servers in over 65 countries. We have classified the countries into the same categories as in the web application. Thus, we will be looking at servers across Europe, the Americas, the Middle East and Africa, and Asia pacific.
Europe Servers
Over 30 countries in Europe have Surfshark servers. These servers are owned by the company and the dynamic IPs are switched to make your connections anonymous. All servers in this region support the protocols mentioned earlier, such as Wireguard. The countries shown in the picture below are only some of the locations in the green continent.
The Americas
Surfshark offers over a hundred servers in this part of the world. Most of these servers are in the US and Canada; however, there are other servers in South and Central America. These servers also provide the internet protocols mentioned before.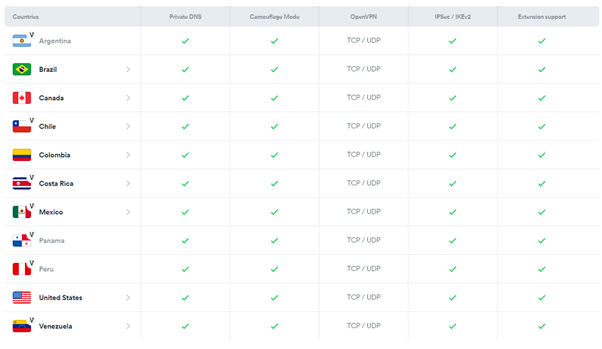 The Middle East and Africa
The countries in this region have limited access to the global network. Therefore, the number of servers in this region is lower than in the rest of the world. Nevertheless, five countries host Surfshark VPN servers. These countries include Algeria, Israel, Nigeria, South Africa, and UAE. Again, all these servers provide TCP/UDP connections, plus other protocols.
Asia Pacific
Surfshark VPN offers servers in 14 countries located in the Asia Pacific. These servers include trade hubs such as Singapore, Hong Kong, and Taiwan. Although China has strict bans on VPN services and does not allow VPN servers on its territory, Chinese people can use these servers to connect to other parts of the world, freely.
In conclusion, Surfshark has enough servers to assure you a pleasant connection with total security and appropriate internet speed.
Surfshark Review: compatible devices
Now that we have mentioned the protocols and servers you can use with Surfshark, let's see what devices can connect to the virtual private network.
Google chrome web browser extension
Firefox website browser extension
iOS and Mac applications
Windows and LINUX application for your PC
Android app
Ability to connect your router to the network
Smart TVs
Game consoles
Using the VPN for your router, you can switch your entire connection to the VPN servers. Alternatively, you can connect these devices separately. Surprisingly, you can connect an unlimited number of devices to your Surfshark account. Conversely, most VPN applications would offer access to a limited number of devices.
Help, support, and tutorials: Surfshark VPN Review
In this part of the Surfshark Review, we evaluate how easy it is to find the instructions and ask for help. Sometimes users cannot connect their devices to the network or would like to change their configurations. Therefore, help and support are always welcome when it comes to web applications such as this.
In addition to the Help Center, Surfshark provides live support to cater to your troubleshooting. In addition, there are tutorial videos on the website and Surfshark's YouTube Channel.
The link above displays how to install the application on Windows and how to set up a connection for the first time. The rest of your questions might be answered in the FAQ in the help center. However, if you couldn't find the answer to your question, the support team would be happy to help you out.
Free Surfshark VPN and paid plans
In this part of the Surfshark Review, we discuss how to get a free trial version of the VPN application and what membership plans are available for users. In addition, we will mention how and when to get special offers so that you can get a nice discount on your VPN service.
Surfshark Review: free trial version
Having a free VPN is easy these days. However, free VPNs are not that secure; in addition, they are either slow or you have to put up with annoying ads every time you open the application. Nevertheless, it would be nice to try Surfshark VPN for free.
Providing free VPN would increase the traffic on servers; therefore, reduce the speed and quality of premium users' internet connection. Therefore, if a company wants to provide a free service it has two choices. For one, they can dedicate some servers to free users; in that case, the speed and overall connection quality of those servers would be significantly lower compared to premium servers. As a result, users won't become interested in getting the paid version, because they would assume that the quality would be somewhat the same on those servers. Alternatively, they could dedicate a certain bandwidth to free users. This method will impose traffic on all servers and produce problems for the entire network.
Therefore, VPN companies such a Surfshark have come up with another strategy. In this scenario, there is no free VPN trial version; however, users are guaranteed a full money-back if they are not satisfied with the service. Consequently, if you want to try Surfshark, you have to pay in advance, and take your money back before the deadline is due.
Membership plans and subscription fees
As mentioned before, all of the membership plans include a 30-day payback guaranty. However, this ensures a high-quality internet session for Surfshark users. There are three membership packs that you can choose from if you're considering this VPN application.
The monthly subscription:
if you want to try the VPN application, you might want to choose this option before making any long-term commitments. This service will cost about $13 a month and there aren't any discounts or special offers for this option.
The six months plan:
choosing this payment plan will save you half of the monthly subscription. Plus, you can always get your money back within the first 30 days of using Surfshark. The overall cost of this plan is $38.94, which is $6.49 per month.
The 24 months plan: (recommended by Surfshark)
this is the best deal you can get for your money. Although two years of subscription is a long period of time, it is advisable to consider it since a reliable VPN service is always welcome. The total cost of this service is only $59.76, which translates to just $2.49 a month.
How to get Surfshark Coupons and discounts
Sometimes the web application offers special discounts coupons and deals. So make sure you check the website for future opportunities, especially around special events such as black Friday and March Break. In addition, a student can get a 15% discount using their StudentBeans verification. Another method to reduce costs is joining the affiliate program. Visit the Surfshark website for more information regarding your job and online influence status.
Surfshark VPN Review: Payment methods
One of the delicate parts of staying below the radar is how you choose to pay. These days, more people are using anonymous methods such as paying with cryptocurrencies such as Bitcoin. In this part of the Surfshark VPN Review, we evaluate the diversity of payment methods at your disposal.
Bank accounts and credit cards:
of course, one of the easiest and most common methods of payment is by your credit or debit card. Visa, MasterCard, and other cards belong to this category.
Digital money transfers:
you can also pay the subscription fees using your PayPal, Amazon Pay, or Google Pay accounts. So, if you own an online business such as a Shopify online shop page, you can use these payment methods.
Cryptocurrencies and digital coins:
Using Bitcoin as a payment method has become more common in recent years. For this kind of payment, you can choose between Coingate and Coin Payment as a gate.
Bitcoin, Litecoin, BTC, DOGE coin, and Tron are the coins available if you want to choose this method. Also, Ripple, Etherium, and USDT are other alternative assets that you can spend on Surfshark VPN.
User testing Surfshark VPN Review
Now that we have covered the essential criteria of the application, let's try the app and see how it performs for a user in the UK. First, we have to create an account and pay for the membership plan of choice. The sign-up process takes a few minutes. You only have to enter an Email address and pay according to your method of choice. I chose to pay in Ripples from my Coinbase cryptocurrency exchange account- for more information on crypto exchange platforms please click here. Then you can install the application for Windows or Mac to activate and use the VPN. The PC version is about 38MB large, so it only takes a moment to download it and a minute to install.
Next, you have to reach your email account and enter the username and password in the application. Then you select a server and the VPN starts to work. My ping wasn't increased much when I used another UK server, however, for a server in the US I had 120ms of ping compared to my usual 100ms ping which is not bad. Therefore, the experience is user-friendly and fast like it's promised. In addition, I can enjoy having access to secure internet on any device I want.
Comparing Surfshark to other VPN applications
Previously, we evaluated the most prominent feature of the Surfshark VPN application. Nevertheless, I highly recommend considering these popular VPN apps before you pick one. The applications listed in this part of the Surfshark Review are among the most popular and reliable virtual private network services of 2021. Now, let's dive into knowing these applications.
NordVPN VS. Surfshark
Nord VPN is one of the most popular VPN service providers, with servers located in over 60 countries. The VPN Company is based in Panama and charges about 10$ per month, lower than Surfshark; however, the long-term prices are almost the same. Read the NordVPN Review for more detail on the web application and its pricing options.
Surfshark VS. Express VPN
One of the other potent competitors among VPN web applications is Express VPN. The monthly price is the same as Express VPN's monthly cost. However, Surfshark offers servers in fewer countries. Nevertheless, the support and quality are almost equal to Express VPN. It is also worth mentioning that Surfshark offers a more significant discount for long-term subscriptions. Go to the Express VPN Review to find more about its best features.
Hotspot Shield VS. Surfshark
Hotspot Shield is one of the best VPN providers, according to 650 million users who have used the application. The VPN application offers over 3000 different IPs in 82 countries. Moreover, it is based in the United States as a member of Five Eyes. Although the pricing is almost the same as Surfshark, Hotspot Shield offers a free trial version on smartphones and PC. Nevertheless, there are some limits to using free software. Read the Hotspot Shield Review by clicking this link.
Private Internet Access
Suppose you want a safe, secure, and practical VPN solution, at a bargain price. In that case, you have to consider Private Internet Access. PIA has servers in over 30 different locations, but they mainly focus on US servers. In addition, the VPN service provides simultaneous access for 10 different devices. Read the Private Internet Access Review to learn more.
CyberGhost VS. Surfshark
CyberGhost is a Romanian VPN company that offers a secure and fast internet connection. Just like Express VPN, CyberGhost offers a massive discount on its long-term subscription with a 45-day money-back guarantee. The monthly price is, however, as same as Express VPN at $13 a month. Nevertheless, the monthly cost for a 2-year subscription is as low as $2.25. Read more about the pros and cons of CyberGhost VPN services.
Windscribe VS. Surfshark
Windscribe is one of the best VPN services that also provide a permanent free version. Although the speed, bandwidth, and locations are limited, it is nice to try the software for free. The most sophisticated membership, the Pro plan, costs $9 a month. At such a lower rate, the VPN provider offers almost the same features as Surfshark; therefore, I strongly recommend you read the Windscribe Review to find out its advantages and disadvantages.
Conclusion of the comparison, Surfshark VPN Review
In conclusion, Surfshark has nothing less to offer than most of these applications. Additionally, it offers access via unlimited devices, whereas most apps offer services to 5 or 6 MAC addresses- the unique address that identifies a particular device with an internet address. However, some of the VPN services offer more servers and protocols. In the end, it is up to you to decide which works best for you.
Surfshark VPN Review Results
In the Surfshark Review, we thoroughly evaluated the tools, protocols, and other features available on the application plus, we assessed the pricing and subscription plan of the VPN service. As a result, let's recap the benefits and drawbacks of using this application before passing our final judgment.
The positive points of Surfshark
Secure and private connection
Unlimited number of devices
Various servers in every region
Good price for long-term contracts
The negative points of Surfshark
No free version
High cost of a monthly subscription
Limited double VPN and no IPPT protocols
Summary
Surfshark is one of the most popular VPN services available. There are servers in over 65 countries that offer you a secure and private connection. The company's headquarters is located in the British Virgin Islands where security alliances such as Five Eyes and Nine Eyes have no jurisdiction. However, there are no free versions if you want to use Surfshark. Instead, you can take your money back in 30 days. The monthly cost is higher than most VPN apps but long-term contracts are more economical.
Let us know your experiences with the application in the comments below. Would you choose Surfshark as your personal VPN application, why? Why not?