The 2021 Express VPN Review is a comprehensive article on the features of one of the most popular Virtual Privet Network applications. We're all entitled to have secure, private, and high-quality internet connections. Therefore, you can avoid theft or monitoring of your information by using a VPN. Another benefit of using a VPN is taking advantage of particular locations. For example, if you're on a long trip and want to use your Spotify-free account, you can use your home IP to enjoy the music. VPNs also allow users in more restricted regions to circumvent the filtering system and freely access the World Wide Web. So, I recommend you read this passage to learn about the Express VPN application and find out the best virtual private network.
About the Express VPN Review
This Review is an uncommercial user-testing-based assessment with the purpose of guiding you towards the best VPN service provider according to your demands. Therefore, the Express VPN Review contains the following sections: First, we concisely introduce the company and its history; second, we discuss the security and other features of the app.; third, we introduce the devices and protocols offered by the website. Next, we list the number of servers and IPs available on Express VPN. Then, we discuss pricing and payment methods; nevertheless, we have criticized the free version too. Afterward, we discuss our experience with the software's UI and functionality. Next, we compare Express VPN to other potent rivals. Finally, we conclude the Express VPN review by highlighting the pros and cons.
What is Express VPN?
Express VPN is a product of Express VPN International Ltd. The company was founded by two Wharton School alumni, Peter Burckhardt and Dan Pomerantz. Since 2009, they have made significant progress, thanks to their reliable service and marketing strategies since the company was established. By reading the Express VPN Review, you will find out why the company has become one of the top VPN service providers in 2021.
Express VPN security and other top features
This part of the Express VPN Review discusses the most critical aspects of a VPN service: security and features.
Privacy, security, and availability: Express VPN Review
Using the VPN service, you have 24/7 access to servers located in 94 different countries. The 160 servers in those countries allow IP address masking, which leads to more anonymous browsing. Moreover, you can get past censorship, filtering, blocks, and other obstacles that get in the way of free surfing. VPN split tunneling is another feature that gives you the option to send some of your traffic through the VPN while the rest of your traffic has direct access to the internet.
In addition, Express VPN runs an independent encrypted DNS. Having such an advantage paves the way for a fast and secure internet connection. Another vital feature for VPN users is a kill switch. Express VPN's Network Lock kill switch will block all your internet traffic until your secure connection is restored. The data is highly encrypted on Express VPN with AES 256, one of the most secure encryption codes. Last but not least, Express VPN claims that they do not keep a record of activities and logs. The various Express VPN servers ensure a low ping which is crucial for the gaming experience.
What devices can use Express VPN? What protocols are available?
Express VPN supports almost any device that has requires VPN services. Express VPN mobile apps are available on iOS and Android phones. Besides, the following devices can install and use Express VPN:
PCs that support the app
Other computer devices that can use Express VPN include:
Windows
Mac
LINUX
Routers
Kindle Fire
Chromebook
Browser extensions
Furthermore, Express VPN browser extensions are available, especially for those who want split tunneling features. The following browsers can add the VPN extension:
Google Chrome
Mozilla Firefox
Microsoft Edge
Smart TVs
But what if you want to Netflix and chill on a Friday night without having to use a PC? No worries! Express VPN is also available for the intelligent TVs mentioned below:
Apple TV
Amazon Fire TV
Samsung Smart TV
Roku
Chromecast
NVidia Shield
Android TV
Game Consoles
Are your favorite games blocked in your country? Connect your gaming console directly to Express VPN servers to enjoy a low Ping, secure, and stable online gaming experience. These consoles can use Express VPN separately:
PlayStation
Xbox
Nintendo Switch
In a nutshell, Express VPN is available on virtually anything that can browse the internet. Although there are some exceptions, where there is no designated application for your VPN sessions, users can manually set up a VPN connection to one of the Express VPN servers.
List of Express VPN countries and IP information
As mentioned earlier in the Express VPN Review, the virtual private network provides 160 active servers in over 94 countries as of October 2021. Since the Express VPN Company owns these servers, you don't have to worry about ISPs keeping records of your logs and activities. The company has servers in the Americas, Europe, Asia Pacific, and Middle East & Africa.
The Americas
Express VPN provides servers in many American nations. These countries include:
Argentina
Bahamas
Mexico
Peru
Venezuela
How about the US and Canada? Of course, they have the highest number of active servers! There are 23 active servers in the United States alone. Canada also hosts four different Express VPN servers.
Europe
Express VPN offers IPs in many European countries, from small countries such as Malta and Armenia to World leaders like the UK, Germany, and France. However, these countries have more than one active server; thus, they are worth mentioning in the Express VPN Review:
France: 4 servers
Germany: 4 servers
Italy: 2 servers
Netherlands: 4 servers
Spain: 3 servers
Sweden: 2 servers
Switzerland: 2 servers
United Kingdom: 4 servers
Asia Pacific
Express VPN also offers IPs In over 20 countries in the most significant part of the world. The servers are located in countries such as Brunei and Bhutan with small populations. In addition, Express VPN provides servers in Japan, Australia, and India. The following countries have more than one server:
Australia: 5 servers
Hong Kong: 2 servers
India: 3 servers
Japan: 3 servers
Singapore: 3 servers
Middle East
Express VPN servers are available in five Middle Eastern or African nations:
Algeria
Egypt
Israel
Kenya
South Africa
What Protocols are available? Express VPN review
There are six different protocols available on the Express VPN platform. Each protocol has its advantages; however, diversity is what we capitalize on in this Express VPN Review. The more protocols available, the better the VPN app. Although all protocols are not available for all servers, Express VPN Provides at least four protocols for each server. Here is the list of the supported protocols:
Lightway UDP
Lightway TCP
Open VPN UDP
Open VPN TCP
L2TP/IPSEC
IKEV2
Lightway and IKEV2 are supported on every server; however, some servers do not provide L2TP/IPSEC connection. Moreover, L2TP/IPSEC is only available on Mac and Windows apps. In addition, IKEV2 is only supported on iOS, Mac, Windows, and routers.
Help, support, and Tutorials: Express VPN Review
Since setting up a VPN connection on some devices is tiresome, users need their trusted VPN providers to support them and teach them how to use their products. Thus, Express VPN provides a 24/7 online chat for users around the world. Moreover, Express VPN Blog is a great place to find authentic answers to some of your general network questions or how to use Express VPN on your PS5. If you couldn't find your answer on the Blog, take a look at the help center.
Express VPN has an official YouTube channel where you can find step-by-step guides and tutorials on using the VPN service on different devices.
Express VPN Review: pricing, payment, and free version
Diversity, available servers, and operation on different devices and operating systems are crucial; however, price is equally essential for a VPN service. Therefore, we have discussed pricing and payment options under a separate title. First, we overview the free and trial versions. Then, we will discuss the price and payment options.
Free VPN and trial Express VPN Review
Perhaps you would like to test the app before subscribing annually or even monthly. Therefore, having a free trial version would be helpful. Nevertheless, Express VPN does not offer a free trial version, not even for a week! Instead, they want you to pay first, and you would be able to take back your money if you're not content with the VPN service. I find this method to the benefit of the VPN Company rather than users. However, this strategy will save bandwidth taken by free riders, saving it for dear loyal customers.
Express VPN price and payment methods
The website claims they offer certain benefits such as high-performance server clusters, 24/7 support, and constant optimization to charge the following prices.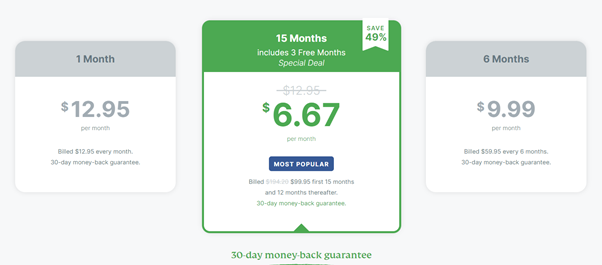 There are three options for Express VPN users:
Monthly plan with $12.95 per month and 30-day full refund
The Express VPN special offer: $100 for 15 months with 30 days of full refund.
We would recommend this dealership to users since it costs 12 months while offering 15 months of service for the first time. The monthly cost with this plan is reduced to $6.67, which is not low compared to other VPN providers.
Finally, you can get a 6-month deal with 30 days of the money-back guarantee. This deal would cost you $10 a month
The price tag is not economical, though you should expect from the best in the business. Make sure you read our other VPN service reviews on Cyberg if you think Express VPN prices are too steep.
Payment methods on Express VPN
There are four different ways to acquire Express VPN services. The most exciting payment method is Bitcoin; yes, you can pay for your VPN in cryptocurrency coins! If you want to know more about other things you can do with Bitcoin, click on this link.
Credit cards
You can get your VPN subscription using one of the following credit cards:
VISA
MasterCard
American Express
Discover
JCB
VISA Electron
Diners Club International
Other payment methods
You can use your PayPal Account to get your VPN activated, or you can pay in Bitcoins. Suppose you don't know how to get and use Bitcoin and other virtual currencies. In that case, I strongly suggest you read about cryptocurrency exchange applications such as Binance and Coinbase. Other methods of payment include Union Pay, iDeal, and other payment services.
User testing ExpressVPN
This part of the Express VPN Review will investigate how easy it is to install and run the Express VPN application on Windows. And test the speed and Ping to evaluate its performance.
Signing up and paying for the account
In the first place, we have to create an account to use the Express VPN application. The sign-up process doesn't take much time, especially if you choose to pay with a credit card, as I did. Then, we go to the product menu on the Express VPN home page. Next, the latest version was downloaded and installed on my PC. The application is only a few megabytes, and it takes less than a minute for it to be installed on a moderate windows ten system. You can also add Express VPN to your start-up applications. Then I restarted my PC to make sure the application worked properly.
Now that you have Express VPN on your computer run the application; you have to log in once, and then, you can select a server and a protocol to enjoy a free and secure web experience.
Comparing the best VPN applications, Express VPN Review
In this part of the Express VPN review, we compare some of the most popular VPN apps in 2021 to Express VPN to give you enough valid information about these VPN services. Users have different ways of using VPN addresses. Some would like to develop websites while using website building tools; others might want to use an encrypted connection to protect their cryptocurrency trades. Continue reading the Express VPN Review to find out your favorite VPN software.
NordVPN VS. ExpressVPN
Nord VPN is one of the most popular VPN service providers, with servers located in over 60 countries. The VPN Company is based in Panama and charges about 10$ per month, lower than Express VPN. Read the NordVPN Review for more detail on the web application and its pricing options.
Surfshark VS. Express VPN
One of the other potent competitors among VPN web applications is Surfshark. The monthly price is the same as Express VPN's monthly cost. However, Surfshark offers servers in fewer countries. Nevertheless, the support and quality are almost equal to Express VPN. It is also worth mentioning that Surfshark offers a more significant discount for long-term subscriptions. Go to the Surfshark Review to find more about its best features.
Hotspot Shield VS. Express VPN
Hotspot Shield is one of the best VPN providers, according to 650 million users who have used the application. The VPN application offers over 3000 different IPs in 82 countries. Moreover, it is based in the United States as a member of Five Eyes. Although the pricing is almost the same as Express VPNs, Hotspot Shield offers a free trial version on smartphones and PC. Nevertheless, there are some limits to using free software. Read the Hotspot Shield Review by clicking this link.
Private Internet Access
Suppose you want a safe, secure, and practical VPN solution, at a bargain price. In that case, you have to consider Private Internet Access. PIA has servers in over 30 different locations, but they mainly focus on US servers. In addition, the VPN service provides simultaneous access for 10 different devices. Read the Private Internet Access Review to learn more.
CyberGhost VS. ExpressVPN
CyberGhost is a Romanian VPN company that offers a secure and fast internet connection. Just like Express VPN, CyberGhost offers a massive discount on its long-term subscription with a 45-day money-back guarantee. The monthly price is, however, as same as Express VPN at $13 a month. Nevertheless, the monthly cost for a 2-year subscription is as low as $2.25. Read more about the pros and cons of CyberGhost VPN services.
Windscribe VS. Express VPN
Windscribe is one of the best VPN services that also provide a permanent free version. Although the speed, bandwidth, and locations are limited, it is nice to try the software for free. The most sophisticated membership, the Pro plan, costs $9 a month. At such a lower rate, the VPN provider offers almost the same features as Express VPN; therefore, I strongly recommend you read the Windscribe Review to find out its advantages and disadvantages.
The comparison results
Express VPN is one of the most popular VPN services. At the same time, it costs a fortune compared to many other secure VPN applications. However, in terms of quirks and features, Express VPN is a leading company. Our purpose here is neither approving nor disapproving any application; in fact, it is to help you decide for yourself. So, let us know which one you prefer in the comments below.
Express VPN Review conclusion
In the end, we restate the positive and negative points of using the Express VPN web application before passing our judgment and rating the application.
What are the benefits of using Express VPN?
High security and encryption
Available on most devices
Various servers
Great support and tutorials
What are the setbacks of using Express VPN?
Relatively high cost
Not a member of Five Eyes or other intelligence alliances
Final verdict
All in all, Express VPN has a clean record of keeping its clients privacy. It supports many devices and six different connection protocols. It supports basic features, such as kill switches and more sophisticated features, including end-to-end encryption. Although the price is a bit steep, dozens of great features compensate for the high cost. Please share your opinion on the web application in the comments below. Which VPN do you use? Tell us about your experience.