Fiverr is a platform for selling and buying Digital goods and Services in increments of 5 dollars. This means you can only find services on Fiverr that cost 5$, 10$, 15$, and so on. That being said, these products and services vary in terms of price and quality. In simpler words, it's as if craigslist and eBay are combined into a single platform.
The services that Fiverr provides each have a business focus. Each service – or gig as they are called on Fiverr – is meant to help you improve your business somehow. You can find services for any job, from logo design and data entry to video editing and social media marketing to even designing yard signs. So basically, the services are so varied that you are bound to find a way to satisfy your needs. Here, we will do a Fiverr Review, go over its ups and downs and hopefully give you some useful tips to maximize your revenue as a Fiverr Seller.
How does Fiverr work?
So how does it work? Well, Fiverr has Three sides, the buyer, the Seller, and Fiverr themselves. Buyers are people looking to buy services; sellers are freelancers with varied talents. Although the massive pool of talent provided by the sellers can be overwhelming, Fiverr has made it its job to help make contacting freelancers pretty simple. Fiverr does this by using a simple yet helpful search function (which we will talk about later) and a review system that helps to clear up any doubts about a seller's abilities.
There are hundreds of different gigs offered for different categories at various price points. The prices are all over the place; in fact, they are so varied that they might be misleading, but if you click on a seller's gig, you can see some of their previous works, this gives you a good idea about their particular style or the level of detail in their work, so you know what to expect in exchange for the money you pay them. And for the most part, one can notice the difference between a 5$ service and a 100$ service by using this feature.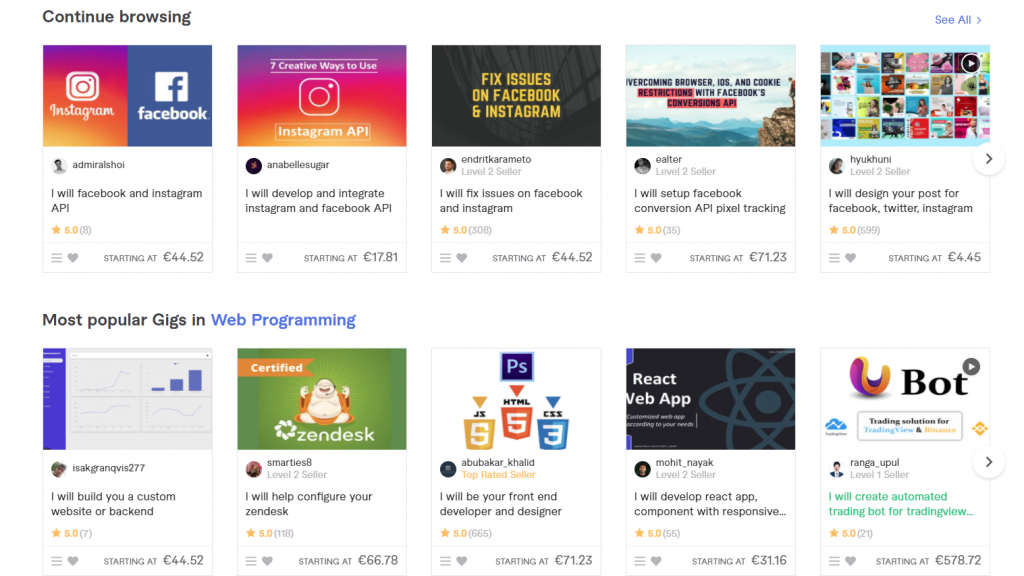 Besides, one can instantly get an idea of a freelancer's ability to perform by checking the Seller's level that appears near their username. This feature can help you as a buyer to save some time by removing any seller from your list that has not performed well on the platform.
four levels of Fiverr sellers
New Seller: every freelancer – or Seller as they are called on Fiverr – starts from here. Sellers with this level are relatively inexperienced.
Level One Seller: this level can only be reached after 60 days and at least ten completed gigs with a high level of buyer satisfaction.
Level Two Seller: this level can only be reached if a seller has been on Fiverr for 120 days and delivered 50 highly-rated and on-time orders.
Top-Rated Seller: if a seller has a Top-Rated sign, it means they are highly reliable. These freelancers have been on Fiverr for at least 180 days and delivered over 100 orders – which means they are earning good money on the platform – all while keeping their buyers satisfied.
How to find a good Seller on Fiverr
A good seller's page usually details all the information about the gig. It gives you a list of all the packages available for purchase – basic, standard, and premium – each one higher in price than the last and usually more feature-packed too. Sometimes a seller might list their services for a single price or even for a subscription fee. They can also sell you additional extras that are not included in the package price, like faster delivery time. So basically, that price you see before clicking on a gig? That is the lowest price available from the Seller for that particular type of service.
Then you might notice that some sellers have a Fiverr pro emblem beside their name; these emblems mean that Fiverr realizes these sellers like the ones that are good at what they do. Although these are specified to a specific category, they also mean that they will stand out among the others.
Customer Support
But what if something goes wrong? Yes, Fiverr is a platform loaded with talented freelancers that will not let you down. But from time to time, you might come across those that can't deliver on their promises. Well, Fiverr has thought about this too. If you paid for a gig and the Seller turns out to be an unreliable one, Fiverr gives you several options to deal with it.
For example, if a seller is late and does not respond for 24 hours, you are free to cancel the order and get a refund. If the product provided by the Seller does not meet the conditions that were agreed upon, you can take your case to Fiverr's Resolution Center and try to work it out. And if you can't come to an agreement with your Seller, you can always turn to Fiverr's Customer Support team.
Fiverr's High Notes
up until now on this Fiverr Review, we covered the things expected from all such platforms, but what are Fiverr's highlights? What makes it stand out from the rest? Why is it great?
Well, Fiverr is a platform known for its speed. Meaning that if you want a job done quickly, Fiverr could be your perfect solution. Most freelancers on this platform have a turnaround time of about 48 hours. And as said before, you can usually pay a bit more and get your order done even faster. And if you are in a hurry or just can't wait and search for the gigs, you can search the online freelancers and start the conversation immediately.
Fiverr apps
One other thing that needs to be mentioned in every Fiverr Review is that Fiverr offers a great app available for iOS and Android. So, you can find what you need on the go. Plus, the app is well designed and easy to use.
Talking about ease of use, Fiverr itself is a user-friendly platform. The site itself is super easy to use and gives you great tools and options in order to use its massive pool of talent.
For example, unlike other digital platforms, like Upwork or Freelancer.com, Fiverr gives you the option of customized Search filters. That can help you filter out the unwanted gigs depending on the type of work you need to get done.
Let me explain a bit more. Let's say you are looking for a writer and you want to use this customized search filter feature. The filters, in this case, will include a section for tone, type, and topic of the piece you need. If you need a logo designer; These filters will let you choose the file format, the style you are looking for, and more.
Custom Jobs Requests
On Fiverr, buyers can search through available gigs or post custom jobs so the freelancers can go to them. Just click on the "Post a Request" button, and create a listing for your job so the freelancers can bid on it. Now all you have to do is sit back and choose the Seller with the best proposal and price.
This feature is ideal for buyers that need something super specific or can't find the perfect gig offering. It's worth mentioning that posting a job costs nothing, and you only have to pay once a freelancer has been hired.
Fiverr Profile System
Are you still confused or scared the freelancer you choose might not deliver? Well, Fiverr has you covered with its easy-to-read profile system that can help you quickly remove the underperformers. These profiles are filled with helpful information about the Seller. Like reviews from previous clients, their average response time, and a portfolio of their past works. And if you like a freelancer, you can also check what other gigs they offer on Fiverr.
While checking out a profile, always keep an eye for things like bad spelling, or lack of details. These are the most common red flags that can help you eliminate a lot of duds. Also, do try to communicate with your freelancer before starting the contract. Poor communication and misunderstanding are the cause of the most negative reviews on Fiverr.
Fiverr only gives you two options for contacting support
Email
Submitting a ticket through the Buyer Help Center
Based on other people's experiences, their response is usually pretty quick but not always helpful. Some customer service representatives go out of their way to help you however they can, but some will pretty much ignore you altogether. And it seems that it does not matter what method of contact is used. Although, if the Fiverr representatives fail to come up with an answer, you still have some options.
Forum and Help Center
Fiverr has an excellent Help Center, filled with Blogs, Step-by-step tutorials, advice, and instructional videos. These are some resources that can offer in-depth answers to whatever question you might have. There's even a forum where you can post your questions for other users. Or search to see if anyone ever had the same question and if it's already been answered. Checking these resources is definitely faster than waiting for your ticket. So it's a good idea to start from the forums. And, if you can't find an answer to your question there, you can always try to contact Fiverr Customer Support as a last resort.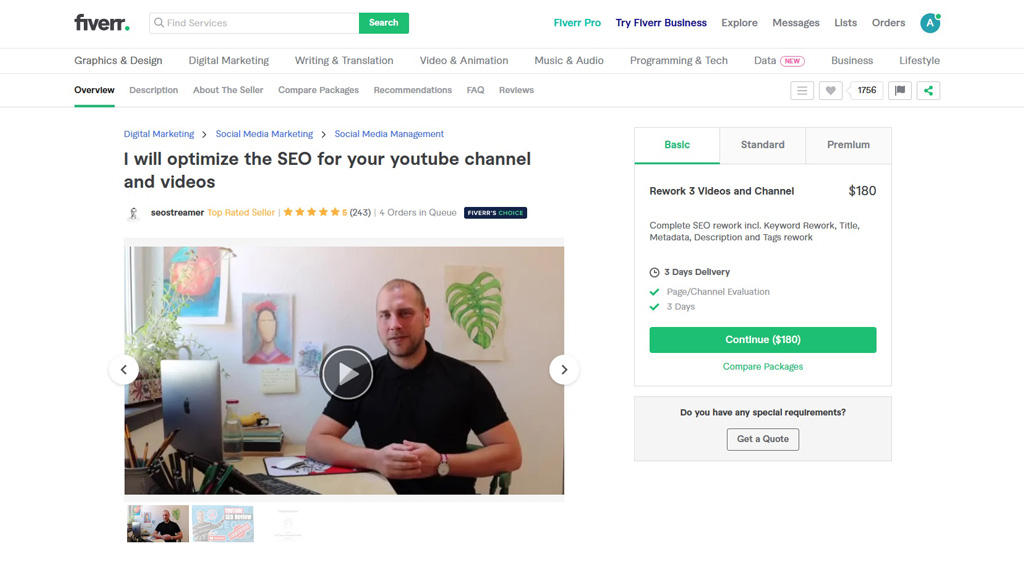 Fiverr Review: Buyers Payments
Making a Fiverr account and posting requests to hire freelancers is free, and the only time you will have to pay is when you buy a service. Even in this case, the charges are pretty reasonable and are based on a percentage of the total job cost, so you'll rarely pay more than a few bucks.
Fiverr automatically adjusts the displayed price of a gig to match your location's currency. This way, you can be sure that there is no math involved. Also, Fiverr gives you multiple payment methods. These methods include all major credit cards like PayPal and Apple Pay (which lets you use your mobile app to pay for the services).
These payments are made upfront and held in escrow; Fiverr will not release the funds to your Seller until after you have approved the work. If there is any problem with the work, you can give your freelancer a chance to resubmit or cancel the order, and if you run into any problems, Fiverr's Customer Service is there to help.
But remember, once a seller has delivered your work, you only have three days (or 14 days for orders that need to be shipped) to accept or decline it. If you have not responded in the given time period, your money will be automatically released.
Fiverr's Downsides
So, it seems that Fiverr is an excellent platform for a buyer to find professional freelancers and get the job done, especially when they are on a budget. But a simple search will show you that the Fiverr reviews are all over the place. Although, most complaints against Fiverr come from sellers; Since, based on my experience, they are the ones to get the short end of the stick.
These reviews show that Fiverr always prioritizes Buyers over sellers; To the degree that some sellers claim that Fiverr is a platform where buyers are given free rein to abuse, threaten, and outright blackmail sellers any way they like. Since, as mentioned before, buyers typically look for positive reviews on a seller's profile to buy their gigs, and a buyer can give any review to a seller's work regardless of the quality of the product they receive, the number of positive reviews is essential to a seller. they are a seller's reputation on Fiverr.
So, there are reports that a buyer overstepped their boundaries by demanding extra work from the Seller. and started blackmailing them by threatening to give them bad reviews to destroy their Fiverr reputation. And in most of these cases, Fiverr prefers to step aside and watch as it all happens. The worst part is that Fiverr seems to be aware of this and still chooses to let it happen.
Fiverr Review: Sellers fees
So now, let's cover the platform's fees in this Fiverr Review. For every gig that a seller provides, Fiverr takes 20% of the gig price. As a quick comparison, eBay lets you list 200 items for free before charging a small fee. And, when your item is finally sold, eBay takes anything from 2 to 12%. but it's mainly 10% for most items, and that is roughly half what Fiverr charges. To make it worse, not only do they take 20% of the Seller's revenue, but they charge buyers a service fee too. And on top of this, buyers can also tip the sellers as thanks for their work. And, Fiverr even charges a service fee on top of this tip too.
As a seller, you need social proof if you want buyers to notice you on the platform, and you have to compete for this social proof. It would be best if you competed on price and delivery time to get positive reviews. You also have the option to submit your offer to a buyer's request. This is for buyers that could not find the exact service they needed, so they submit a request (as mentioned before). Now, if the subject of the request meets your gig's description, then Fiverr will show the buyer's request to you. However, this feature is NOT available to everyone. although I do not know the prerequisites needed for it.
Communication Problems
Fiverr is a digital platform, which means this platform has sellers from all around the world, and some of these sellers are not English speakers. Needless to say, this can cause a problem for buyers to communicate with these sellers and get their needs across.
There are also some services on Fiverr that are of terrible value. For example, people are selling Instagram, Twitter, and YouTube shout-outs on Fiverr. There are some sellers that are preying on people who don't know any better, like those that charge you to use a free video template on your video editing request. There are some excellent sellers on this platform too. But, you need to look for them carefully, and that seems like a problem with Fiverr.
Using Fiverr, you can find the service you need in a matter of minutes. But, because of the problems mentioned, this platform is best for short-term projects where you do not need a long-term relationship with the Seller. If you want to have an alternative platform that might be better for long-term projects, I have some suggestions for you.
Alternatives
These are some alternatives to the Fiverr website that you might want to consider, especially if you are looking for a more professional platform that might help you in more extensive projects where a long-term relationship with the Seller is needed.
Upwork: a similar platform that offers similar services, except it works in reverse, meaning in this platform, buyers post a job or project, and the freelancers have to compete for it on a cost or time basis.
Freelancer: this platform is more similar to Upwork than Fiverr. Both Freelancer and Upwork are more professional than Fiverr, as said before.
Fiverr is the cheapest platform of the three, but both Freelancer and Upwork filter out some of the not-so-great services. So, you won't find people selling Instagram shout-outs on these platforms, unlike Fiverr.
Conclusion
Fiverr, like any other platform, has its pros and cons.
Pros:
Provides an easy way for buyers to find a lot of services all in one place.
The platform is easy to use.
And the prices can be really low for the provided services.
Cons:
Because of the many types of services provided and low-price tags sellers put on their gigs to get social proof and reviews, the prices can be misleading and end up leaving you with a questionable quality product.
Platform fees, service fees, service fees on tips. These fees are just excessive, in my opinion, and need to be lowered overall.
All in all, if you are careful and spend some time checking out a seller's previous works, you really will get what you paid for. Fiverr is an excellent place for you to find ways to improve your small business or even your social media presence. But then again, make sure that what you are getting out of is what you really need and what you paid for.
Some useful Tips for Sellers
Let's assume that you've read our Fiverr Review. But let's say you are a seller and you want to know what to do to stay clear of trouble and make money faster. So here are some tips for you:
First and this is the most important tip: try to be online often, either have an open browser and be logged in to your Fiverr account or have the Fiverr app installed on your phone and check it frequently. Being online and being a fast responder to those who message you will increase the number of people who contact you and thus the number of orders you get. Think like a Buyer; they usually contact Sellers with the online sign – the small green circle beside a seller's name – first.
Look at your analytics on Fiverr. Fiverr does not give you a lot of information, but it does give you some insight as to how you are doing as a seller.
Try to offer things that people are looking for. Try using a more common keyword for your gig description so buyers can find you easily.
Know your gig category. If you are selling as a new seller in an overly saturated category, chances are you're not getting any impressions. Also, make sure you are in the right category.
Try different search terms and make sure they are spelled correctly.
If you can drive in some traffic to your gigs on Fiverr, for example, if you have a blog or a website for people to contact you, then you can promote yourself. and that is a good way for new sellers to get some impressions, awareness, and visibility.
If you are getting impressions but not clicks, try using a more eye-catching title for your gigs. Try using unique pictures and videos for your gigs. Also, make sure that you fill your gig description with clear information.
And lastly – as said before – be competitive on price and delivery time to get more social proof. Being a top-level freelancer on Fiverr takes time and patience; you might run into abusive buyers along the way. But if you do your best and get noticed, Then it's not going to disappoint. Good luck.