As the impact of social media is rocketing, businesses are shifting from traditional marketing methods to social media marketing. Companies are more interested in advertising through social media accounts. Still, many people would also like to boost their social media accounts' engagement to monetize their social accounts. The Socialgro Review evaluates the services and features of an SMM solution that operates on various platforms.
About the Socialgro Review
To provide influencers and businesses with a comprehensive overview of the Socialgro digital marketing website, the Socialgro Review consists of several chapters. First, we briefly introduce the Socialgro Company. Second, we will go through different services on Socialgro, such as social media services and influencer advertising on each social media platform. Third, we discuss the pricing and payment methods available. Finally, we recap the Socialgro Review by highlighting the most significant benefits and drawbacks of hiring Socialgro services.
What is Socialgro?
Socialgro is a digital marketing website that emphasizes social media apps. As people spend more time on social media apps than any other type of entertainment, social media platforms are undisputedly viewed as promising marketing opportunities to attract prospects and boost sales. Socialgro started as an Instagram content creating and advertising agency. However, within a few years, they offered marketing solutions on several apps such as YouTube, Twitter, Facebook, and such popular apps.
You can order branded content, ask for strategies to boost your followers, and promote your products and services on different social media. Influencers can also find remote social media jobs to help them monetize their accounts by publishing branded content and advertising.
Socialgro Review: social media marketing solutions
Socialgro has categorized its services into three different classes. Thus, we have applied the same classification in the Socialgro Review. Socialgro services include social media services, Review services, and influencer advertising. Socialgro supports the following social media platforms:
1. Instagram:
Perhaps Instagram is one of the most popular apps to the audience of the Socialgro Review. Instagram has become a potent source of income for companies, influencers, and artists. Moreover, it was the first social media app for which Socialgro provided promotion packages.
Socialgro could get automated follows and like in the past. However, since Instagram algorithms ban pages with many bot activities, they have promoted their services like some other marketing agencies. Today, Socialgro provides customers with authentic followers that are genuinely interested in their content and are highly active in the page's niche. Therefore, unlike in the past when influencers would pay for likes, Socialgro clients can enjoy brand awareness without further consequences.
In addition, Socialgro offers content optimization services that will increase your presence at the top of the explore tab. Acquiring such services helps increase your views and profile visits.
2. YouTube:
Socialgro also caters to influencers that want to monetize their content. Similar to Instagram, YouTube and Google are actively improving their algorithms to put advertisements on videos with a high rate of engagement and relevance. Therefore, using Socialgro's YouTube services, you can improve your content, get more subscribers, likes, comments, and other engagements. What YouTube streamers should do to gain more money is to increase the Watch Time of their content. YouTube plays ads in the middle of videos that keep its audience entertained. Therefore, the more engaging your content is, the more money will flow to your account.
3. Facebook:
While Facebook began as a non-commercial social media application, today, it is one of the best spots to promote your products and services. Suppose you want to monetize your Facebook account by getting advertisements and creating sponsored content. In that case, you have to extend your influence first.
Socialgro services help Facebook users gain more followers. Increase their followers' activities and sharing. In addition, you can increase your Livestream views on Facebook by getting shout-outs from Socialgro.
4. TikTok:
TikTok is a popular social media platform, especially for teenagers. You can hire Socialgro experts to boost your followers and their engagement. Therefore, you can earn some cash by affiliate marketing or promoting other brands.
5. LinkedIn:
Microsoft's LinkedIn is the paragon networking ecosystem for building business collaboration. You can raise awareness by getting different comments and reactions to your resume and products. Socialgro provides other packages that can help your LinkedIn profile look more professional.
6. Twitter:
Twitter accounts can start profitable campaigns for companies. The more followers you have, the more likely you will lure companies to pay you for promoting their brand. Therefore, you can apply for a Twitter service on Socialgro to enhance your Tweets and get hundreds of retweets and likes.
7. Pinterest:
You can pin the most exciting pictures on Pinterest. Therefore, brands can showcase and promote their products on Pinterest. The influencers on Pinterest can create attractive albums so that their followers would enjoy their shared content. You can get repins, board follows, likes, and other interactions from Socialgro and use them to create an income stream on Pinterest.
8. Telegram:
Telegram is a popular networking application that allows brands to communicate with their customers and prospects through Telegram Channels. If you own a business, you can hire Socialgro to increase your Telegram subscribers.
9. Spotify:
Socialgro users can increase the number of plays, follows, and saves to push their accounts higher in Spotify ranking and get a handsome reward from playing Spotify Ads.
Socialgro Review: Review Services
Modern customers heavily rely on other users' reviews of a business. Therefore, website and business owners try to improve their SERP ranking via using SEO tools and would like to have positive reviews on their products and services. In addition, having a few thoughts is also beneficial for ranking high on Google. Socialgro offers reviews on your business in various applications.
Google Business and Google Map
Local businesses and retail stores can thrive on Google by getting a lot of 5-star reviews and recommendations. Socialgro can register your business on Google Business and Google Maps. The first and foremost benefit of such services is providing navigation and contact information for customers. Second, it will help your website get more local traffic.
Trip Advisor Custom Review
Travel review websites have modernized the tourism industry. Trip Advisor is a prominent traveling website that provides authentic reviews so that readers can decide how to plan their itinerary.
Suppose you want to turn your business into a tourist attraction and promote your business. In that case, Socialgro can provide branded articles and reviews on Trip Advisor and other applications. Moreover, you can put the content on different blogs and websites to further promote your site by establishing solid backlinks. Read the SEO tools reviews on Cyberg to find alternative ways to get more visitors and sales.
Trust Pilot Reviews
The Trust pilot website hosts customer reviews on different topics such as pet stores, real estate agents, etc. You can get Socialgro to write reviews with high rankings on Trust Pilot to raise brand awareness and gain your prospects' trust.
Yellow Pages
Newly established businesses heavily rely on advertisement and brand awareness. Socialgro can help your business rise by putting your contact information on yellow pages; in addition, some websites also contain user reviews. Customers can also order reviews on those websites.
Influencer Advertising- Socialgro Review
Influencers are the prophets of the modern era. They create trends and challenges that go viral within days or even hours. This psychological phenomenon has inspired digital marketing strategists to take an interest in hiring social media celebrities to promote products and services. Socialgro customers can ask the website to advertise their brand on hot social media pages. You can buy Socialgro's social media packages on the following applications.
Instagram
Twitter
Facebook
YouTube
Twitch
Socialgro Review: pricing and payment methods
Now that you are familiar with the website and its services, the Socialgro Review will discuss each service's pricing and address the payment methods available.
Instagram Services Fees
The basic follower plan starts from $0.01 per follower. The basic follower program guarantees refill for up to 30 days—for example, order Socialgro to get your 10,000 followers. Within the first week, 1000 of the new followers decide to unfollow your page. Socialgro will get another 1000 users to follow your Instagram account. The rate of follows is up to 3000 followers a day.
Additionally, Socialgro offers exclusive marketing solutions for Arab countries. You can order only Arab followers for $0.04 per follower. The followers are authentic users in various Arab countries. Thus, the website disclaims that those followers are not obliged to stay your followers. In other words, there is no guarantee that they will not unfollow your page. The rate of adding Arab followers is 2000 accounts per day.
Last but not least, you can ask Socialgro for active followers that like and leave impressions on your content. The cost per like or impression is $0.01.
YouTube Pricing
You can increase the number of YouTube subscribers by $0.05 per account. Of course, a high percentage of these subscribers will likely unsubscribe if you stop streaming regularly. Other YouTube services cost up to $0.07 per user.
TikTok, Socialgro Review
You can also shine on TikTok by getting more followers. The cost per follower is $0.01.
Facebook Prices
The prices of digital marketing services start at $0.01 for each follower. Facebook likes cost between one to four cents per like. However, the most expensive service is Live Stream View; the price per view varies from $0.02 to $0.29 per viewer.
LinkedIn Services
Socialgro offers fourteen services on LinkedIn. The entry price for LinkedIn packages is $0.07 per account. These services include: Celebrate, Love, Insightful, Curious, Profile Follower, post Like, Shares, and group member join.
Furthermore, you can get employees and employers in your resume. Each endorsement on LinkedIn costs $0.20. However, at the top of the pricing list, each recommendation costs $1.8.
Twitter pricing
You can get 100 followers for $1.90. Every 100 likes cost $2 on Socialgro. In addition, users can order Arab followers on Twitter starting from $2.5 for 100 Arab followers.
The most expensive Twitter promotion package contains retweets. Each retweet costs $0.38. Of course, high-volume purchases are rewarded with discounts.
Socialgro Review: Telegram follower prices
Socialgro will promote your Telegram Channels by adding members and subscribers to your channels.
Payment methods, Socialgro Review
Customers can pay Socialgro using the following methods:
Credit cards: MasterCard and Visa
PayPal
PayOp
Perfect Money
Payeer
Regardless of the payment method you choose, Socialgro charges $0.99 as transaction fees.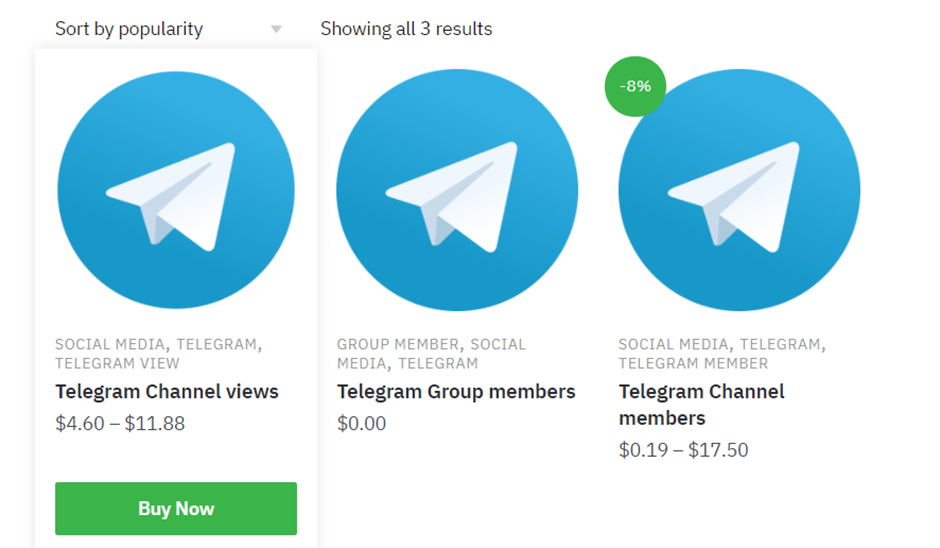 The entry price for new channel members is $0.19 for 100 members. However, if you purchase the marketing order for 10000 members, you will get a $1.5 discount. If you want to increase channel views, it will cost from $4.6 to $11.88.
Pinterest fees
Most Pinterest services cost $0.01 per account. The benefits include repins, board followers, and Pinterest followers. Therefore, adding 5000 followers on Pinterest will cost $50.
SoundCloud pricings
SoundCloud followers cost $0.01, while comments and reposts cost $0.02. you can also get downloads, plays, and likes on Socialgro.
Spotify fees, Socialgro Review
The Spotify package includes likes, follows, saves, plays, playlist followers, and several other services. The price depends on the features you order; nevertheless, the cost will be at least $8.4 for the level 1 package. Further, this package includes 3K plays, 300 saves, and 300 followers at a rate of 500-1000 per day.
Socialgro price evaluations
Many social media marketing websites are on the market; however, social media apps are becoming more intelligent in detecting automated likes and bot followers. Therefore, paying for a service that would get your real followers is priceless. Socialgro offers marketing packs at a relatively fair price, especially on Instagram and YouTube. Further, the LinkedIn packages provide an excellent opportunity to invest in yourself; you can get recommendations and other positive confirmations to appeal to future employers.
Socialgro Review Conclusion
After evaluating the services and pricing on the Socialgro website, we will recap the advantages and setbacks of purchasing Socialgro services.
The positive aspects of Socialgro
Saving time on marketing campaigns
High turn-over rate
Available on many social media apps
The negative points of Socialgro
No filter available for locations, gender, and age
Some packages will not replenish lost followers
The summary of Socialgro Review
Digital marketing is shifting towards prioritizing social media as an effective marketing strategy. Socialgro provides services on many social media apps that help you boost your social influence with minimum cost.
Let us know what you think of Socialgro and other digital marketing websites that you have formerly used.