Google, it's more than just a name. This brand is so famous that it now has replaced the "online Search" term in everyday conversations; we tend to say "I'll google that" instead of saying "I'll search for it online". Buffer is the same thing in the social media management tools industry; you'll often hear social media managers say: "I'll just Buffer that" when referring to scheduling content. So, if your brand name has become a verb, then you are doing it right. But is Buffer as good as it seems? Is it the right one for you? Stick with Cyberg through the rest of this Buffer review to find out.
What is Buffer
Buffer is an intuitive and streamlined social media management platform trusted by all; And by "all", I mean Brands, Businesses, Agencies and individuals alike. A social media management tool is a platform you can use to drive meaningful engagement and results on social media.
"We have a suite of products for publishing, engagement, analytics, and team collaboration (Publish, Reply, and Analyze). Our products are carefully considered and highly refined in order to help social media marketers and teams work more efficiently and effectively.
Buffer is a team of real people aligned with shared values. Being a Buffer customer should feel like you have a whole team of people cheering for you. We want to see you succeed on social!", at least this is what they are claiming to be, and we are here to find out just how much of this is true.
Buffer Review
Buffer began its life in October 2010 in Birmingham, United Kingdom and its initial version was released on November 30, 2010. This version was only a tweet scheduler. Four days after the software's launch, Buffer gained its first paying customer. After a few weeks, the number of paying customers reached 100, and in just nine months, this number multiplied to 100,000.
I've been a Buffer user since 2011, so I will do my best to keep this Buffer review unbiased. That said, based on my personal experience, this social media scheduling tool has evolved a lot over the years. As you might have guessed, it's not limited to Twitter anymore; you can use Buffer to manage social media accounts for Instagram, LinkedIn, Facebook, Pinterest, and Twitter.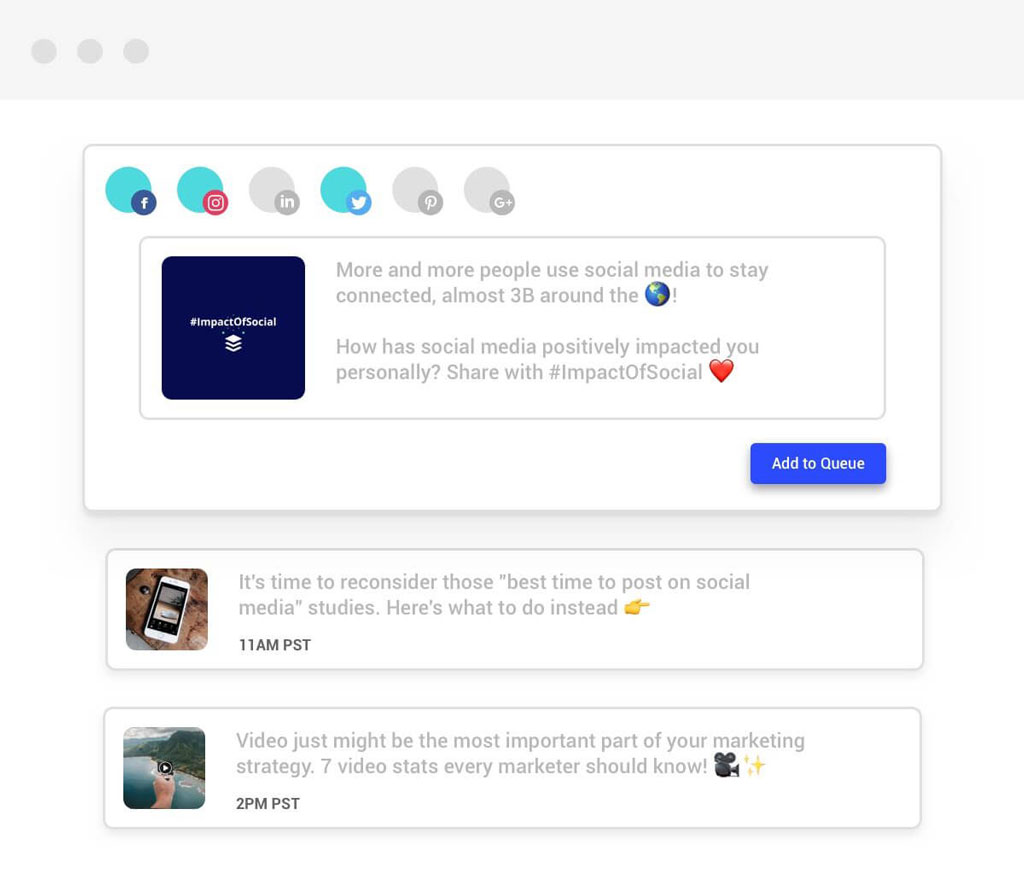 One of the things I love about Buffer is its free account. These Buffer free accounts let a single user post to three social media accounts and schedule up to ten posts.
As I said before, I am a long time Buffer user. But there's one thing I'm not happy about, and that's its latest evolution, as it splits the platform into three separate tools:
Publish: a social media scheduling tool
Reply: a social media monitoring and messaging tool
Analyze: a social media analytics tool
So, if you want to work with a team, manage multiple profiles for each social media platform, and schedule more content, you will need to upgrade your plan. And if you are managing a brand and need publishing, social media monitoring, and in-depth analytics, the costs can add up pretty fast.
Yes, it's not going to be cheap, But Buffer Publish is one of my favourite social media scheduling tools. It includes the classic Buffer tools. Buffer Reply helps to manage social media conversations, and Buffer Analyze is designed for reporting.
Who is it for?
Anyone looking for an accessible, easy to use, and effective platform to create and post more successful social media content will find a lot to like here. That said, Buffer will have the maximum positive impact for small social media teams and small businesses, as everything you need to get started is contained in one screen.
Buffer has continued to build on its core strengths through the years; this resulted in adding tools such as Pablo to make it easier to create unique content within the platform.
As said before, the free account connects with three accounts and lets one user manage up to ten posts, which makes it a genuine option for independent small business owners.
The lower-end packages are reasonably priced, and if you want to upgrade that free account for more flexibility, these are your best options.
But larger teams will need to get the Business packages on Buffer since entry-level packages only cover one user.
Now, for this price, there are more solutions available, some of which are even better. For example, Buffer lacks cloud integration with the likes of Google Drive, so you can't import content for social media posts. It also lacks the conversion tracking and paid social features that you can find on Hootsuite or Sprout Social. You can read up on our Sprout Social review if you want.
Because of this, larger businesses may wish to use Buffer for its fantastic publishing tools, but they may need to complement it with subscription plans from other tools for better content management and social listening.
So, some might find Buffer a refreshingly streamlined experience; others might find it a little lightweight compared to its feature-packed competition.
Features
The three products mentioned (Publish, Reply, and Analyze) are suitably aligned with three of the main actions a social media manager or professional needs to undertake on a daily basis. Thus, we are going to base our Buffer review on this structure and highlight the key features of each of the three products.
Buffer Publish
Buffer Publish is great for planning and posting content on social media platforms. It has a clean layout, and it is easy to use. Even though there are plenty of options here, but you will never feel lost.
and another thing that must be mentioned in our Buffer review: the process of posting new content is straightforward as well. For example, as soon as you enter a link to share, Buffer will show you a preview of how it will look when posted on each of your social media networks. You can include a first comment for Instagram posts, which is a great feature to add more hashtags to extend your content's reach.
Since all of this is done on one screen, many businesses will find it useful to manage and post content quickly.
If you want to schedule that content for specific posting times across multiple dates, Buffer Publish gives you the ability to do so in the form of its calendar. This calendar is also easy to use and clear to understand, making this process a simple and swift one as well.
You can use this content calendar to simply drag and drop specific content pieces or view your strategy from a broader perspective.
Buffer publish posting options are available for all major social media networks such as Twitter, Facebook, Instagram, LinkedIn, and Pinterest, which is more than enough for most businesses.
Also, Buffer Publish includes plenty of options for link shortening, and it can integrate with a wide variety of other apps and extensions, including IFTTT, Feedly, and WordPress.
When a company uses a social media management tool, they need to be able to trust that platform to carry out its tasks so the team can focus on other tasks throughout the day. Based on my personal experience, Buffer Publish is a highly reliable tool when it comes to scheduling posts. So, in that regard, Buffer has you covered.
The downside is that if you are a social media manager or content creator and want to collaborate with other team members on posts within Buffer Publish, you will need to buy the Premium (with two users) or Business (with six users) plans to do so. The free and pro plans are restricted to one user, so their collaboration opportunities are minimal.
Buffer Reply
Buffer Reply is the newest one of the three Buffer products, and its main focus is on helping businesses manage their social media conversations.
The main feature of this Buffer Reply tool is its Social Inbox, which collates inbound messages from all of your social media networks into one feed. This one is a huge time saver for everyone, including businesses, no doubt.
Another feature of this Buffer Reply product is the reports based on your company's response times to messages; these reports can be segmented to reflect on the performance of each social media team member.
Same as Buffer Publish, the downside of this one is that you will need to upgrade to a business account plan if you want to use these features. But if you choose to do so, you will have access to some handy automation tools. You can set up a rule to identify certain keywords in comments and assign each to a specific team member. I know, not the most top of the line automation tool on the market, but it is undoubtedly beneficial.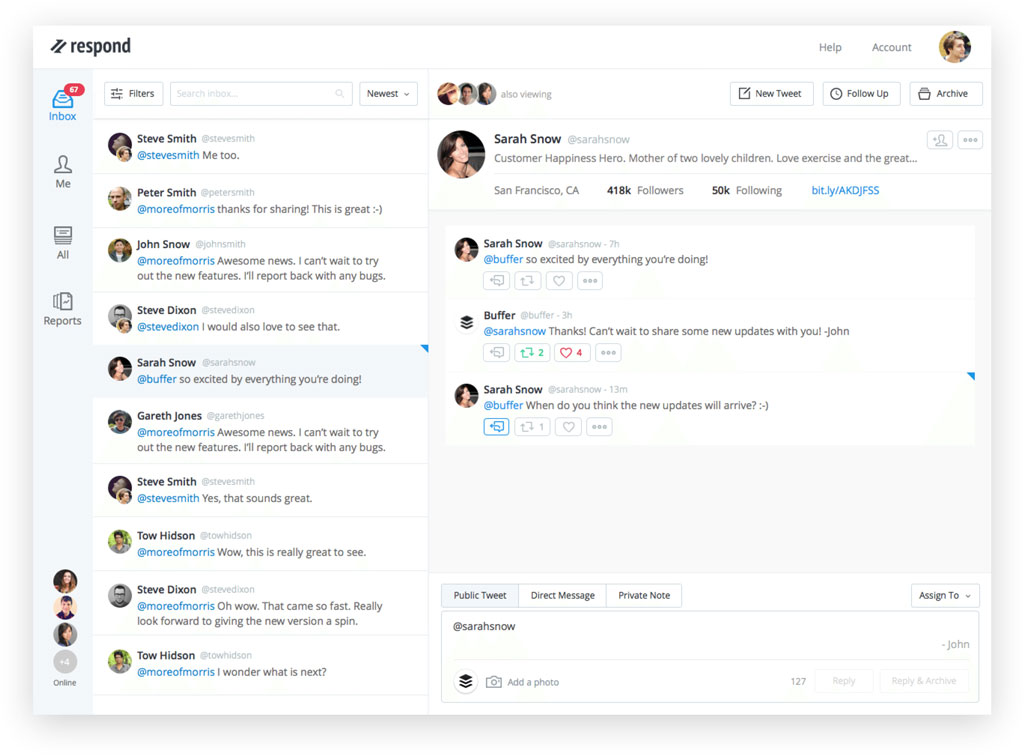 If you want to use social listening features, you will find that in the Buffer Reply category. However, it is still in the development process. Right now, it only works well with monitoring trends on Twitter and lacks the impressive capabilities of Hootsuite or Sprout Social on other social media networks.
Buffer Analyze
Buffer analytics is the section that went under some heavy transformations, and it is now called Buffer Analyze. You can find some market standard analytic options within Buffer Publish, but all of the platform's advanced analytics options are now contained within this Buffer Analyze product.
The main Buffer Analyze dashboard displays an aggregate of recent performance updates, along with some specific metrics for your latest posts.
Setting up new templates is very easy, and you can click "add to report" on any graph if you want to add it to one of your dashboards. This simplicity will appeal to businesses who need reports on key metrics like reach, engagement rate, and followers.
The Answers tab will give you some valuable insights as well. This tab provides tips on when to post content, what type of media assets you should use, and how often to post on each of your channels.
That said, Buffer Analyze may lack the required depth for those needing additional details about their social media advertising performance.
On top of that, while Buffer Analyze is an effective reporting tool for Twitter, Facebook, and Instagram, it lacks the functionality for Pinterest and LinkedIn – unlike its competitors.
Buffer review: Ease of Use
When it comes to being easy to use, Buffer easily eclipses its rivals. Buffers User Interface is stripped of extra features; it is designed this way so the users can focus on the job at hand.
The set-up process is also easy to use and clear for understanding, as Buffer walks users through the essential steps, and it connects to social media accounts almost instantly.
But this simplicity is not limited to the website platform as the mobile app continues this theme as well. It is fast, straightforward, and intuitive. Even the Buffer Chrome extension is one of the best on the market as it allows users to post directly from web pages to their social media accounts.
The Buffer user experience is almost flawless. If you are a novice social media management user, this platform will be the right one for you as you can get it up and running efficiently and quickly.
And on top of all this, Buffer has a knowledge base containing detailed posts about everything you need to know in the world of social media strategy, and it is free to access. This knowledge base is called Buffer Marketing Library, a massive plus if you are just getting started or require some insights.
Buffer review: Pricing
Pricing is where it gets complicated. On the surface, it looks as if Buffer offers the cleanest, clearest pricing of any social media management tool ever. You only have the Free and the Essentials plans, and the homepage of Buffer is filled with blue buttons asking you to choose one of these two.
As mentioned before, the Free plan lets a single user manage up to three channels with basic publishing tools, but you can only queue ten posts per channel – there is no monthly or yearly limits, though.
So, the Free plan accounts are a viable option for an individual user or a small business.
The Essentials plan comes with a 14 days trial. It's priced at 6$ per month for those who want to pay monthly and 5$ per month paid annually. The number of channels on this plan is unlimited. You get better publishing tools, basic – but good – analytics tools, and some basic engagement tools. Yet, it is still limited to only one user, so what about social media management teams?
The answer is simple: if you slide down on the pricing page, you will find an extra package that you can add to the Essentials plan, called Team Pack.
Team Pack Contents
Unlimited team members and clients
Drafting and approval workflow tools
Easy, clear exportable reports – although they are basic
Team management features, like custom access and permissions
You should note that by choosing this extra package, the Essentials plan price bumps up to 12$ per month (paid monthly) or 10$ per month (paid annually). And if you want to add any more social channels, you will have to pay a 12$ per channel.
Now, remember, Buffer is spread across three packages, Publish, Reply, and Analyze. This mix and match nature may appeal to businesses who are tired of paying extra money for those additional features they will never use.
Buffer Publish Plans
Buffer Publish offers three subscription plans, all of which have a monthly and annually payment method. As with all such platforms, there is a discount for paying upfront for an annual subscription.
The Pro account is priced at 12$ per month for one user and lets you connect to eight social media accounts. Again, this is plenty for individual users and small businesses.
The Premium package; this one is priced at 56$ per month for two users. It also introduces some collaboration tools and allows up to 2000 scheduled posts.
The Business subscription, priced at 85$ per month, is for six users and connects with up to 25 social media accounts. This plan is the one that I think is priced more competitively compared to others.
You can also add users, which will cost you 25$ per user, of course. You can also contact Buffer to negotiate a subscription for larger social media teams if you want to.
Buffer Reply Plans
As mentioned before in this Buffer review, if you want to have access to Buffer's conversation management tools, you will need to add a Buffer Reply subscription.
Buffer Reply offers two plans: Pro, which is at 42$ per month, and Business that goes for 188$ per month. These plans cover only a single user. And adding more users will cost you 25$ per additional team member per month. And those in need of the Business account will almost certainly need to take up this option as well.
You can add this to the pro account. But the account data is only available for the past 30 days. And reports are limited to just the headline figures. So, if you want a more detailed report on your social media conversations, you will need to buy the Business account.
Buffer Analyze Plans
Buffer Analyze offers two plans: the Pro plan at 28$ per month and the Premium account at 40$ per month.
The pro package can connect with up to eight social media accounts; While the Premium package can connect with up to ten. It also integrates with Shopify and also provides access to Instagram stories and analytics.
So, this pricing approach might seem easy at first. But, you will need to take a closer look if you want to buy one of these packages. At least this is how we thought during this Buffer review.
The Sum Up
The plans differ significantly from product to product. For example, when you upgrade your Publish product account, you get more users with each upgrade. But for Reply, this is not the case, although the customers may assume that it is. Instead, you need to pay an additional 25$ for each user to access Buffer Reply; Although they are already included within the Business plan on Buffer Publish.
All in all, this mix and match approach might only work in favor of some businesses. But for others – which are the majority here – the bill will rack up quickly. Therefore, there are better options for their marketing technology budget.
Buffer review: Support
Buffer's support options are pretty limited compared to its huge list of customers and heritage in the industry.
Training options are limited, and there is no phone support available.
But as said previously, the platform is simple to use. Also, there are numerous helpful tips available within each of its features that will guide you through every step. Also, there is the Buffer knowledge base that covers almost every challenge you might face in detail.
Support is available through email, Facebook, and Twitter channels. I have used the email option, and it was slightly faster. But their response time over Facebook and Twitter was also within 24 hours.
Conclusion
Okay, let's finish this Buffer Review.
And as promised I am going to keep this Buffer review unbiased. Buffer is a great social media management tool for the novice. It is very easy to use and understand. It takes a new approach for pricing its products; this approach makes the platform lacking on the premium end of the scale. But at least you know that you are not paying for any extra feature that you will never use. So, if you want features like content recommendations, you will be better off elsewhere – Sprout Social or Hootsuite, maybe?
Pros
You can find some great features in the free plan
It is very easy to use and understand
Prices are competitive
Support is standard
Cons
The pricing plans can rack up quickly, especially for teams
You need to buy extra packages for Reply, Publish, and Analytics
Compared to its competitors, Buffer lacks features in its expensive packages