What is a Social Media Management Tool?
A Social Media Management tool is a tool that you can use to schedule your social media posts ahead of time. So, you can plan your posts to be sent on different social media platforms, and then you can forget about it. The management tool will take care of the rest for you. Today we want to take a look at one of these tools and do a Sprout Social review.
A little history
Sprout Social was founded in 2010. As of now, it's considered to be one of the first and most renowned Social Media Management and analytics tools in the industry. Its plans start from 99$ per user per month – for the standard plan. And it has since continued to add functionality for small to midsize businesses (SMBs). Sprout Social comes with an outstanding balance of Social Media Management and analytics; Which can be considered its winning card compared to other such platforms and makes it a sweet spot for most businesses and their social media managers.
Aside from its sensible pricing, Sprout Social offers social listening and influencer identification features, some social media-oriented customer relationship management (CRM), an intuitive user interface (UI), and impressive analytic capabilities. These are the points that keep Social Sprout in a market leadership position, especially for SMBs that will find this platform capable of answering their needs.
Sprout Social review: Advantages
As mentioned before in our Sprout Social review, It is one of the first social media management tools, which puts it at an advantage. With over 25000 customers and going through the endless feedback loop, the company has refined its features and functionality. And through this process, the company now has a deep understanding of where the industry is going and what problems need to be solved.
You can see this as soon as you start setting up your dashboard. Sprout Social asks you some questions in the form of pop-ups to better determine your company's needs. This feature means one can shape their Sprout Social experience based on their needs; this can save customers a lot of time.
Also, the platform's pricing is sensible, at least that's how we felt during Our Sprout Social review. But this should be stated that it's not cheap. However, this is the case for most of the best Social Media Management tools available on the market.
Yet there is good news as Sprout Social has a risk-free trial. You get a 30-day free trial to test it out, and your credit card information is not required to use this trial. Besides, you can use all the functions in this trial, which is an advantage in itself.
The three pricing tiers of Sprout Social
As of the time of this Sprout Social review, the company has three tiers of pricing: Standard, which begins at 99$ per user per month and gives you five social profiles; Professional, which starts at 149$ per user per month and gives you ten social profiles and added features; and Advanced, which begins at 249$ per user per month and gives you the same number of 10 social profiles but this time with even more features like a chatbot integration, a digital asset, and content library, and message spike alerts. As you can guess, going up the tier ladder means having more features on top of the tier below. And the Advanced tier is a better deal compared to that of Mention. Mentions Advanced tier is 299$ and monitors fewer social sources. Still, Sprout Social is not as good a deal compared to the ones you can get on other combined social publishing and analytics platforms, such as Hootsuite, Sendible, and Zoho Social.
Unlike other social media management tools like Hootsuite and SocialPilot, Sprout Social does not have a team plan. Here, you pay per user, per month instead.
You can use Sprout Social as a Scheduler for many social media platforms, such as:
Facebook
Instagram
Tweet
Pinterest
During the time of Our Sprout Social review, it could support automated Facebook, Twitter, LinkedIn, Instagram, and Pinterest posting. You can use chatbots with Facebook Messenger and monitor Google My Business and Trip Adviser reviews with the Sprout Social integration feature.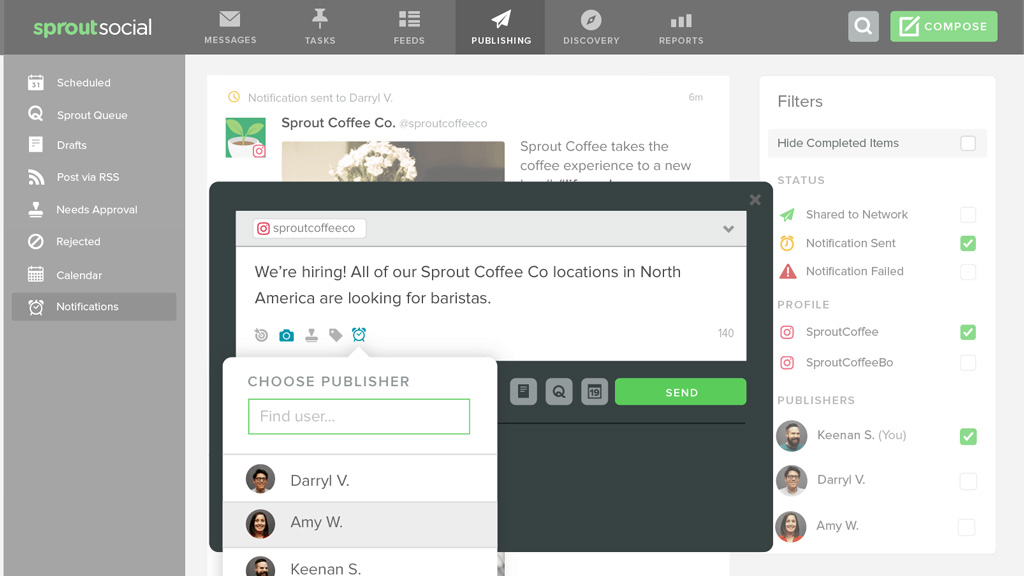 User Interface
The usual problem with a clean UI design is missing features. This problem is a challenge for every UX and UI designer. If they want to show all of the features, then the user interface might become too crowded. And if they steer towards a minimal and more clear approach, then, as said before, there might be some missing features. But for Sprout Social, this is not the case.
Up top of the screen, there is a Flowkey Productivity bar that shows tabs for Messages, Tasks, Feeds, Publishing, Listening, Reports, and Bots. Fonts are modern and elegant, and they have clear sizing. A grey-and-white background is used across the top with grey icons that users can click to switch groups, connect a new social profile, invite team members, or view tasks. You can find an informational section below these action-oriented elements, such as New Messages, Publishing Queue, and daily Engagements. There is a Universal Gear Setting icon. The languages in which the dashboard is available are English, Spanish, and Portuguese, which is not as many languages as the Hootsuite platform provides for its dashboard. And although Sprout Social can translate over 50 languages using Google Translate, Hootsuite can do so too.
You can easily find the Analytics area by selecting the Reports menu. This menu will take you to the updated Reports Home screen as default, displaying all available reports. If you scroll down on the page, you'll find your Google Analytics report. As long as you have the app attached, this section will populate your data. There are nine standard reports in the premium plan and 22 Standard reports in the Enterprise plan. This page also includes a button that you can use to create a report with customized branding.
Ease of use
If you want to get started on Sprout Social, you should know that it's super easy. The interface is intuitive. Even if you are new to social media management tools, you can find your way very fast. Sprout Socials' ease of use is comparable to that of Hootsuite and Zoho Social. They all ask for personal information, email addresses, and credit card numbers, although a credit card is not necessary to start. As a test, we set up a Facebook page, a Twitter page, and an email to service them. We then populated each social media account with tweets, retweets, and mentions. The accounts were not flooded with activity, but the activity was just enough to test the features. We also added LinkedIn and Twitter accounts as separate profiles.
Sprout Social pulled in all Twitter data immediately. Facebook data took a bit longer; backfill for that new Facebook page happens almost instantly at the initial connection, but it might take around an hour or two to be completed. However, there are rare cases that backfill does not go through immediately, so Sprout Social gives a 24-hour benchmark for customers upon setup. We also got Sent messages in the Smart Inbox, which can be shown by unchecking the "Hide Completed Items" box in the Filters menu on the right-hand side of the UI. One unchecked, we could watch our outgoing Facebook activity. Hootsuite and Sprout Social both use Facebook Insights; this Facebook feature is only available once at least 30 people like your page, so keep that in mind.
Our test was done using Facebook and Twitter accounts, but Sprout Social also gives you other options, such as Feedly, Google Analytics, Instagram, and LinkedIn.
Features
Over the years, Sprout Social has made significant improvements to its features, adding a built-in Sprout Image Editor based on the Adobe Creative SDK. This feature enables publishers to add filters, frames, text overlay, and stickers; it also makes them able to adjust color, brightness, shadows, and more. The Image Editor also includes an intelligent crop tool; this tool can resize your social media images for specific network and post types. Updates such as this are why Sprout Social has the best and most powerful social image editing capabilities in the industry.
Another Sprout Social feature that makes it stand out is its social CRM capabilities. This feature provides a set of tools for marketing teams to engage with prospects and leads. Sprout Social also integrates with Zendesk for customer support and a Facebook Contact View to help marketing teams have a better engagement with Facebook users, reference social conversation histories, and collaborate on campaigns. However, this Contact View feature is available for both Facebook and Twitter.
Then we have a Bots section that uses the power of machine learning to build a chatbot that automates repetitive conversational tasks and helps resolve customer support issues by speeding up your response time. Your customers can use the chatbot instead of searching in your site's frequently asked questions. Building a Sprout Social chatbot is easy and fun; just make sure that you cover all bases of conversation and provide a logical flow so the customers can get to their answers. If you don't, the customers might have to face an ill-designed chatbot that does nothing but confuses them even more.
Reporting Suite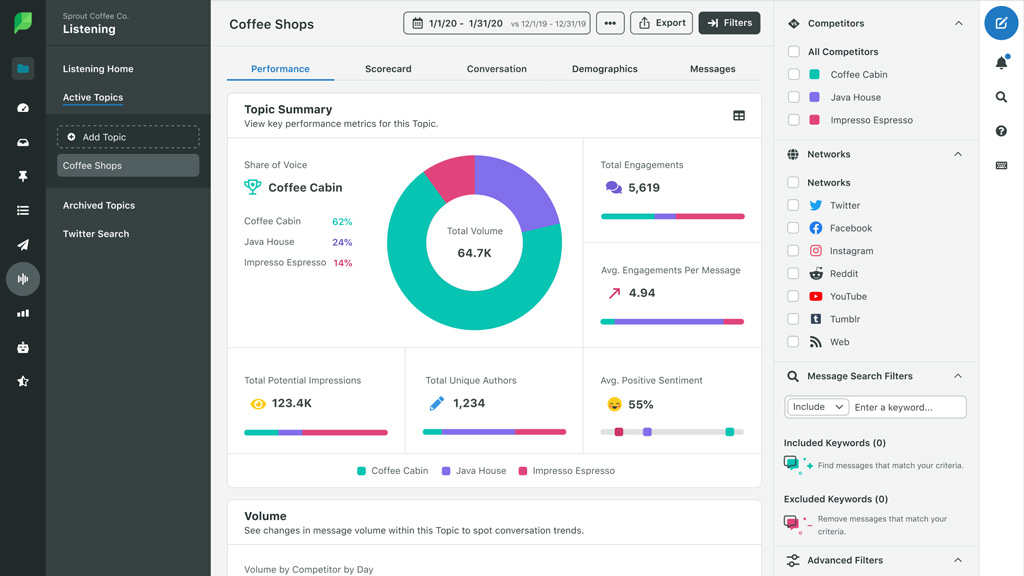 when it comes to reporting and data analysis capabilities, Sprout Social is nearly ideal as far as Social Media management goes. You have Group Reports, which gives you an overview of your different profiles; this feature has one graph with a combined data and separate charts to show each of your profiles. It even can break down the data by profiles or pages attached so that you can have an idea about Total Fans/Followers, Messages Sent, and Link Clicks.
There are Engagement Reports that start accumulating data on the day you set up your profiles. A Facebook Competitors Report, Instagram Competitors Report, LinkedIn Sent Messages Report, Scheduled Report Delivery, Advocacy Report, and a Report Builder. Although in order for Sprout Social to count these engagement actions, they need to be completed through Sprout Social. This makes the data more accurate since it precludes the platform from pulling historical data.
You can use these reports to compare one competitor's profile to yours. The engagement score gives you a good idea as to how well the business interacts with its audience. The influence score indicates business growth and the audience interest level; a higher influence score means more potential customers. As with all such platforms, these indicators start at a low number; the goal is to increase them over time. Reports can be exported as CSV and PDF files.
Going Beyond
But Sprout Social doesn't stop there; this platform has many more features that go beyond Analytic Reports, at least that is how we felt during Our Sprout Social review. Features such as other social media tool necessities for a good SMBs like an Influencer Identification, Publishing, Social Listening, and Team Tasking elements in the suite. Speaking of Social Listening and Influencer Identification, Sprout Social's Smart Inbox has the tools needed for Twitter Keyword Monitoring, Instagram Keyword and Location Monitoring, and many more advanced listening features – such as "Share of Voice" for multiple brands or products. Comparison reports for Twitter and broader trend and engagement reports.
The reports and their charts are graphically nice, which is a plus. Charts like Sprout Social's Twitter Keyword Report and Trends Report can give you an idea about the number of influencers, with a high number of followers, that are talking about the topics you are listening to.
Comparison
value
If you look at how Sprout Social made progress through the years and look at how the platforms reporting capabilities evolved, you can see how they are keeping themselves competitive in the enterprise space. Even so, Sprout Social capabilities pale in comparison to enterprise offerings such as Editors' Choice Talkwalker (which starts at 800$ per month). But if you look at the big picture, you can see that Sprout Social is not just a reporting platform. It can do it all rolled into one platform, so the value for SMBs is unbeatable.
Number of Features
Through the years, Sprout Social kept building and adding new features to its platform. With a refreshed UI and an updated pricing structure, the platform remains one of the best choices industry has to offer. Most Sprout Social reviews report that it is an excellent social media tool for business, but there are two crucial questions you need to ask yourself, and hopefully after reading Our Sprout Social review, you can do that:
Is it worth the price tag, especially since there are more affordable social media tools out there?
Is it the right tool? In other words, does it meet your business's distinct needs?
Sprout Social has added an array of additional features to the Professional and Advanced tiers. These features include a message approval workflow similar to what you'll find in Sendible and Planable, message tagging for more comprehensive categorization in the Smart Inbox and Compose features, a new Tag Report to analyze the effectiveness of marketing campaigns. And the addition of the Chatbot creation function will be helpful for SMBs that are more customer service oriented. You can even boost a Facebook post from within the app.
The Smart Inbox feature is a bit different from that of other similar platforms, especially if you are used to seeing social streams side by side, like Hootsuite, or separately, like what we see in Buffer.
But, once you get used to it, you'll wonder how you ever managed without it.
Sprout Social review: Downsides
Previews
That said, the platform is not without its flaws. For example, you can see a preview of your post in the publishing interface. This feature works wonderfully for Twitter and Facebook but less so for Instagram and Pinterest. It seems like the Sprout Social people know this since every time you schedule an Instagram Content, you get a reminder to post via the Sprout Social app. And in the case of Pinterest, the Rich Pins don't show a preview in the web app, so you have no idea how they actually look until you post it.
Once you are done editing your post, you have a few options. You can schedule it for a specific time; you can schedule and duplicate it – these duplicates can be posted on other social networks – or schedule it and return to the compose window.
Calendar
Sprout Social does give you the option to post your content immediately, choose a specific date and time, or even let the app fill engagement gaps and make recommendations for the best times to post.
Once done, you can see your social media posting schedule in Sprout Social's calendar. And here we see another one of this platform's shortcomings. Unlike other social media management tools calendars, Sprout Social calendar is NOT drag-and-drop. That means if you want to reschedule your content, you are going to have to take an extra step since editing send times is done by hand here. The drag-and-drop calendars in tools like Hootsuite and Sendible work much better as a social media post planner.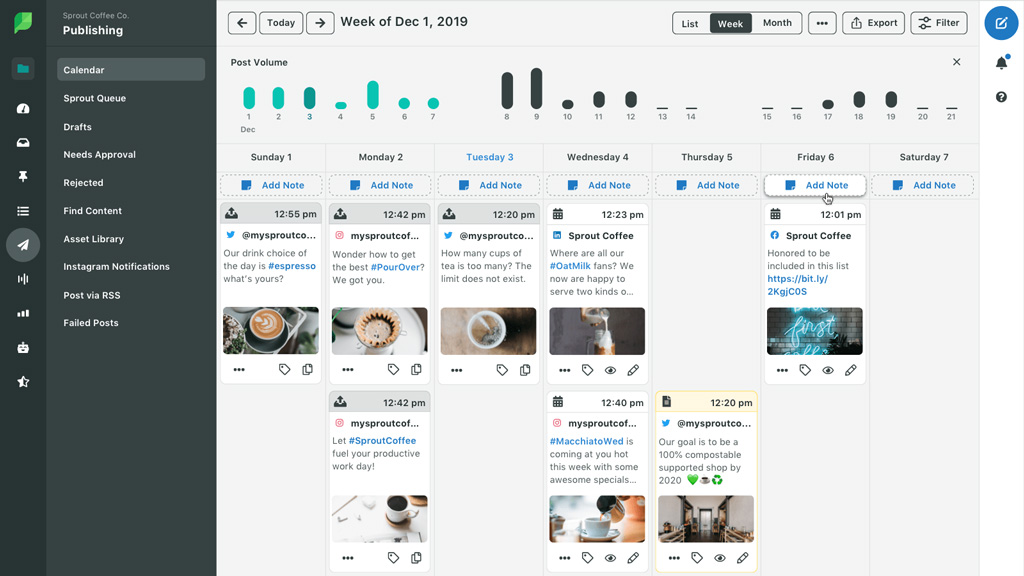 As mentioned before, you can let the app decide when to post the content. The app base its decision on the time when it will get the most engagement. If you want to use this feature, first, you need to find the ViralPost feature. But it can be hard to find.
To find the ViralPost feature, once your posting time is set for each social network, go to the settings for the queue and enable ViralPost. Now you need to choose how often you want your posts to be sent and leave the rest to Sprout Social.
Sprout Social review: Conclusion
There are many Sprout Social reviews saying their support team is very responsive, but when I contacted them for our review, it took a while for them to send me a response.
On the plus side, Sprout Social has a vast knowledge base with videos, guides, recorded webinars, FAQs, and more. That means you can find your way around without the need to ask for a support team member's help.
Anyhow, Sprout Social says it does offer 24/7 support. The top support channels are Email, Support Request, and social media. There was no option for a live chat when I was conducting my review. When I tried to contact them using an email, I got an automated acknowledgment instantly. A support ticket was created, but getting an answer took around 18 hours. This is too slow, in my opinion, although the answer was helpful and even contained a link to a video that answered many other questions for me.
And as a last note in our Sprout Social Review, let's talk about the price. As you can see, Sprout Social is full of features for businesses and enterprises. But it's not cheap. Most Sprout Social reviews that are based on its features are positive, but the ones based on its price are not so much.
With a per-user pricing structure, the cost of Sprout Social for teams can add up to a large amount very fast. So, if you are considering this platform as a social media management system for your team, you might want to consider its pricing structure too.
But if you do decide to invest in it, you can pay by any major credit card or via PayPal. You can – and I highly encourage you to – try the 30-day free trial before actually spending any money.
Pros:
High number of usable features
Sensible pricing
Easy to use
Great reporting tools
Most powerful image editing feature in the industry
Cons:
Support is too slow
You need to search for some features to find and use them
The pay-per-user pricing structure can hurt teams
A manual calendar instead of a drag-and-drop one