Web developing was such a burden when developers had to use HTML codes; however, nowadays, creating web pages and UX is so simple that even middle school students can establish a personal website or create Blogs. In the WordPress review, we discuss one of the best free website builders according to 64 million websites that use the Web Developing Application up to 2021.
Inside Cyberg's WordPress Review
Here at cyberg, we aim to provide easy give you the essential information you need to pick the best applications for your business and personal utilization; therefore, our goal is to offer a comprehensive WordPress Review including the following sections:
A brief introduction of the company and renowned products
User Testing the WordPress Web Application:
Evaluation of the UX, UI, graphics, marketing, and some other features that constitute a user's impression of the web application
Top features of WordPress:
Highlighting the most essential and frequently used WP features. And what kind of people can benefit from the WordPress application
Free WP services and paid tools
Listing the free features of WordPress against the tool you can add for free or by purchasing
Best WordPress web builder alternative apps:
A concise comparison of the top competitors in the web developing niche
Demonstrating the pros and cons and giving the free web application a score
User testing: WordPress review UX
In this part of the WP review, we assess user testing, benchmarking, and other features.
First, let's talk about the Sign-up process and how to start using WordPress.
Starting on WordPress
The first step of the WP experience is signing up to make a website. There are two URLs from which you can use the web builder: WordPress.com and WordPress.org.
The difference is that the .com domains are bound to some limits and can't commercialize or use many analytics tools; nevertheless, the domains are free. On the other hand, you can enter the WordPress.org website and modify another domain. In this review, we stick to the WordPress free domain option.
Therefore, we create a new account entering email, username, and the new password. Then you have to choose a host between WP, Dream Host, and other web domain hosts that you can see by clicking the link at the bottom of the box. Then, I started with WP, entered a domain, and opted for a free account.
From here, your journey to create a website begins. However, let's walk through the rest of the website setup process in the next section.
Navigation Task Accomplishment, WordPress Review on the User Experience
One of the essentials of a web builder is how easy it is to use it and design your website. As for this WP Review, we don't want to get too deep in details because the possibilities are limitless in web development. Therefore, let's give the genius programmers at WordPress a standing ovation, then finish up the site setup to evaluate how user-friendly WordPress is in 2021, where many competitors have entered the arena.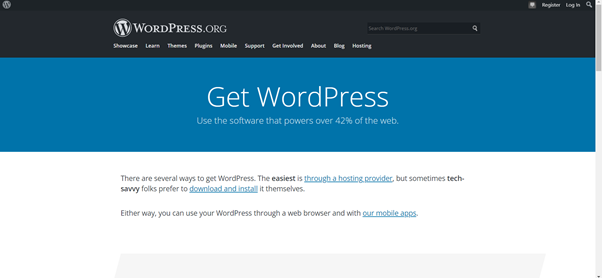 Acknowledgment: WordPress made it so easy
Back in the late 90's you would have to code web pages. This was tiresome arduous work that required learning the HTML language. You would have to use a different coding whenever you wanted to change your font size or color, let alone inserting effects and animations. WordPress changed the web building world once and forever in 2003 when they transformed the archaic HTML coding into a front-end application that compiles those codes to user-friendly blocks. For example, you would change your font size and color in WP the same way you would change them inside your word processor application.
WP site setup: update your homepage
First, you have to choose a title for your website. Moreover, you can change other settings, such as footers in the homepage tab. We just pick a name for now and move on to the next stage.
Update your homepage
The task allegedly took 20 minutes; however, it took only about five minutes since I just wanted to cover the basics.
When you enter the homepage edit task, a wizard pops up that explains everything in WP is recognized and organized as blocks that you can modify. You can customize everything on the page shown in the picture above; however, I believe using Plug-ins and tools is more convenient, so I skip playing around the home page and proceed to the next task.
Email Confirmation
The next step is a typical mail verification.
Customize your menu
After Confirming your email address, you can modify your menus. There is a tutorial for that; however, the elite may pass right on to menu modifications.
There are many ways to organize your website menus. Yet, I only added two pages to the default WordPress menus, namely classes and self-study packs- two pages on an English Teaching website. After you've created the menus and put them in the order you want, you can save the changes, and they will be instantly applied to your website.
As you can see in the picture above, the menus were added the way I wanted them to appear on the page. The extent of modifications you can apply to your page is so much that I don't even want to scratch the surface.
Try WP app
WordPress is a free service that offers both online and offline web developing utilities. Using the app, you can design web pages outside your browser. WordPress is available on Desktop, IOS, and Android. We try installing the desktop application in this WP review, which is smoothly done with a few clicks. Nonetheless, we stop here and resume our WP tour.
Launch Site
All the basics are set, and you can launch your website-a piece of cake!
WordPress will ask you to change your domain for a subscription fee or keep the free domain. And then it launches your website.
Benchmarking Results, WordPress Review
I used to think creating a website needs a lot of money, expertise, and time. Thanks to web building applications such as WordPress, content management is not as hard as it was only 20 years ago. Nevertheless, setting up a website is just the first step; since creating a successful digital footprint includes using content creation, SEO tools, graphic design, advertisement tools, data analytics such as Google Analytics, etc.
Regardless of what awaits the website owner next, we are pleased to certify that WordPress is easy to understand and operate- in case you needed test proofing the app that supports about a third of all websites around the globe.
WordPress Tutorials
Even when complemented by a user-friendly interface, having a handful of features does not create a pleasant user experience that enthuses web developers to indulge in a web builder. Thus, a viral program requires giving users interesting tutorials and educational material.
This part of the WordPress Review discusses the in-house and external tutorials on WordPress free web builder web applications.
Tutorials sponsored by WordPress
There are various ways to learn how to use different tools and settings in the user interface. To begin with, there is an intrinsic step-by-step task-oriented guide that helps set up your website and homepage, as discussed in the WP user testing section.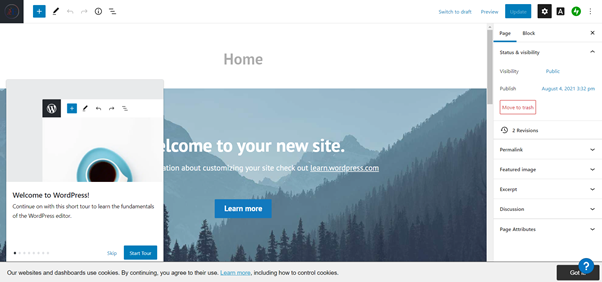 There are also help icons all over the dashboard during the first days of your web developing experience on WordPress. Users can always click on the question mark icon at the right bottom of the page to discover more help features.
External Tutorials
There are endless videos, courses, plug-in tools, Blogs, webinars, and other sources for novice web developers or those who want to understand the web developing world.
Users can learn how to use the web builder for free using free courses on YouTube, Udemy, Skillshare, and other educational sources.
User Interface and WordPress Graphic Design
All features within the WordPress dashboard are minimal, scaled-down, subtle, and in neutral colors to avoid drawing too much attention. After all, your goal is to view your own designs in a developer like this. The user interface by itself is neat and easy on the eye; however, when a few plug-ins are installed on the dashboard, your menus might get clustered. You can't blame it on WordPress, though. There are a lot of ways to organize your workspace in WordPress despite containing different tools.
In conclusion, The design fits the purpose. The menus are easy to find and navigate, and if you ever need help, it is always around.
A Marketing Strategy Overview, WordPress Review
The main features provided by WordPress are free unless you opt for a business account in the .com domain, which costs 300$ a year. The question you might ask is, "How does WP make money if it provides free service?"
Many tools have WP plug-ins. These web applications charge users and would pay WP to sponsor them. Moreover, there are ads and other ways to makes money. Therefore, WordPress does not charge clients directly; instead, they charge companies that charge clients.
WordPress Review, Top WordPress Features:
It is hard not to become a millionaire when you can create free websites and make money. WordPress provides different in-house and plug-in options to enhance your website performance. You can use a free WordPress elementor plug-in to drag and drop graphical elements into your work. In addition, you can analyze your web traffic and other metrics by adding the Google Analytics tool to your website pages. Other features include search engine optimization tools, keyword analytics, writing tools, grammar checkers, and other web-building gadgets. In this part of the WordPress Review, we highlight the most features for beginner web developers and advanced content creators.
WordPress features for amateur Bloggers
The web builder is an excellent choice for individuals with no prior web design or HTML coding experience; here's why:
Simplicity
The majority of web pages are in HTML format, which is a coding protocol that is difficult to work with for beginners. Using applications such as WordPress, you circumnavigate the annoying syntax errors and many other difficulties. In return, you can focus on the UX and other skills you require to develop a successful website. Another important aspect of using WP is that you can modify and update your digital content in a matter of seconds.
Publishing and media management tool
You can create drafts, assign passwords, and schedule your posts using WordPress. In addition, it is easy to put and edit your graphical content. For example, you can drag and drop or copy-paste your pictures in and out of the web builder.
Free themes and templates
One of the best features of using WP is the wide variety of free graphic themes you can apply to your work. In addition, you can view how your content will look in a theme without making actual changes to your webpage. The preview mode displays the differences so you can see the new theme in live mode.
Free WordPress Plug-ins
There are many tools a developer needs to create a competitive site. Thanks to free WordPress plug-ins, you can add different widgets, optimize your content for the search engine crawlers, create ads and sales portals, monitor and analyze your traffic, backlinks, and so many other features that would help your digital footprint grow.
There are free WordPress tutorials everywhere
WordPress is as large as the internet itself, and even professional developers never use all its feature. Therefore, you have to find the features that benefit your Blog or website on your own. This means that you have to research and learn new tools and features and implement them in tandem with other tools on your own. Fortunately, there are tons of educational material out there for free and paid courses as well. Plus, there is a lot of information in the WordPress Blog.
WordPress Review: features for the professional
While using premade templates is incredible and convenient for most users, content creation professionals would like to promote their pages and add their own signatures to the websites they create or administer. WordPress hears your voice, and you can modify the HTML codes to create metadata, custom post types, and taxonomies.
You can also define your own widgets and edit your menus in the dashboard to have instant access to your most frequently used tools.
Last but not least, many themes and plug-ins would help you build a great website; however, you can manage and create the plug-ins you prefer to use in WordPress.
Free Version and WordPress paid plans
WordPress used to be free for a few years; however, with its current status in the web building world, they have created four additional plans besides the free basic version to offer more control and features for a fee. Although you can infinitely use the free WordPress services and the domain that comes with the .wordpress.com appendix, there are many compelling reasons to switch to the paid accounts in WordPress to boost your website productivity.
WordPress Personal account
The Personal plan includes a pre-installed SSL certificate and Jetpack essential features in addition to all features included in the free version. This plan consists of the following features:
Remove all WordPress ads
Use a custom domain name for one year for free by subscribing to the WordPress Personal plan for an annual or two-year subscription
6 GB of storage space
High-quality email support from WordPress professionals
Upload audio files
You will be charged 4$ per month for the Personal account
The Premium account features
The WordPress premium includes all features included in the Personal package and more:
The ability to monetize your site with ads
Upload audio and video files
The ability to use Google Analytics
13 GB of storage space
Access to premium themes
Ability to add custom CSS
Access to live chat support
Using WordPress Premium costs 8$ a month.
WordPress.com Business
The WordPress Business subscription plan provides many different options to include in your website and manage other domains. The highlights include:
SEO tools
Live chat support during the week
200 GB storage space
The ability to use third-party tools and services, like themes, codes, plug-ins, and ad networks
WordPress Business account costs 25$ a month.
The ultimate eCommerce package: WordPress.com eCommerce
This platform is tailored to cater to online stores and eCommerce marketing. The package includes:
Premium WooCommerce extensions
Access to premium Storefront child themes
The ability to accept payments in over 60 countries
Integrations with top shipping companies
Storefront Powerpack
Quick Start Sessions with WordPress Happiness Engineers
The cost for the eCommerce package is 45$ a month
Cyberg's recommendation: Which WordPress plan is best for me?
Start with the free version if you're a student or new to the web building world. However, the free services might not be sufficient for seasoned web designers. Although you can always bypass paying WordPress by adding your plug-ins in the HTML code instead of using plug-ins, it's not worth the trouble. I use the Premium version and enter some codes and metrics on the HTML code myself because I'm used to the process, and it doesn't bother me. However, paying for it. And they need multiple editors on the job.
What are WordPress Alternatives in 2021?
There are many other website building and hosting services nowadays. The ultimate goal here is to reduce the effort and cost and boost website performance and revenue. Some of the best 2021 web builders are listed here in the WordPress review:
Wix:
Wix offers better support, is easier to learn, and is less technical; on the other hand, WP is worth it once you've known how to use it. Wix is also cheaper and more feasible.
Squarespace :
This app is also a powerful web builder that is simple, offers excellent options for your email marketing campaigns, and provides better support; on the other hand, it lacks the flexibility and plug-in diversity that WordPress has.
Woocommerce :
As the name suggests, the web application is optimized for sales websites and transactions. So if you want to create an online shop, make sure you read our Woocommerce Review for a more detailed examination.




Other great web building applications
Webflow
Network Solutions
Site123
Weebly
Most of the websites above provide the same features as WP; however, the pricing and UX are different. Moreover, some of the tools are specialized for eCommerce or other specific uses. Eventually, I suppose WordPress is a more universal solution that caters to all your needs; however, it's more expensive than others and has a challenging learning curve.
The WordPress Review Summary
To recap the WordPress Review, let's count the merits and demerits of using the web builder before giving it a final verdict.
What are the advantages of WordPress?
WP is open source and versatile
Plenty of themes and plug-ins
It is more general than most competitors
Many tutorials on how to use the app
Excellent user interface that is highly adjustable
What are the disadvantages of WP?
Relatively harder than competitors to learn and operate
The best plug-ins are not free
It is hard to browse themes and graphic content
Suppose you're interested in owning or creating a digital product or service. In that case, it is vital to know a thing or two about web builders and the infrastructure behind the world wide web. WordPress is the most popular web builder in 2021 with high flexibility, ease of access, ample plug-ins, and other great features. Conversely, the diversity of tools might lead to further complexities once you've developed the website. The more is not always, the merrier if it makes decision-making hard. WordPress is more expensive than most similar apps.
Let us know if you've used WP before and how you evaluate the famous web builder.