Nowadays, the world is shifting from traditional marketing to online and digital marketing. This migration has contributed to the unprecedented growth of eCommerce and website building. Creating a website was a difficult task when you had to code your web pages using HTML. Today, website builders have omitted the strenuous coding and provided eCommerce and website creation tools in user-friendly applications. This Shopify Review addresses one of the most popular web applications in the eCommerce niche.
About the Shopify Review
Cyberg intends to provide comprehensive overviews for mainstream users of each type of program. Therefore, the Shopify Review consists of different chapters that delve into the quirks and features of Shopify and other competitors. First, we introduce the application; second, we perform thorough user testing and benchmarking. Third, we discuss the top features that Shopify offers; next, we mention the free and paid membership plans and their characteristics. Then, we will compare Shopify to other promising web applications that provide online shops. In the end, we will recap the Shopify Review and give our thoughts on the advantages and drawbacks of using Shopify.
What is Shopify?
Shopify is a shop hosting application that enables non-professional users to create their marketing solutions. They can use the templates in Shopify to quickly design a product presentation. In addition, there are different payment methods and shipping options for you and your customers in Shopify. The Canadian company is based in Ottawa and has been providing eCommerce services since 2006. We have discussed the features of Shopify in detail to assist you in picking an eCommerce tool for your business.
Shopify Review: user testing
This part of the Shopify Review is dedicated to benchmarking the eCommerce development software. First, we discuss the strength and weaknesses of the UI, the overall design, how the features are presented, and such items in the first impression section. Second, we perform a task that typical users frequently perform on an eCommerce platform; this test will determine how easy and intuitive it is to build a page on Shopify. Next, we have evaluated the availability of educational material regarding Shopify inside and outside the web application. Finally, we analyze the Shopify marketing strategies and how effective they are.
First Impression
In this part of the Shopify Review, we discuss the content and arrangements of elements on the Shopify home screen. We also take a look at the graphical features and how easy it is for users to follow the web application. Admittedly, a website building tool with poor navigation options is not viable for web developers and business owners.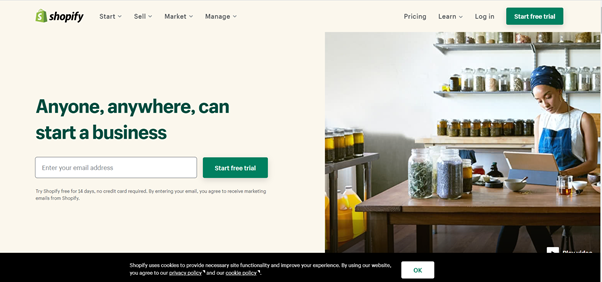 Welcome to the home page of Shopify. Although it might be your first visit to Shopify, you might have heard of the name or guess what it's all about by its name. Shopify will help your start an online business and launch eCommerce campaigns. There are different parts of the page where you can read about the additional features of the app. And everything is nicely put together on the home page. You can see a green theme across the page, which represents money and creativity. Moreover, it gives the website a lively vibe. You are guided to create a page.
The graphic design is creative yet consistent. There are vibrant photos and design elements all over the page which attract the eye.
Shopify workspace interface
Beside the landing page, your dashboard plays a significant part in your Shopify user experience. Therefore, let's look at where you'll be spending most of your time working on your online shop.
There is a tutorial video on how to start with Shopify right in the middle of the dashboard when you first use the application. Later, when you have created some products, they will replace this video.
Below the introductory video, there is a step-by-step guide that will assist with developing product sales. First, you add a product, then customize the theme. Then, you add a domain, preexisting or new, to upload the product; in the end, you'll enter the information on your payment method of choice.
Next, we discuss the tools on the task panel on your left. There are various options such as home, offers, products, customers, analytics, marketing, discounts, apps, and finally, the Online Store.
Starting a free Shopify account
Now, let's create an account and start building an online shop. You can click on a 'start free trial' anywhere on the page to sign up to Shopify. Then the wizard asks for your email, password, and the name of your online shop.
Next, a wizard starts inquiring about information about you and your business. As mentioned in the first impression section of the Shopify Review, the dashboard will help with familiarizing with Shopify's UI. We are taking advantage of this opportunity to acknowledge the effort of Shopify UX designers.
After filling these forms, you are directed to your dashboard and ready to create your online store.
The initiation was easy and quick without asking too much detail about your business. This attitude might be annoying to people without a clear-cut business plan. In fact, most IPOs and individuals are just beginning their online sales experience in the niche since larger companies are hiring experts to manage their online marketing tasks.
Benchmarking, Shopify Review
In this part of the Shopify Review, we will create a sales page for a specific product to walk you through the process. We also want to assess shipping and tax options that you can choose in Shopify. The easier we can complete this checklist, the more user-friendly Shopify would be.
Introducing a new product
We want to test Shopify UX by selling a side mirror of a classic car online. First, we have to select add product‌ from your workspace or the panel on the left of the page. Then you can add the required information for setting up a sale.
We added the name, description, and some photos of a handmade mirror for the sake of demonstration. You should also add the Pricing, inventory, and shipping details. In addition, if your products come in different variations and trims, you can define the other options customers have in the variants tab. For example, the side view mirrors could be made of chrome, alloy, or stainless steel. Moreover, customers can choose between a small mirror or a street-legal version.
Second, after setting your product, you have to choose and develop your sales channels. You can use your Shopify page or export your product to other pages. Let's focus on Shopify page themes and how the online shop is designed. Thus, let's move on to the Online Store.
Modifying the pages
In this part of the Shopify Review, we experience different options available on the marketing tool. The goal is to compare the features of Shopify website builder to other competitors later.
What you see in the image above is your blank website page. From here, you can start adding and modifying your shop.
You can modify any part of the page by selecting it from the panel and then changing it. You can also add or remove sections from this section. That's how you edit the content on Shopify.
However, to envigorate your web page according to your design preference, you can select the Theme Settings button at the bottom of the panel.
Users can change a variety of items from the theme settings, including colors, typography, search, social media, favicon, add to cart notification, checkout, and theme style. However, your options are limited in Shopify. For example, as you can see in the image below, you can only have two types of fonts on your page, and those apply to headings and body texts only.
This limitation means you can't highlight a product or part of your page to stand out without using other elements. Plus, there aren't many graphical elements that you can add to your online shop. We will discuss the advantages and disadvantages of having such limits in the features. Nevertheless, our task is done, and we've successfully launched a product on Shopify. Website building using Shopify is not complex; however, your options are limited in content and design.
Shopify Review, Tutorials
One of the essential aspects of a reliable application is providing appropriate tutorials about the web application. In addition, it would be nice to read and learn about eCommerce and website building from the company that provides your marketing solution. Therefore this part of the Shopify Review evaluates the internal and external tutorials on how to use Shopify.
In-house educational material
As soon as you sign up, Shopify offers two methods of getting a glimpse of its features. First, there is a brief video that explains what you can do using Shopify. Second, there is a checklist below the video with four tasks you should accomplish to launch an online store using Shopify.
Additionally, a help center is available for searching relevant content online. Moreover, you can visit the community forums to consult other experts and see how they've coped with complex situations. Whatsmore, there is a one and a half hour course on how to start eCommerce on Shopify. There is plenty of educational material on the website since Shopify has many tools and plug-ins. One of the essential sources for discovering these features is Shopify Academy, where you can find courses on dropshipping, eCommerce, and how to use Shopify features.
In conclusion, Shopify has provided sufficient in-house tutorials for new clients and customers.
External Tutorials
Although Shopify has enough in-house resources for users, external tutorials have their own merits. Firstly, some people prefer to watch videos of independent instructors for their unbiased judgment. Secondly, The more courses and articles are available on how to use a dropshipping app, the more successful and prominent it is.
There are many videos about using Shopify on YouTube. Shopify has an official YouTube channel that offers web application walkthroughs and guides on how to succeed in digital commerce. There are other YouTube influencers who have made Shopify learning videos on the video streaming website.
In addition to YouTube, there are Shopify courses available on other online academies such as Udemy, Coursera, and edX. Shopify and eCommerce are entangled in many online courses, and the application is always mentioned as a noteworthy example of an eCommerce application.
Marketing Strategy overview, Shopify Review
Let's discuss the clicking funnels and the marketing strategy in this part of the Shopify Review. There are four places on the home screen that will encourage you to start a free trial. In addition, the sign-up process is easy and does not require your credit card and billing information. This strategy helps users explore the web application for themselves. Moreover, Shopify ads on Google SERP, YouTube, and many other places are start points for their marketing funnel.
Shopify Review, What are the top features
In this part of the Shopify Review, we evaluate Shopify's most significant features. eCommerce is limitless; you can sell products with no investment or spend millions on digital marketing. You might be a marketing firm that handles eCommerce for other businesses or run a home business that wants to sell one or two types of products. Shopify has such features that make it an exciting choice for all those people. So we would talk about Shopify quirks and features that mainstream eCommerce users use:
Graphics and design elements
Dropshipping and Sales options
Support
Plug-ins and add-ons
Graphics and design elements
There is a default theme on Shopify with some pictures and preoccupied boxes that you can change in the future to match your desired online shop. There are two ways to choose a different theme in Shopify. First, you can select a free theme from Shopify. Second, You can add a third-party theme to your Shopify, which means paying extra cash. The editing options are limited to the theme you choose. For instance, you can drag and drop objects or customize your pages in a BigCommerce website and eCommerce application, but Shopify doesn't give you that many design options. Of course, if you're familiar with HTML and XML coding, you can customize the page design through coding, which is not why people use apps such as Shopify!
Shopify Dropshipping and sales
The eCommerce application offers various drop shipping options from and to countries across the globe. You can modify your inventory, suppliers, shipping options, and shipping fees. Moreover, you can select a tax rate and add the taxing costs to your customers' bills. Another helpful feature in Shopify would be accounting and sales analytics. You can evaluate your sales performance to improve your products and marketing strategy using these tools. Another positive aspect of Shopify sales is the flexibility in payments and how you get your money. Besides Paypal and Stripe, you can opt for POD- print-on-demand- payment.
All in all, the sales features are easy to follow and practical for users who've just begun selling online and have no prior experience.
Help and Support, Shopify Review:
Help and Support are two essential components of a practical marketing solution. Since an online store requires various tasks, from product design and development to customer relationship management, you will need additional help to get the revenue you want.
Shopify not only has a robust help center and a blog with many experts and users asking and answering questions but also by subscribing to a premium plan, you can consult Shopify advisors when you need help. They will walk you through the problem or send you resources that will help you overcome the difficulties. This feature allows users to manage their products and marketing tools. Even if you're using a third party application plug-in to improve your performance, the support will still prove beneficial
The tutorials also help with different parts of eCommerce. For instance, how to build an SKU to manage your inventory or how to tax products. Keep in mind that eCommerce means constant learning. Shopify acknowledges that hence has provided adequate support.
Shopify Review: what plug-ins and add-ons can I use in Shopify?
There are over 4000 plug-ins that you can add to your Shopify online store. The eCommerce tool supports many SEO tools, marketing analytics, design templates, and such applications. Of course, these plug-ins will cost you additional money. There are about a thousand free plug-ins that would require payment eventually if you want to use their best features. You can add any plug-ins you want to your online shop using Shopify or by searching the plug-in on search engines.
Sorting and categorizing
Sorting your products and checking your inventory is one of the most notable aspects of shopkeeping. Therefore, it is vital to have SKU codes or QR codes for your products. Shopify provides templates and allows customized coding by yourself or by using a third-party plug-in. In addition, you can sort different items into specific groups. For example, you can set default shipping fees and settings for sales in France and apply them for all the commodities you send to the country. The same applies to products, storage options, and other factors.
The features that Shopify web developing tool provides are appropriate for creating an online shop; however, modifying and editing your web page requires some time and effort. To make a fair evaluation, we also have to consider the price tags. Therefore, I invite you to continue reading the Shopify Review.
Shopify Pricing and membership plans
Previously, we discussed the user experience and Shopify's top features. In this part of the Shopify Review, we assess the subscription plans to find out whether paying for Shopify is worth it or not.
Shopify has three subscription plans for each type of user. The basic version at $29 per month is for eCommerce small businesses and personal sales. The Shopify account at $79 a month is the optimized account for larger companies that want to sell more. Finally, there is the Advanced Shopify account for businesses that are scaling up and require advanced reporting.
Shopify Review: standard features
These futures are shared among all types of Shopify accounts. Here is the list of the benefits you get by paying for Shopify.
Online store
Unlimited products
24/7 support
Sales channels
Manual order creation
Discount codes
Free SSL certificate
Abandoned cart recovery
Gift cards
Shipping discounts
Fraud analysis
Point of Sale (POS)
Sell in 133 different currencies
Up to 5 languages
A glimpse at these features indicates that even the basic account offers good sales tools. Now let's take a closer look at these accounts to spot their differences.
The basic account
This account is most suitable for people who sell personal products or small businesses. Two staff members are allowed to access the basic version. Plus, you can enjoy up to four inventory locations to assign shops, warehouses, and pop-ups.
You will be charged 2.9% + 30 cents for online credit card transactions, 2.7% for in-person credit card transactions, and 2% for non-Shopify payments. Consider you sell 1000$ per month. In this case, you will be paying at least $20 worth of transaction fees. Add this to the initial 29$ a month fee, and you'll have $49 per month for the essential subscription.
The Shopify Version
The Shopify account features all the benefits from the basic account. The main difference is the transaction fee cost reduction—international domain and pricing, which allows for specific price adjustments and SEO optimization for a particular region. In addition, you will get standard marketing analytics reports. The Shopify version costs $79 per month. And with about $5000 in sales, you have to add around $50 a month as a transaction fee.
Shopify Review, the Advanced Shopify account
This account is the ­­­ultimate Shopify package which costs $300 a month. It allows 15 staff members and costs less when it comes to transaction fees. However, the fact that they wouldn't provide free transactions at all is a turn-off. The advanced account features all the benefits of the Shopify regular account, plus advanced reports and third-party-calculated shipping rates. In addition, you can set different prices for different countries.
What is the best Shopify plan?
The advanced plan sounds ridiculous even for large companies that can afford the price tag; the transaction fee sounds discouraging considering that some apps have omitted this cost and only charge for the subscription.
The basic plan would be a good choice even for small businesses. Because you are allowed to store infinite products and sell as much as you can on Shopify, continue reading the Shopify Review to find out about other Shopify alternatives.
What are the best Shopify alternatives in 2021?
Shopify is a dropshipping and eCommerce platform that enables online sales for individuals and companies. Since some entities would prefer a holistic, integrated solution for digital marketing, they would like to have a shopping page included in their website domain. Therefore, dropshipping and online sales are not limited to dropshipping and eCommerce apps; indeed, they concern web developing applications that can support SSL and online sales. Thus, we talk about two different approaches, namely website builders and eCommerce applications.
Best 2021 website building tools
WordPress:
WordPress is one of the most robust web builders as of 2021. The free application is much broader than a website application for sales. It hosts many features and add-ons that enable a comprehensive website campaign. WordPress SEO tools, Analytic tools, Marketing Plug-ins, etc., make it a powerful rival for Shopify and similar applications. The negative point is that WP takes a lot of time and effort to master. Read the WordPress Review, especially if you want to create a Blog or a website.
Wix:
Wix offers excellent design features, is easy to learn, and is less sales-oriented; on the other hand, you can have more features and plug-ins in Wix. Wix offers better pricing, and it is easier to use compared to Shopify. Read the Wix Review for more information on the pricing and features of the web builder.
Site123:
This app is also a powerful web builder that is simple, offers excellent options for your email marketing campaigns. Users can use templates and sell products in Site123; however, the services cost more, and there are storage and bandwidth limits. Read our Site123 Review for more information on the software.
Shopify Review: eCommerce alternatives
BigCommerce:
This website provides a platform that hosts your sales and eCommerce. It is a premium service, but it won't charge for every transaction. It also has drag and drop, a user-friendly environment, useful plug-ins, and great support. Read our BigCommerce Review to read more about this excellent marketing tool.
Woocommerce:
As the name suggests, the web application is optimized for sales websites and transactions. The web hosting web application is more straightforward than Shopify. It requires additional plug-ins to get the same results and practicality. Although the web hosting service is much cheaper than BigCommerce, you would end up paying up to 500$ a month if you want to use the best WooCommerce services.
Zyro:
Zyro provides Artificial Intelligence assistance when it comes to design. Therefore, it allows users to focus on marketing and other parts of their digital campaign. Read the Zyro Review for more detail.
Comparison conclusion
Shopify was once a great solution for selling products, and still, it is one of the most popular dropshipping apps. However, other web applications such as BigComerce, Wix, and WordPress offer better deals in 2021.
Shopify Review Analysis
In the last part of the Shopify Review, we discuss the positive and negative points of using the dropshipping tool and pass our final judgment.
The positive points of Shopify
Diverse inventory and storage options
Accepts many currencies
Good tutorials
Abandoned cart for all accounts
The negative points of Shopify
Complicated UX without drag and drop
Limited free design features
Relatively high costs plus transaction fee per sale
Poor analytic tools unless you pay $300 a month
The free themes are limited and not attractive
Conclusion
In a nutshell, Shopify was the best way for individuals and small businesses to find their way to the eCommerce world. However, with the advent of online digital marketing and dropshipping, Shopify has fallen behind other competitors that provide dropshipping services. It is still 100 percent functional, and many have learned how to use it, so if your marketing expert prefers using it, don't frown on him.
Please tell us what you think of Shopify in the comments and whether you have ever used the app or not.